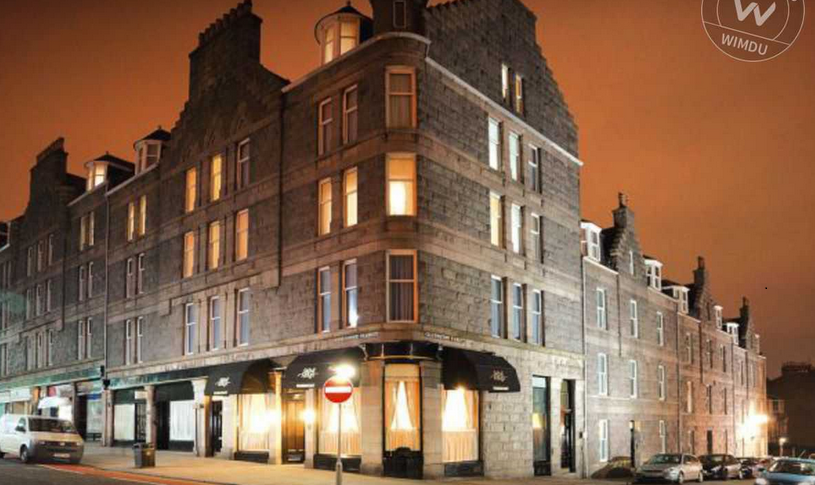 Known as the Granite City due to the sparkling stone used for much of its architecture, Aberdeen routinely wins the title of "Happiest Place to Live in Scotland". With its combination of beautiful buildings, incredible coastal scenery, buzzing nightlife, and of course the oil business giving everything a monied sheen, it's not difficult to see why! Whatever you want from a holiday, from a simple stroll and an ice cream on the city's beautiful two-mile long beach, to gorging yourself on fresh seafood and exploring the dramatic history of the area, or hitting the town for a big Scottish night out, Aberdeen can provide exactly what you need!
Where to Stay in Aberdeen
If you want to stay in the centre, take a look at the areas around the Castlegate - the main square in the city centre - or to the sides of Union Street, which is a mile-long road that divides the centre. Castlegate has various roads leading off to the east, which run down to the sea and the beach. If you want a sea view, check out apartments around the harbour area, which is right in the middle of the city! You can get there easily via Market Street or Guild Street. At the other end of Union Street is the West End, an area popular with the more well-heeled Aberdonians, and which has some lovely flats and accommodation available. For a quieter holiday, check out the bed and breakfast accommodation available in the small towns around Aberdeen, especially the pretty fishing village of Footdee which is just a short and pleasant walk from Aberdeen harbour.
Things to See and Do
Aberdeen has a packed cultural calendar, so check out an events guide such as "What's On Aberdeen" to ensure that you don't miss out on anything. The Aberdeen Youth Festival and Aberdeen Jazz Festival are especially worth finding a listings guide for if you are in the city while those are running. Depending on your interests, you could happily spend half a day taking a look at the Satrosphere Science Centre (especially good if you are on a family holiday, as there are loads of exhibits aimed at children), or the Aberdeen Maritime Museum. Children will love the Aberdeenshire Farming Museum in Aden Country Park, while the Gordon Highlanders Museum offers an interesting history of one of the most famous regiments in the British Army. We also recommend that you take the boat tour of Aberdeen Harbour - it's a 45 minute trip and gives you a great view of Aberdeen's imposing skyline, from a new angle.
Day Trip to Stonehaven
If you have a spare day in your trip, head a few miles down the coast to the small and pleasant harbour town of Stonehaven. You can get the train directly from Aberdeen. The main draw for tourists is the ruined fortress of Dunnottar Castle which was built in the 15th century on a rocky headland just a few kilometres south of Stonehaven. You could easily spend an entire day here, exploring the different sections, and revelling in the incredible sea views, but the town itself is also worth spending a morning or afternoon in to wander through the old streets and enjoy a pint of local ale or a coffee in one of the cosy pubs or cafes overlooking the harbour. If you are in Stonehaven for the evening, then book a table at the Tolbooth Seafood Restaurant for some really fresh and tasty fish dishes.

It's probably not worth booking accommodation in Stonehaven unless you want a very quiet holiday, but it's a great day out from Aberdeen.
Eating and Drinking
Aberdeen is famous for both its beef (the Aberdeen Angus breed of cattle is renowned throughout the world for the tastiness of its steaks), and the quality of its seafood. If you feel like splashing out on a high-end meal, book a table at Silver Darlings, which has a menu crammed with excellent seafood, and a corresponding view over Aberdeen harbour. Another good seafood option, and slightly cheaper, is Rock and Oyster in the city centre. If you're in the mood for a steak, head straight to The Adelphi Kitchen and order one of their delicious charcoal grilled numbers. If you are on a tighter budget then Aberdeen can offer all the usual dining options that you would expect of a city, from Thai to Indian to Chinese to Italian.
On another foodie note, make sure you don't miss out on a rowie, also known as a buttery: a savoury salted bread roll, eaten with butter (and jam as well, if you're feeling extravagant!). And of course no visitor to Scotland should leave without a tin or two of shortbread - keep an eye out for the stuff made by Aberdeenshire company Dean's of Huntly, it's absolutely gorgeous!
Once you've filled up on the best food Aberdeen has to offer, you won't have any problems finding somewhere to have a drink or two! Aberdeen is packed with pubs and bars - though we recommend checking out The Tippling House which is a late night, underground bar with a great range of drinks and cocktails, and good bar snacks. The next morning, make your way from your flat to the Sand Dollar Cafe for a full Scottish breakfast to fortify you for another day's explorations!
Getting Around
Aberdeen isn't an enormous city (the total population is around 220,000) so you can navigate the centre easily enough on foot. However, to get further out, you can use the comprehensive bus service, which runs on 22 routes around the city. Cycling is becoming more popular, but can be dangerous due to the lack of designated cycle paths. Getting back to your apartment after a night out is easy, as there are loads of taxi ranks scattered around the city centre. If you want to explore some of the areas around Aberdeen, then there is a regional train service available - it will take you directly to Stonehaven, for example, which we recommend for a nice day out!