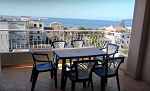 Alghero is often described as the most beautiful town on the Italian island of Sardinia, and lies in the north-west of the island on the coral coast , as that stretch of coastline is known, due to the coral that grows deep underwater. The amazing rock formations and crystal clear water make it a great destination for adventure seekers - caving, climbing, and scuba diving are all readily available - while the beautiful beaches, gorgeous villas and relaxed atmosphere are also perfect for a quieter and more laid back holiday!
Where to Stay in Alghero
Alghero is a mid-sized town with a population of just over 40,000 so you can get around easily on foot. We recommend that you book an apartment with a view across the sea - imagine opening the shutters to your own private balcony in the morning! If you are travelling as a larger group, or would like to book somewhere suitable for a family holiday. maybe with a swimming pool, then check out the selection of villas available on the Wimdu website. The site is easy to use, and you can search for exactly what you need, whether that is a bed and breakfast in the centre of Alghero, or self-catering accommodation in the surrounding countryside.
Fun Facts about Alghero and Sardinia
Nearly a quarter of Alghero's resident speak Algherese Catalan which was introduced when the Spanish Habsburgs took control in the 16th century. It used to be known as "Little Barcelona"!
Sicilians drink twice as much beer per person than mainland Italians!
What does Sicily have in common with the Japanese island of Okinawa? They have the highest rate of people of age 100 and above in the world! Currently it's 22 people in every 10,000!
Things to See and Do
When you arrive, take a stroll through the old town area of Alghero, and along the ancient city walls. This part of the town sticks out into the sea, and the enormous sea walls were built to protect against maritime attacks. Because the town faces west, you get incredible sunsets in the evening - grab a beer at one of the bars in the area and enjoy the show! At the end of the sea wall you will find the Bastione La Maddalena, which now lies empty but is sometimes brought into action as an enormous open air cinema - check whether they are showing anything during your visit. Another must-see during your trip is the Alghero Cathedral - which was started in 1570 but not actually finished until 1730! It is a beautiful building, with five chapels radiating out from the centre.
Of course, Alghero is also surrounded by lovely countryside and unspoiled beaches. The Lido is Alghero's main beach, and it stretches three miles down the coast, perfect for swapping your guest house for a day in the sun with a good book! If you want to venture further afield, head to the beaches at La Pelosa. If you have rented a car, take a drive south of Alghero towards the medieval town of Bosa, which is situationed in stunningly beautiful countryside.
Take a day-trip to Neptune's Grotto
Head down to the marina to book a place on one of the regular trips to Neptune's Grotto, an enormous cave filled with stalactites just down the coast from Alghero, and only accessible while the sea is calm. Guided tours of the grotto are available in Italian or English. If you are interested in scuba diving you can also explore the surrounding limestone caves, such as the Nereo Cave, which is internationally famous in diving circles.
Eating and Drinking
If you are staying in a self-catering apartment and would like to whip up an Italian feast, head to the daily farmers market on Via Sassari, and fill up a basket with local cheese, meat, fish and bread. Take your bounty back to your villa for a lazy afternoon barbecue extravaganza, Italian style!
As you would expect for an island in the Mediterranean, Alghero is famous for its seafood and fresh fish. We recommend you book a table at Mabrouk on Via Santa Barbara - it's a small restaurant with a set menu of four courses and all the fish is locally caught - keep an eye out for lobster, which is a local speciality, cooked Catalan style. For more traditional Italian fare, grab a pizza or a plate of pasta at Al Vecchio Mulino in the old town. Once you are full, head down to the seafront and watch the sun set at one of the many bars with outside seating - we especially like L'Arca which also offers regular live music sessions.
Getting Around
Alghero Airport is well services by budget airlines, so you can fly in from most major European airports. Once you arrive, you might want to look into renting a car, so that you can explore the surrounding area without having to rely on public transport. There is a train station about fifteen minutes walk from the town centre, and there is a local bus service available as well. As long as your apartment or holiday accommodation is fairly central you won't have any problems getting around the town.