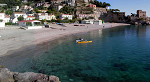 The Amalfi Coast is one of the most popular tourist destinations in Italy, and for good reason! You'll be enchanted by the beautiful green hillsides, covered in lemon trees, running down to an azure blue sea, and you'll fall in love with the charming and diverse towns and villages scattered through the countryside. The popularity of the region does mean that it is quite expensive compared to nearby places such as Naples, so consider renting self-catering holiday accommodation so that you don't need to eat out every night. The area's beauty and historical interest mean that it was no great surprise that in 1997, the Amalfi Coast was awarded UNESCO World Heritage status. Whether you want to walk the hillsides and admire the views, or are happy to just relax on the beach, we know you'll love your holiday to the stunning Amalfi Coast!
Fun Facts about the Amalfi Coast
The Amalfi Coast is where the majority of Italy's famous liqueur limoncello is produced, due to the massive number of lemons cultivated there!
There is no train service on the Amalfi Coast!
Amalfi sailors in the eleventh century created a special maritime code called the Tabula Amalfitana which was used for the next five hundred years!
Where to Stay on the Amalfi Coast
There are so many delightful towns and villages to stay in on the Amalfi Coast that we recommend that you do some serious research before committing! It is important to remember that while a lot of towns are directly on the coast, that doesn't mean that they actually have a beach - and it would be disappointing to arrive at your apartment and realise that you are high up on a cliff when you thought you could wander down from your guest house to the sand in five minutes every morning! Booking through Wimdu means that you can really specify exactly what you want - whether that is a family villa with a swimming pool, a bed and breakfast up in the mountains, or a self-catering apartment in one of the larger towns such as Positano. You can select if you need en-suite bathrooms, the number of bedrooms, or child-friendly facilities. Take a look through Wimdu's comprehensive selection of Amalfi Coast accommodation and get booking!
Things to Do and See
There are so many lovely towns and villages to visit during your holiday, and of course it will also depend exactly where your accommodation is based… but here are some of our favourites!
Positano
This is one of the most popular tourist villages in the area, and has been since the 1950s when novelist John Steinbeck wrote an essay about it for the popular magazine Harper's Bazaar in 1953. The Rolling Stones also wrote their song Midnight Rambler while on holiday in the village! Make sure you check out the beautiful Collegiata di Santa Maria Assunta.
Amalfi
The town of Amalfi itself is situated at the mouth of a deep ravine, at the bottom of Mount Cerreto, so a pretty incredible place to visit, complete with dramatic coastal scenery! It is of course the town that the coast is named after, so make sure you take a day-trip here - it is also a good place to base yourself, so check out Wimdu's choice of holiday rentals in Amalfi! There is lots to see, and many windy little streets to explore - and don't miss out on the Duomo, or cathedral, which dates to the 11th century.
Ravello
Up in the hills above Amalfi, Ravello is a charming town with incredible Mediterranean sea views and worth a visit for the gardens at Villa Cimbrone and Villa Rufolo. If you are visiting later in the summer, make sure you check out the Ravello Festival, which has been happening annually since 1953.
Scala
Take a bus from Amalfi up through the hills, where you will find the town of Scala nestled about 400 m above sea level and offering the sort of incredible views of the Mediterranean that you would expect from that height! Scala has a lovely town square, and some really good restaurants - expect the owner to come out for a chat when you sit down for lunch!
Day Trip to Naples
While not strictly part of the Amalfi Coast, it seems a shame not to spend a day wandering the old streets of Naples while you are in the area, although be warned - the decaying, graffiti-strewn streets of the city will seem disorientingly different to the pristine villages you have been holidaying in on the Amalfi Coast! Check out the Napolitan National Gallery - the Museo Nazionale di Capodimonte - for an afternoon of culture, or immerse yourself in local history at the Castelnuovo, the enormous mediaeval castle at Naples' shore.
Eating and Drinking
Like the rest of Italy, you will have no problems finding fresh and delicious food to eat at every turn! As you will be holidaying right by the sea, fish is a definite must, and alici (a particular sort of anchovy) are a local speciality. After any meal in a restaurant you will be presented by a shot or two of the local lemon-based liqueur, limoncello, and no doubt you will end up bringing some back in your suitcase as well! While eating out can be pretty expensive on the Amalfi Coast, markets offer a cheap and tasty alternative, and there is nothing stopping you filling bags with delicious fish and vegetables and taking it all back to your villa for the perfect Italian barbecue!
Getting Around
The most popular airport to get to the Amalfi Coast is the Napoli-Capodichino airport in Naples. From there you can take buses to the coast, and then take ferries and boats to the town you need to get to. There are no trains on the Amalfi coast, so everything can take a little while on public transport. One alternative of course is to rent a car, which will also allow you more freedom and means that you can look for holiday apartments a little further afield.