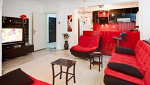 Turkey's capital and second largest city after Istanbul, is Ankara. Its geographical location in the heart of the Anatolia makes it a really interesting destination for even the most seasoned traveller. In its eighty years of independence, the capital has undoubtedly grown into its role as an international city. As tourism has developed, so has the availability of private rental apartments and villas in Ankara. It has assumed a modern air of sophistication with an increasing café culture breathing life back onto its wide, open streets. Ankara's old quarter can be found up on the citadel, where narrow streets are lined with old traditional houses, apartments and tiny pop up shops which offer a range of eastern delights such as pistachios, saffron, cinnamon and nuts.
Where to stay
As there are more than 4.5 million people living in Ankara, the city is fairly well serviced when it comes to accommodation, both for visitors and locals. Because the city is large and the transport system notoriously difficult to navigate, location is quite important when considering where to stay in Ankara - unless you plan on renting a car, that is. The city is split into 25 districts and around 43 small villages and towns. South of Ankara takes you close to the Odtu Ormani national park and the large lake below Golbasi. Unless you're heading to Ankara specifically to visit friends or relatives who live on the outskirts, you probably don't want to be stuck in a villa in a remote location hidden away in the valleys. Most of the main tourist sites are clustered around the historic city in the centre of Ankara, near to the Ataturk Forest.
How do I book a private apartment in Ankara?
An Ankara villa gives you more privacy and space, but to really get involved in the buzz of the city nothing beats an city apartment in Ankara's central and residential areas. Here you will share markets and restaurants with the locals and have much more of an authentic experience of the city. With an increasing amount of hosts in Ankara and its surroundings, booking your accommodation with Wimdu is a fantastic way for travellers to discover the city from a local perspective and learn all the best tips for places to go. With a rapidly growing community in Ankara, you will find a range of excellent apartment rentals and villas.
Interesting Facts
Ankara was conquered by the Ottoman Turks in 1360.
Ankara is the second largest city in Turkey after Istanbul, and actually the provincial capital.
Situated in the heart of Turkey's highway and rail networks system, Ankara is a centre for trade and commerce, marketing the surrounding agricultural area.
The Turkish Government is located in Ankara, along with the foreign embassies.
The historical centre of Ankara can be found perched on top of a rocky hill by the Sakarya river.
What can you see and do?
There is a lot to see and do in this emerging capital. Whether planning a busy schedule of sightseeing, or hoping to sample some of the local cuisine, we highly recommend enjoying the Wimdu experience at one of our many apartments villas in Ankara.
Festivals
There are a number of festivals held in Ankara, including the Ankara International Music Festival, the Ankara International Jazz Festival and the Ankara International Cinema Festival, with plenty more held throughout the year.
Museums and galleries
One increasingly popular reason to visit Ankara is the Museum of Anatolian Civilizations.The museum houses a fascinating collection of artefacts and statues which were produced over the millennia by the people of Anatolia. Another local favourite is Ataturk's Mausoleum, the last resting place of Ataturk the founder of modern Turkey. Just a short walk from the centre of town, the Mausoleum is within walking distance of some of the city's finest apartments in Ankara.
Hiking and trekking
The local parks and large green areas in Ankara make for beautiful hiking and trekking grounds, with the rocky Turkish terrain dissected by spring water streams and surrounded by forests. Hiking around Turkey can be a particularly hot and exhausting experience, so be sure to take a hat, and some good shoes - and don't plan on returning to your apartment before sunset!
Cafe Culture in Ankara
Over the recent years, cafe culture in Ankara has really developed, bringing the city much more in line with it's big brother,Istanbul, in the way of cosmopolitan lifestyle and modern feel. So why not take a stroll down the busy streets of the inner city and stop by one of the squares for a coffee and a balaclava - it'll make for a much needed break from hard core shopping stocking up on the latest fashion brands!
Parks and gardens
There are also several parks and gardens around Ankara, that have been sculpted and updated to create popular loitering spots for the locals come summertime. Gençlik Parkı (Youth Park) is a popular park just south of the city centre, where the council has converted a natural swamp into an artificial lake, with tea gardens. Be wary if you're a single woman though, the custom in Turkey is that these parks only be frequented by those who are married. Some other parks, probably requiring a short drive from your accommodation, have children's pool facilities.
Getting Around
The public bus network in Ankara is fairly dense and not so reliable if you're planning on spending the majority of your trip on the move. It can also be very difficult to figure out if you don't speak Turkish. For getting around the city during the day, taxi is best as there are so many in the city centre. But if you're looking to venture a little further from your apartment, then private minibuses are great for day excursions.