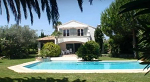 Antibes is a beautiful, historical town located on the most southerly tip of the French Riviera between Nice and Cannes. For a such a small town, Antibes is steeped in history, the town was ruled by the Greek and Roman Empires along with many barbarian tribes until eventually in the 15th century, France took control. The town became a popular tourist destination during the late 19th century when the rich and famous took notice of its beauty and started to build luxury holiday homes and villas in the town. Pablo Paccasso spent many months in the town and it is said that, Antibes is where the artist got inspiration for many of his best known paintings. The town has since opened an entire museum, dedicated to the time Picasso spent there, original works of art can be found in the museum which included 23 paintings and 44 drawings. Today Antibes is a beach resort, a yachters delight and a city break all rolled into one. The town has become very popular amongst families and is adored by the French themselves. Hospitality is a huge industry for the town and it can be seen by the range of villas and apartments available to rent. The service sector is bustling with many beautiful restaurants and café's scattered all over the area. There is something for everyone to love in this cute town and it is the perfect base from which to enjoy the Riviera lifestyle. Keep reading to find out what we love to do in Antibes.
Accommodation in Antibes
The town of Antibes relies heavily on tourism, therefore there are plenty of accommodation options to choose from. Wimdu has a great selection of holiday apartments, villas and bed and breakfast accommodation to suit all types of budgets and travellers. Check out our self-catering apartments in the old town with winding streets and cute café's
Fun Facts!
Antibes has the largest boat port in Europe!
In the 60s Antibes became known also by creating the first Technology Park in the world – Sophia Antipolis
The possible meaning of the name Antibes is "opposite the point of Nice", as it lies across the Baie des Anges.
The novel 'Mont Orio' was written by Guy de Maupassant while he stayed in the town
Things to do in Anitbes
For the such a small town, there is a lot of things to do while in Antibes. To start off your day we recommend talk a stroll through the old town of Antibes. The port's in the town are lined with super yachts and boats, and the quaint board walks are full of little café's and beautiful restaurants. As you walk through the town you will pass through the covered market, or Marché Provençale, it is a food lover's paradise, with a multitude of stalls teeming with local produce, charcuterie, flowers and handicrafts. The market run's on a daily basis and sell fresh produce that is grown within the town! It is easy to get lost in the mist of the white cloth market stalls, just as it is easy to find yourself again. With the amount of history attached to the town of Antibes – it is only fitting to explore some of it. After your morning stroll, pay a visit to the Picasso Museum. The museum is full with work from Picasso, the collection includes paintings of mythological beasts and Mediterranean sea images as well as a wonderful collection of ceramics which are worth the visit alone. Keeping with the history team, another museum worth visiting is the Musée d'Archéologie, which covers over 4,000 years of history discovered in and around Antibes. You can see artefacts from both Greek and Roman empires as well as fascinating literature produced during times of conflict endured by the town.
If you like beaches, Antibes has a few for you. Most of them are small, but all of them are fun! Most of the beaches have umbrellas and deck chairs which can be used for a small fee, the little huts on the beach sell everything you could need from beach towels to local tapas and cold beverages to cool you down. We love to visit Plage du Ponteil beach, there are great facilities like showers, loos, snack bars and best of all it is a great spot to drink in the beauty of the French Riviera. You can hire sailing and jet skiing equipment here or take a kayak for a sunset paddle.
No visit to Antibes would be complete without a visit to the Antibes Cathedral. The building dates back to the year 1124 and today stands as a national monument of France. Inside the cathedral you can see the famous altarpiece Notre-Dame-du-Rosaire and a handcrafted wooden Christ that dates back to 1447. People come from all over the world to see the La Vierge du Rosaire by Louis Bréa, It is the only complete "Vierge du Rosaire" surviving to date! If you are travelling to Antibes in July make sure you book your stay around the famous Jazz a Juan Festival. This festival has hosted famous jazz musicians including Ray Charles, John Coltrane, and Ell Fitzgerald and it also highlights the work of up and coming jazz artists. Even those who are not usually fans of jazz will appreciate the air of festivity in the town during this event. The festival attracts thousands of travellers to the town so we do recommend booking your accommodation in advance to avoid disappointment! Another summer festival worth checking out is Les Voiles d'Antibes, an annual yacht race which takes place each June. Although Les Voiles d'Antibes is not as popular as the Jazz a Juan Festival, the atmosphere around the town is just as exciting.
Eat and Drink
Antibes is full of great restaurants and bars and has a bustling night life. We love visiting Boulevard d' Aguillon, a street in the old town that is lined with late bars and some nightclubs. There is always something happening on this street and music is played aloud for those who wish to sit outside in the sun! Antibes doesn't sleep at night, and there are plenty of high-end clubs for you to choose from. You can't go wrong with eating out in Antibes with the quality of the food served in the many restaurants. We love visiting La Taille de Guepe, a beautifully decorated French restaurant in the back streets of Antibes, the food is delicious and menus are displayed in English and French. We also love Cap Riviera, an excellent seafood restaurant with great views of that look out over the ocean as you dine. The restaurant also sources particular wines from around the world that complement their dishes.
Getting Around
The closest airport to Antibes is Nice. The airport is serviced by a number of airlines including Ryanair, Flybe and British Airways, and there are daily flights from London. Once in Nice you can take a public bus (number 200) to Antibes and it only costs €1.50. There are taxis available also, but can cost you a bit more, a good tip is to agree on a price before travel. Antibes is fairly small so you can get almost anywhere on foot and you will never be too far from your holiday apartment or villa. If you prefer to use public transport to get around, the town has a good bus network that connects you with neighbouring towns and cities as well as a number of beaches in Antibes. If you would like to explore some more of the French Riviera, it is a good idea to rent a car to get around.