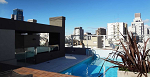 Argentina is the eighth largest country in the world and is elongated down much of South America's west coast. It is a diverse country, both in terms of landscape and culture and the country offers much to visitors. It shares borders with Chile, Uruguay, Paraguay and Brazil. Over 41 million people live in Argentina – it's a huge place! Wimdu offers a spectacular variety of holiday villas and apartments in Argentina. Social travellers here will enjoy a great spectrum of scenery and culture, spanning from the mountainous Andes region in the north west of Argentina to exciting cities like Buenos Aires, the countries capital, on the east coast. Read on to find more about this excellent and exciting holiday destination!
Accommodation in Argentina
Due the countries size and diversity Argentina offers an array of accommodation opportunities. You can try a cabin in the foothills of the Andes or a beach house or a villa in Argentina's many coastal towns. Wimdu offers a great selection of accommodation to choose from, make sure to check out what is on offer we have spacious apartments, homely bed and breakfasts and beautiful villas all over the country.
Fun Facts!
The Argentinian city of Ushuaia is the most southerly city in the world!
The oldest known dinosaur remains in the world have been found in Argentina and Brazil!
Argentina was the first country in the world to use fingerprint identification!
Tango music originated in the slaughterhouse district of Argentina's capital Buenos Aires!
Things to Do and See
As the capital and the thriving hub of the country Buenos Aires is the most popular city for visitors to Argentina. For those without sufficient time to explore the whole city should get an apartment in the La Boca district, known as the most colourful and diverse areas of the city. It is in this area that tango originated from! But don't worry if you can't get one there, Wimdu has apartments all over the city , each with their own unique charm. Those staying for a few days can rent accommodation in a less well known area of the city, saving money and discovering areas off the beaten track. Like most of the city, the food, culture and nightlife are excellent, for a more distinguished trip try seeing the port areas of the city. Make sure you try some typical Argentinian cuisine – it's excellent. It's mainly meat based and Argentinian BBQ and steaks are popular all over the world!
Mendoza is also a very popular city with travellers, located on the eastern side of the Andes, the city and its surrounding area offer a mesmerising and striking landscape with excellent views of the mountains. The city is particularly attractive to those interested in mountain climbing, horse riding, hiking, rafting and other adventure or mountain sports and during the winter season Mendoza attracts many skiers and snowboarders. The region is also famous for its wine. Mendoza enjoys the prestigious title of one of the world's nine great wine-growing capitals. Its high altitude, futile and volcanic soil, and proximity to the Andes make it one of the best places on the planet to grow wine. The region has hundreds of wineries, and as a result, wine tourism is something else that attracts visitors to Mendoza. To make your stay complete, book unique accommodation and privately owned apartments in the city or villas in the surrounding areas with Wimdu.
Mar del Plata is Argentina's most popular city for beach goers with its premiere beach resorts, offering 17 kilometers of beaches, sports fishing, colonial architecture, a university, sports, zoo, casino and lively nightlife plus a number of parks and gardens to tempt the visitor. If you're looking to top up on your tan while relaxing by the sea then make sure you stop by Mar del Plata. We do recommend you book early, as peak seasons attract a lot of visitors! Make sure to check out a range of bed and breakfasts that are on offer in Mar del Plata.
Getting Around
Most people flying into Argentina will arrive at Buenos Aires International Airport (called Ministro Pistarini). The airport has major connections with other cities across South America as well as connections in Europe, Australia and New Zealand. Mendoza is also home to a major airport with connectinos with Santiago in Chile and Lima in Peru. If you are visiting Buenos Aires by plane from another part of Argentina will you land at the Aeroparque Jorge Newbery domestic airport. Both of Buenos Aires' airports are located on opposite sides of the city to each other – it's quite a journey between the two! Cheap shuttle buses connects the two so don't worry! Always be sure that you're in the right airport too! If you're planning on visiting other cities in Argentina then you will find that flying is the quickest way. Argentina is a big country and you'll lose valuable holiday time if you decide to travel by bus! Buses are comfortable and affordable however so don't be put off traveling short distances on them! There are airports in Mendza, Perito Moreno and Iguazu Falls. Travelling by boat is also a popular way to get around Argentina! Regular catamaran's run from Buenos Aires to Montevideo and Colonia in Uruguay. Slow and fast ferries are available and leave several times a day. You can also get from the city of Tigre to Carmelo and Nueva Palmira in Uruguay too. Trains connect Tigre with Buenos Aires and the journey takes 50 minutes.