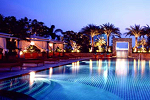 There's good reason that Travel & Leisure Magazine continues to vote Bangkok the world's best city year after year: it's simply a magnificent tourist destination. From gilded temples to golden sunsets, this exciting city on the banks of the Chao Phraya River has something to offer everyone. At the first hint of dawn, watch scores of trucks deliver fresh blooms to the Flower Market on Chakpetch Road, then catch a river ferry upstream to tour the Grand Palace and Temple of the Emerald Buddha. Just across the street is Wat Pho, the famous Thai massage school, where visitors can relax and enjoy a massage for an amazingly low price.
At sunset, board a dinner cruise boat and watch lights come on all over the city as you sail beneath the magnificent series of bridges that span the Chao Phraya River. Though it's been a long, exciting day, things are just beginning to hop in Bangkok. From the backpacker district of Khao San Road, lined with bars and clubs; to the prolific night bazaars; to the red light districts of Soi Cowboy, Nana, or Phat Phong Road, Bangkok offers endless entertainment till the wee hours. And all of it is delivered with the famous Thai hospitality that earned this country its reputation as the Land of Smiles.
Bangkok Fun Facts
Bangkok holds the Guinness record for the longest name of a place. The city's ceremonial name is "Krung Thep Mahanakhon Amon Rattanakosin Mahinthara Yuthaya Mahadilok Phop Noppharat Ratchathani Burirom Udomratchaniwet Mahasathan Amon Piman Awatan Sathit Sakkathattiya Witsanukam Prasit" - too long for Twitter!
Bangkok is sinking at a rate of two to five centimetres a year, which is due to heavy urban development
Bangkok holds the world record for the largest gold Buddha - the three metre tall, five and a half ton statue can be seen at Wat Traimit and is worth tens of millions of dollars
It is illegal to leave your apartment without wearing underwear in Bangkok!
Where to Stay in Bangkok - Apartments for Rent, Guest Houses and Rooms
Wimdu offers a wide selection of apartments for rent, rooms and guest houses in a variety of Bangkok neighborhoods, each of which have their particular charm. If shopping is your idea of heaven, choose rooms near Siam Square. History and culture high on your list? Wimdu have apartments for rent in the Rattanakosin district, which is home to all the most important temples and historical attractions. For entertainment and great food you may prefer the Silom neighborhood. But wherever you choose to stay, Bangkok's fabulous public transportation system and cheap taxis will make getting around a breeze, so don't hesitate to book a guest house or apartment in a more local neighborhood and enjoy a true taste of Bangkok hospitality.
Things to See and Do in Bangkok
Due to the size of the city, we've divided this up by area - this will also give you a chance to decide whether you want a room in Siam Square, a guest house in Silom or an apartment for rent in Rattanakosin!
Siam Square: The shopping hub of Bangkok, Siam Square is home to megalithic malls such as the seven-floor MBK, Central World Plaza, Siam Paragon, and the famous technology center known as Pantip Plaza. Nearby is the Jim Thompson House and Museum, a collection of six traditional Thai teak houses brought to Bangkok by Thompson and filled with precious arts and antiques that the ex-CIA agent collected from across Southeast Asia. Based in Bangkok during World War II, he stayed on after the war to create the world renowned Jim Thompson Thai Silk Company. Though his company still thrives, the whereabouts of Thompson remain a mystery, as he set off for a Malaysian holiday in 1967 and was never again seen. Another must-see in this area is the Erawan Shrine, an open-air temple where thousands of devotees pay their respects each day by garlanding the Brahman statue with flowers and offering gifts ranging from food to exquisite teak carvings.
Silom: To the south of Siam Square, Silom is the commercial and financial district of Bangkok. The area is bisected by Silom Road, one of the city's busiest streets by day and night, where visitors will find hundreds of bars, restaurants, retail stores, antique and art galleries, and kiosks selling all manner of clothing and souvenirs. The area is also home to Lumphini Park, with its myriad footpaths and a lake with paddle boats, as well as Phat Phong Road, with it's vibrant night market and erotic sex shows.
Rattanakosin: This area, tucked into a gentle bend of the Chao Phraya River, is a must see for all visitors to Bangkok, as it contains the main historical attractions of the city. Not to be missed are the glittering Grand Palace, Temple of the Emerald Buddha, Wat Pho (where masseurs receive training in classic Thai massage), the National Museum of Royal Barges, Wat Arun (the Temple of Dawn, which ironically, is best seen as the sun sets and its stately spire is illuminated), and the ever amusing backpacker district known as Khao San Road.
Sukhumvit: The name of Bangkok's main street and one of its two BTS (Sky Train) lines, the Sukumvhit area is known for its shops and restaurants, and is one of the best places in the city (along with Silom) to find delicious, inexpensive traditional Thai food. Here visitors will also find the Bangkok Planetarium and Soi Cowboy, the red-light district named after the cowboy hat-wearing African-American who opened the first bar here in the early 1970's.
ChatuChak: If you like to shop till you drop, the weekend ChatuChak Market will test your mettle. The 35- acre site, referred to by locals as simply "JJ," is crammed with more than 8,000 vendors, arranged by merchandise category. From fresh-caught eels to giant metal robot sculptures, silk scarves to live pets, designer jeans to auto parts, no one can hope to see it all in a single day. To ensure the best use of your time, pick up a map at the entrance gate. Also located in the ChatuChak area are the Children's Discovery Museum and the Butterfly Garden.
Yaowarat: The Chinese traders who settled this area of Bangkok designed Yaowarat Road to be curvy like the body of a dragon, in keeping with Feng-Shui theory that claims the shape makes it an ideal location for business. Bangkok's Chinatown is a good place to buy gold and jewelry and enjoy authentic chinese food (be warned - few of the employees speak English and many menus are in Thai and Chinese only). Begin your tour at the giant red-lacquered China Gate, which marks the east end of Yaowarat Road, and work your way through the area by visiting local shrines such as Wat Mangkon Kamalawat (pray for good luck), Wat Trimit Wittayaram (spiritual wealth), and Kwan Yin Shrine (magical healing).
Food
Don't be shy! Step into that little hole in the wall that seats only ten people and order up. You will likely be amazed by the tantalizing fare, balanced with the perfect combination of sweet, sour, salty, astringent, and spicy. Though authentic Thai food can be very spicy, Thais understand that not all Westerners appreciate a flaming tongue, so most all are willing to tone down the peppers to suite Western palates. Visitors will find that Bangkok offers a wide variety of cuisine and restaurants that range in prices from extremely affordable to haute cuisine prices. One caveat, however: always check to see that the prices charged to tourists are the same as those charged locals. Ask the host of your holiday apartment or guest house where they suggest that you eat in your neighbourhood.
Street Food: Street vendors sell food at almost every intersection in the city center and all along the main thoroughfares. Though in many parts of the world, precautions should be taken when eating street food, in Bangkok it is generally safe and a great way to sample many local specialties for pennies.
Getting Around Bangkok
The Bangkok Skytrain and underground rail systems are clean and well-maintained, but realistically you are going to spend a lot of your time travelling in taxis, which are fast, reliable, cheap and painted in all sorts of bright and funky colours. The famous Bangkok tuk-tuks are slowly being replaced in favour of more comfortable taxis, but if you see one be sure to flag it down for a truly Thai experience! Whichever neighbourhood you choose to rent your holiday apartment, you won't have any problems getting around.