Wimdu guide to Bayswater: Apartments and Flats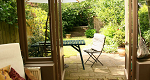 The beautiful Bayswater, part of London's 'Royal district', could almost be synonymous with style. Here grand Victorian 'stucco' terraces, now split into self-contained apartments, with white pillared entrances rise up around courted gardens and immaculate streets. If you're familiar with the image of London typically portrayed in British films like Notting Hill, About a Boy and Bridget Jones's Diary, or the reality TV series Made in Chelsea, Bayswater certainly lives up to expectations. The neighbourhood is situated in the famous W2 postcode, in the district of Westminster, bordering Hyde Park, Paddington, Marylebone, Covent Garden, Kensington and Chelsea. It is a cosmopolitan area with enough bars, cafes and boutiques to entertain you for weeks on end without ever revisiting the same place twice.
Where to Stay
Bayswater is not the largest area and as such there is not so much choice when it comes to where to stay. In terms of apartments however, there is more than enough choice. The converted Victorian flats offer real character with high ceilings, period details, wooden floors and large bay windows. They are spacious and light, with pleasant views over court yard gardens or over Hyde Park itself. Modern conversions offer minimalist decor and bachelor-pad style interior, kitted out with the latest gadgets and expensive equipment. If you're staying in Bayswater with the family, you can also find whole floors turned in studio flats, with open-plan living spaces and, as with all the accommodation in this area, great proximity to the very best bits of London. Most people looking to stay in Bayswater will opt for high-end hotels, but in doing so, they miss out on these apartment gems. Why not check out the range on offer from Wimdu today.
Fun Facts
Bayswater is actually one of the city's most cosmopolitan areas, with a diverse population and large concentration of visitors' accommodation. There is a large Arab and Greek community living in Bayswater.
Bayswater originally belonged to the Abbey of Westminster under the great 1086 survey.
Among the notable residents of Bayswater are politicians Tony Blair and Winston Churchill, actress Keira Knightley, fashion designer Stella McCartney, comedian Jennifer Saunders and biologist Alexander Fleming
Things to see and do
As one of the city's most cosmopolitan areas, there are certainly enough shops, bars and cafes to keep you occupied throughout your stay but if you're looking to do a bit of sightseeing, you'll need to venture a little way from Bayswater itself - not too far though and most of the best London attractions are only 5 minutes away by tube!
Sightseeing
We highly recommend setting aside a day where you rise early, leave behind your stately Bayswater apartment and head out for a day's sightseeing. The majority of London's top sights and attractions surround the area, with London's South Bank only a 15 minute walk away, the beautiful Kensington Gardens and Hyde Park around the corner and Buckingham Palace, The Royal Albert Hall and The London Eye only a stone's throw away. Spend some time gazing at Westminster Abbey, an iconic example of the Gothic architectural influences from 1245, as you head south towards the South Bank. Here you will find a whole host of galleries and exhibits, such as the Tate Modern and Howard Gallery for modern art lovers, Shakespear's Globe Theatre for literature and theatre lovers, and the British Film Institute for film buffs. After a day on your feet taking in the culture on the South Bank, Covent Garden - London's most expensive cosmopolitan square, is a great place to enjoy a cocktail or two on a roof terrace bars.
Museums and galleries
There are several other museums and galleries around the area as well. Head south-west from Bayswater for 10 minutes or so and you will find yourself on London's famous Exhibition Road in South Kensington, host to several educational establishments and museums, including The Science Museum, The Natural History Museum and The Victoria and Albert Museum: all excellent places to visit if you're staying in Bayswater with the family - a guaranteed way to keep the kids occupied and out of the apartment for the day.
Hyde Park
Hyde Park, formerly a hunting ground for the city's middle class citizens, is the largest green space you'll find in central London. Today the park is a popular location for both tourists and locals, many of whom are drawn to the park's centre where there is the large Serpentine Lake which provides the perfect spot for a bit of leisurely rowing in the sunshine.
Bayswater
Bayswater is a great location for shopaholics. A short walk from your apartment you will find all the best of London's retail hotspots, including High Street Kensington, Portobello Road Market, Oxford Street and retail giant Harrods. If it's big brands you're after, Oxford street is the best place to go. The street is lined with super size versions of all of Britain's high street favourites - but beware if you're planning on heading there on a Saturday, the streets are heaving with people and the shops full of bargain hunters fighting over the best fashion finds. To beat the crowd head there early in the morning, or better still on a weekday when things are a little quieter.
Prefer to try your luck on the market stalls? Portobello Road provides a great authentic London Market experience with a thriving flea market, a section of stalls dedicated only to antiques and a host of different street vendors selling food from all over the world. For entirely the opposite shopping experience - there are no bargains here - head to Harrod's, London's most famous department store, to gape at the extravagant grandeur. After a long day's shopping in the streets of London, complete the experience like a true local and head back to your apartment to put up your swollen feet and sink into the large leather sofa.
London Nightlife
As one of London's most cosmopolitan and fashionable neighbourhoods, Bayswater is full of contemporary bars, serving excellent cocktails and catering for the many beautiful people that live around and visit the area. Renting a high-class apartment and want to complete the experience with a high-class drinking joint? Then we suggest you head to Notting Hill, home of the floor-to-ceiling mirror and imitation-south-of-France decor. Bars around this area don't often have a late licence though, so if you're looking for an all night party, you'll have to scout out the rich kids and see who's continuing the drinking back at their apartment - or you could always invite some people over to your own apartment. After all, there's no use having all that space and elegance if you can't use it to entertain some guests now is there?