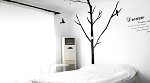 Beijing is a truly amazing in so many respects; geographically, politically, architecturally, and culturally. If you want a city break you're likely never to forget, one that will really leave a mark and inspire you in so many ways, Beijing is the place to go. If you've never been before though, it can be quite overwhelming. A well organised itinerary and some careful planning is definitely in order. The main things of importance of course are sorting out your accommodation and deciding which tours you'd most like to take. As Beijing is so vast and has such a thriving tourist economy neither of these decisions will be easy.
Where to Stay in Beijing
The hotel scene in Beijing has come a long way from what it once was, but it still doesn't offer all that much in terms of flexibility or originality. Looking for something a bit different? Windu's selection of accommodation in the city makes Beijing living - even if you're only staying for a few days - more exciting. Whether you're travelling on a mid range budget or looking for something a little more luxurious, you can find it with Wimdu. The choice in Beijing leans more towards compact modern apartments in tall tower blocks or more traditional guesthouses and artsy Beijing 'villas'. The city itself follows a grid-like structure, similar - and at the same time completely dissimilar - to that of New York.
The most popular districts for visitors are:
Xicheng District: in the north-western part of the central city with notable sites such as the Beihai Park, Houhai area, Beijing Zoo and National Concert Hall.
Dongcheng District: in the north-eastern part of the central city with notable sites such as the Forbidden City, Tiananmen Square, and Beijing Railway Station.
Xuanwa District: in the southwestern part of the central city.
Chongwen District: in the southeastern part of the central city with notable sites such as the Temple of Heaven.
Fun Facts
The, somewhat unimaginitive, pet name for Beijing is Peking, which doesn't refer to the classic Chinese duck dish but actually means 'the Northern Capital'.
On an average day in Beijing, pollution is 5 times worse than the safety standard set by the World Trade Organisation.
According to the official census in Beijing , Wang is the most commonly used surname in the city
In Beijing, there is actually a kind of class system for cabs, whereby the fancier the cab, the higher the fare.
What to See and Do
As Beijing is such a vast city, it would not be possible to see and do everything on offer, even if you're accommodation is right in the centre of the capital. But there are some attractions and sights that just can't be missed.
Forbidden City
A lot of people have heard of the Forbidden City but actually don't have any idea what it is. The city is a collection of ancient buildings and palaces, and is also known by the Chinese as Palace Museum. It is certainly not forbidden now and even on a quiet day can be very crowded. The name refers to the fact that for 500 years the city was off limits to visitors, due to Byzantine regal protocol.
The Simatai Great Wall
The Great Wall is such an important monument in China that people from all over the world come to see just this and nothing else. The wall dates back to 221-207 BC, originally constructed as independent barriers that became linked together. It took hundreds of thousands of workers to build the wall. It is an excellent example of large-scale collaboration. When choosing a tour of the wall, make sure you check the route to make sure they don't divert off to different monuments and attractions that are miles from the wall itself.
Tiananmen Square
At 440,000m2, Tiananmen Square is the world's largest square, right at the centre of Beijing.The buildings around the square are inspired by the Soviet Union, following conventional style. The square is steeped in political symbolism, but aesthetically it is not all that pleasing. It is certainly worth visiting, whether your apartment is closeby or not so close.
Panjiayuan Market
The market is held on Sundays and has a range of things on sale from crafts to calligraphy, memorabilia from the cultural revolution to ceramics. The best time to visit is early in the morning as the market gets very crowded, and practise your haggling as the vendors are well practiced in ripping off unknowing tourists.
Beijing Tours
If you're prepared to spend a full day non-stop sightseeing, and not returning to your apartment until days later, then it is well worth taking one of the many tours on offer in Beijing. The tours are designed to guide you through all the top attractions and cultural and natural sights. Accommodation and transport is arranged so it is worth having a real think about what kind of experience of Beijing you're after; to live like local or tourist?
Drum Tower and Bell Tower
Another site marked in historical, cultural and political symbolism, the Drum and Bell Tower mark the Mongol capital. If you've already had all the political and historical education you can handle, you can always climb to the top simply for the super impressive views.
Summer Palace
The Summer Palace was a haunt frequented by Chinese Emperors. You will want to spend a whole day here as the palace and grounds are so enormous. The grounds encompass several gardens, sprawling lakes, Chinese pavilions,gate towers and corridors of typical landscaping.
Beijing Olympic Park
The Beijing Olympic Park is a modern architectural masterpiece. The stadium in the centre looks like a kind of metal birdsnest blowup to macro scale (this is where the opening and closing ceremonies were held) but the surrounding grounds are typically clinical and orderly in style. You can take a tour of the park too, which lasts a full day and takes you around all the main points of interest.
798 Art District
The Beijing Art District is an impressive collection of contemporary art galleries, displaying changing exhibitions from artists all around the world.
Temple of Heaven Park
A typically Chinese garden, this orderly expanse of greenery is considered to be an excellent example of Chinese urban landscaping at its best. It provides a tranquil escape from the busy city and a great place to come if you want a moment's peace away from the apartment.