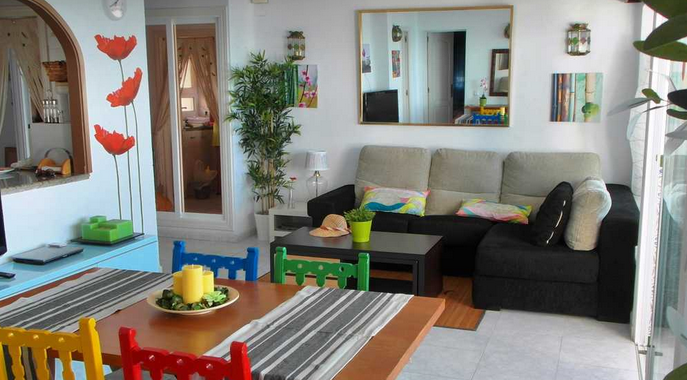 Benalmádena is a beautiful town in the province of Málaga on the Costa Del Sol, Southern Spain. Benalmádena is an incredibly popular tourist destination, well known for its entertainment infrastructure and variety of leisure activities including an amusement park, two aquariums, a casino, a cable car and one of the largest marinas in Andalusia. As one of the cosmopolitan centres of the Costa del Sol, Benalmadena is a fantastic place to visit for a holiday, whether with your family, friends or other half. The hotel and accommodation industry here is thriving so you shouldn't have any trouble finding somewhere equally fantastic to stay.
Where to Stay
The majority of the population of Benalmadena is concentrated in Arroyo de la Miel, the administrative district where most of the jobs can be found. However, if your business more of the partying and relaxing in the sun kind, Benalmadena Costa is the tourist capital and cosmopolitan section. In terms of accommodation, Southern Spain is best known for its family villas and open plan tiled apartments. There are a number of large hotels catering for tourists in the Benalmadena region, but if you'd prefer to get a better feel for local life in Southern Spain, then a villa or apartment holiday rental is most likely a much better option. Wimdu apartments and holiday rentals are privately owned by locals which means you will have the best local knowledge about where to eat, relax, sightsee, shop and much more! You can view pictures of our apartment and holiday rentals and sort by the amenities you require.
Fun Facts
The natives of Benalmadena call themselves Benalmadenas.
Benalmadena actually consists of three population centres: Benalmadena Pueblo, Benalmadena Costa, and Arroyo de la Miel.
The first human settlement in the municipality of Benalmadena occurred in the period known as the Upper Palaeolithic period, between the eighth and sixth centuries BC.
The name Benalmadena is thought to have derived from the Arabic 'Ibn al-Madin', meaning "Children of the mines". The region used to be a location for ancient Iron mines.
What to See and Do
Benalmádena really is the perfect holiday resort for all ages. Among the many attractions is the Paseo Maritimo, or promenade, which stretches the entire length of the resort with a small break at the wonderful Puerto Marina.
The Puerto Marina
The Puerto Marina is Benalmádena's centerpiece and this world class Arabian style marina should not be missed. There are many restaurants, bars, places to dance and shops within the marina and it is certainly a place to see both during the day and at night.
Butterfly Park
The perfect end to your day could then be a visit to Mariposario de Benalmádena, Europes largest butterfly park containing over 150 different species from all over the world. Benalmádena is located in an area of Spain where there is many resorts to pick from.
Hit the beach
Like most of Southern Spain, the beaches of Benalmadena are perfect strips of golden-white sand. Though they are often crowded, they are still well worth a visit. Santa Ana beach is located close to the Marina, running parallel to the ocean sea-front promenade. Bil-Bil Beach is a beach situated in the heart of Benalmadena, right by Bil-Bil Castle, the magnificent council-owned villa where events are held. Mala Pesquero Beach is a well known sporting and entertainment beach, with events held all year round. There is a strip of apartment rentals close to the area.
Win big at the casino
There are two major casinos in Benalmadena: the local Casino Torrequebrada and Marbella Casino, a short drive from the area. The casinos here are a big tourist attraction for the area and are often buzzing with European visitors looking to try their hand and win some extra spending money for their holiday.
Hike up the mountainous trail walk
There are several natural areas and preserves around the Costa del Sol, great for walking and exploring the land. In Benalmadena there is the Calamorro Mountain, which offers spectacular views over Southern Spain and the coast. You can chose to climb the mountain on foot or take a cable car to the summit. At 771 m high, if you do choose to walk it, you'll be thankful to have a comfortable apartment to return home to afterwards, where you can sink into the sofa and put your feet up!
Ride the cable car
The thrilling cable car runs from Arroyo de la Miel to the top of Monte Calamorro. The journey lasts a full 10 minutes and gives you a magnificent panoramic view over the entire area.
Play a spot of golf
Golf is a popular sport in Spain and in particular on the Costa del Sol. Here you will find several golf courses to choose from if you want a bit of peace and quiet on the grass. Local to Benalmadena is the Campo Parador de Golf right in the heart of the Costa del Sol and just 10 minutes drive from the airport and the Club de Golf El Candado, a nine-hole course with an impressive social club.
Experience life among the fishes
The Sea Life Aquarium in Benalmadena is a great place to visit with children. There is a vast array of sea creatures here, including star fish, sea urchins, hermit crabs and sea cucumbers. The Aquarium is big on trying to educate visitors about respect for marine life so you can expect to learn a lot on your visit.
Test your G-force tolerance
If you're board of lying on the beach and seek something more thrilling, Tivoli World in Arroyo de la Miel makes for a great day out of the villa. There are a variety of attractions here, including several rides, a fairground style ferris wheel, live theatre performances, concerts, and several food outlets dotted around the park.
Paloma Park
One of Benalmádena's best treasures is the Paloma Park which is incredibly popular with both children and adults. Paloma Park has a large lake, water plume, and landscaped gardens along with rabbits, peacocks and other wildlife which roam freely. If that wasn't enough, the park also contains a cactus garden with species from all over the world along with two children's playgrounds and three café's.