Benidorm is a former fishing village located on the eastern coast of Spain, in the province of Alicante. The seaside resort began its rise to fame between the 50s and 60s when the area was built. Nowadays it is famous for its high skyscrapers, fun holiday activities and high-quality services. Benidorm attracts tourists with its 200 kilometres of wonderful white sandy beaches, creeks and typical Mediterranean landscape. Spanish holidaymakers choose also Benidorm so there is a feel-good Spanish vibe in the area as well as some authentic rural villages nearby. But why should you choose to spend your well-deserved holiday in Benidorm? Let us tell you!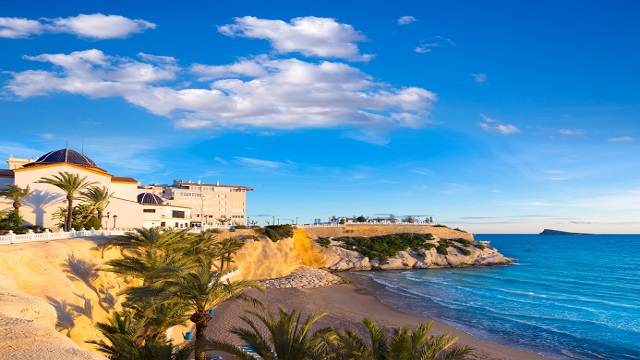 Blue Flag sandy beaches
Transparent waters and sandy beaches are symbols of Benidorm. The resort is located in the centre of the Marina Baixa region on the Costa Blanca. There are two beaches on the seashore of Benidorm: Playa de Levante and Playa de Poniente. The Blue Flag beaches stretch over 5 kilometres and are perfect for families thanks to the strong presence of lifeguards. Both beaches offer nautic activities such as scuba diving, kayaking, jet skiing and banana boats. They also offer amenities like sun loungers, parasols, a children's play area, floating platforms and a shaded area ideal for reading. The beaches are accessible via a long promenade lined with bars and restaurants. Playa de Poniente is less crowded in the summer and is preferred thanks to its family-friendly activities and disabled access.
In between these two beaches, there is a little jewel called Cala de Mal Pas. Cala de Mal Pas has the harbour on the west and the Mirador de Punta Canfali on the east. Go here to enjoy the view and take pictures.
Cala Tio Ximo, a little cove north of Benidorm at the foot of the Sierra Helada, is a good choice to escape the crowds. A mixture of sand and pebbles fill this small but charming beach. Those who enjoy snorkelling will really appreciate this area. There is a reduced lifeguard service but it is easy to watch your kids as the area is small. When leaving the beach, don't miss the opportunity to head to Cueva del Barbero cove for a photoshoot. Close to Cala Tio Ximo is Cala Almadrava, another cove. It is a little bigger (100 metres long), with the same characteristics but minus the lifeguard service.
Benidorm Old Town
Benidorm old town is worth a visit to see how the area was before it became a famous tourist destination. It lays on a hill between the beaches of Playa de Levante and Playa de Poniente. Be sure to visit San Jaime Church. Built in the 18th century and named after Benidorm's patron saint, it boasts a blue dome typical of Mediterranean churches. Inside you will find a statue dedicated to Santa Ana, Virgen del Sufragio. From the church, walk down to the remains of the castle's walls. It used to be a fortress that protected its inhabitants from pirate attacks. Another must-see spot in the old town is Balcón del Mediterráneo. From here you can enjoy a breathtaking view over the sea and its rich changing colours. Don't forget your camera!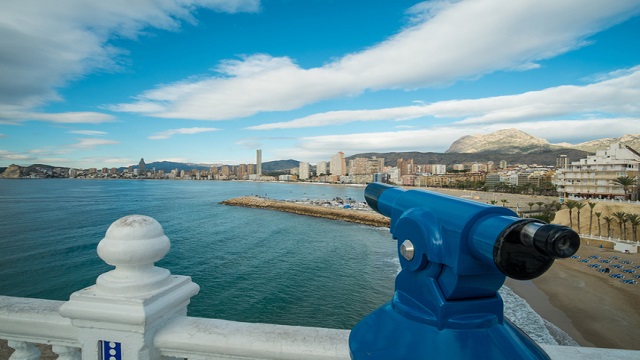 Wander through the narrow and winding back streets to feel the Spanish atmosphere, stopping to have a drink and some food at one of the many tapas bars you will encounter. Then you will be naturally guided to the L´Aigüera Park, a green space which draws a frontier between the old and new parts of the city and where many 'fiestas' take place. At the entrance of the park, you will be struck by a quite odd building: a modern structure that looks like a skyscraper lying horizontally. It is Benidorm's new town hall and it can be visited by architecture fans. End your tour by heading back to the seashore and close the day walking, cycling or driving a scooter along the promenade.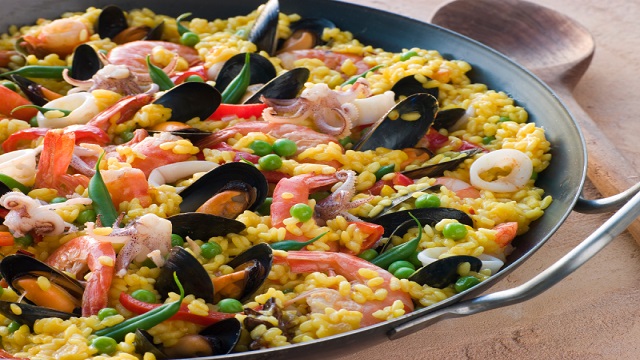 Benidorm's number 1 hobby: fiestas!
Many parties, or "fiestas", happen throughout the year, ending with the most famous celebration in November, Benidorm Fiesta, celebrating the patron saints of Benidorm, San Jaime and Santa Ana, the Virgen del Sufragio. In Spain, the Catholic faith is celebrated in many cities and is taken very seriously in Benidorm. Legend says that Santa Ana's statue was found in a ship that was washed up on shore in the 18th century and a chapel was erected in the church of San Jaime for her. Although this originally happened in March, the celebration now takes place in November at the end of the tuna fishing season. It starts on the second Friday of the month and runs until the following Wednesday. During the six days, there is a mix of religious and non-religious parades including the Parade of Humor and the Parade of Floats. Other fun activities include traditional songs, firecrackers, flower displays and finally a huge firework show on Playa de Poniente.
Another festivity worth planning your trip around is Benidorm Carnival in February. The carnival ends with a simulation of the burial of the sardine, a funny local tradition symbolic of burying the past. There is also the Fallas (meaning torch) in mid-March, where three giant statues are made from papier-mâché that may have a political connotation and which will be burnt at the end of the five-day-long celebration.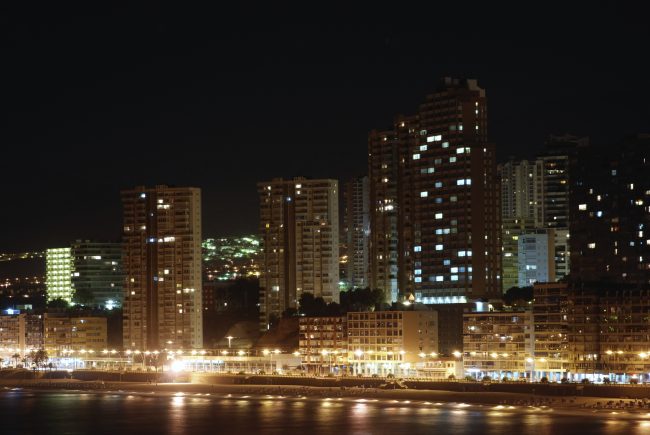 Tired of water-based activities?
Benidorm offers other valuable experiences besides lying on the beach. Hiking in the Sierra Helada is one of them. This park has the unique particularity to be both a marine- and land-based park as it stretches all along the coast from Playa de Levante to Playa del Racó Albir. It is possible to dive in Cala Tio Ximo cove if you do end up missing the water. There are three routes to take. The blue (9-kilometre round trip) and red (5-kilometre round trip) routes are easier than the yellow route (13 kilometres one way). Entrance is free however some rules must be followed. There is no drinking fountain or food stands so don't forget to bring enough water and food. You can take your dog but only with a leash.
You can also choose to visit Sierra Helada by bicycle. There are several bike rental shops in Benidorm. Tao Bike and Marco Polo are two of them, located behind Playa de Levante on Av. del Mediterráneo and Av. de Europa respectively. Both offer various bikes for the whole family, including a bike with a trailer to carry your kids. Prices start at €12 for 2 hours for a regular bike and rise up to €25 for one day. The trailer might be free of charge at Tao Bike depending on the bike you choose. You can also book a guided tour starting at €32 per person, however, a minimum number of participants is required. Different routes are offered that take in other towns outside Benidorm and electric mountain bike tours are also available. In addition to bikes, Marco Polo rents scooters and quads. The company also offers a wider range of activities including a number of inland walking safaris, jeep safaris, paragliding, Segway tours and horse riding.
Benidorm is a wonderful seaside resort that ensures an unforgettable holiday. It is a perfect destination for families, young couples or groups of friends who want to enjoy the nightlife, those seeking to relax the Spanish way, watersport addicts, adventurers, hikers… the list goes on! Book your favourite Wimdu accommodation and explore Benidorm for yourself.