Copenhagen: Scandinavian City of Smiles
Copenhagen is officially the world's happiest city, according to a recent 'World Happiness Report' from the Earth Institute at New York's Columbia University. The colorful Danish capital is also consistently voted one of the world's most livable cities. If you're planning a fleeting visit with Wimdu rather than to up sticks and move there, here are a few of the city's must sees, picked out by a real Københavner.
Cover photo via Pug Girl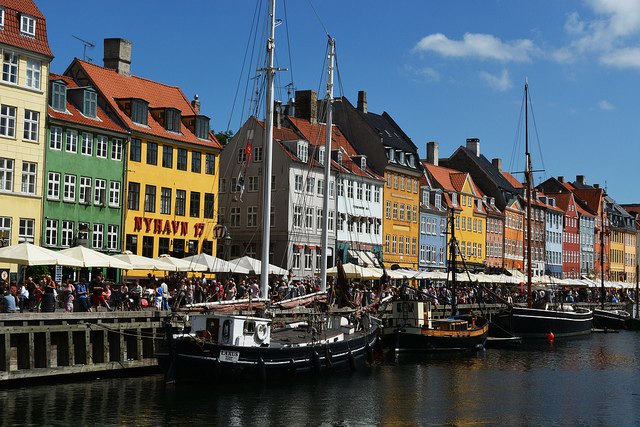 Copenhagen's beautiful harbor! Photo via Pug Girl
Børsen and Christiansborg slot (palace), situated right next door to each other, are two buildings which have stood at the heart of Copenhagen for hundreds of years and offer some real insight into the city's fascinating past.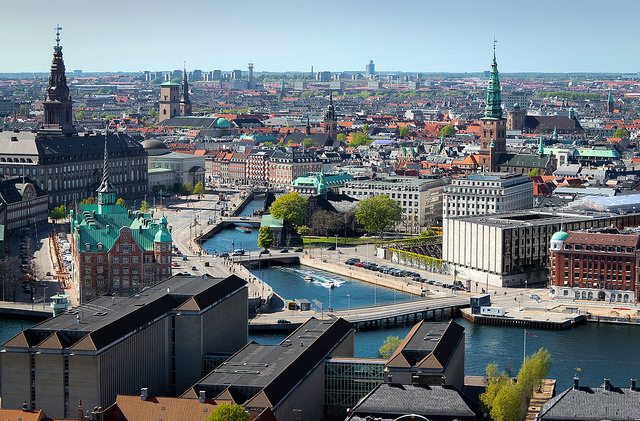 A view of some of Copenhagen's most impressive architecture. Photo via Thomas Rousing, FlickCC
The Børsen, which is the blue building in the picture above, is where the Danish Stock Market used to be based. It designed in a typical Dutch renaissance style and famous for its 'dragon' spire design. Christiansborg slot can be seen just behind the Børsen above. The Danish Parliament and Monarchy both reside within these walls.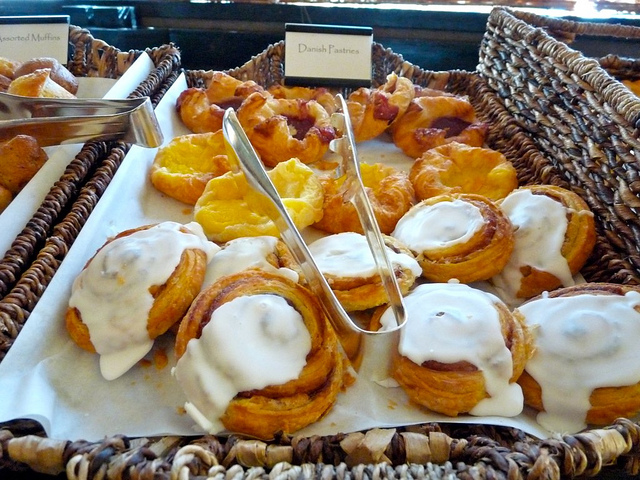 Delicious Danish pastries! Photo via Theme Park Mom, FlickrCC
A trip to a traditional bakery is a great place to start and pick up some energy for your day. Danish bakeries are famous for their delicious bread and pastries. This may also be the best chance to sample some classic Danish food, as lunch and dinner are all about international cuisine such as Italian, Indian and Chinese food.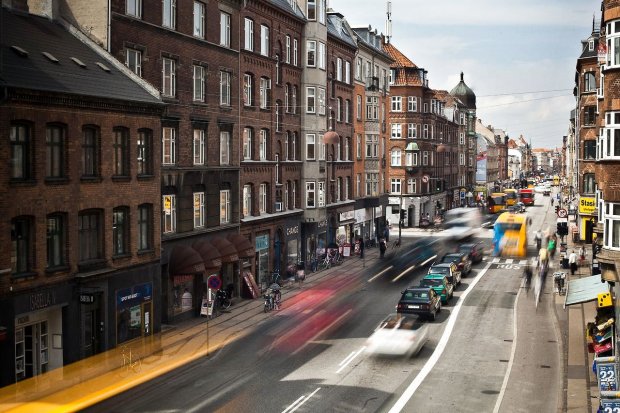 Denmark's longest street. Amagerbrogade. Photo via B.DK.
Amagerbrogade is famous for being the longest shopping street in all of Denmark. It is always buzzing with plenty of people and lots of great shops, from big designer names to independently owned one-offs, can be found here. If you can't find what you're looking for, Amagercenteret Shopping Center is right around the corner, providing any shopper with ample opportunity to find whatever their heart desires.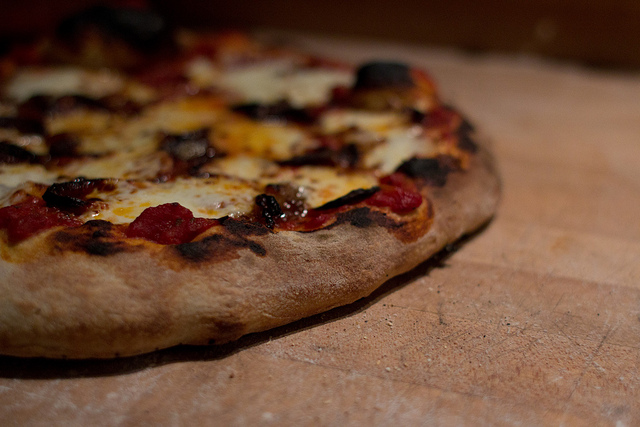 Tasty pizza from Gastronomia Pizzeria. Photo via Bert M B, FlickrCC
At the end of Amagerbrogade you'll find the beautiful Christianshavn district. The Danes are big on cycling: 55% of all Copenhageners travel to work by bike and the city is the home of the world's busiest cycle lane. Keep your wits about you, particularly around Christianshavn Torv (square), otherwise you might get knocked down!
The harbour next to the square is a nice place to chill out and enjoy the atmosphere at a cafe or restaurant. One of the best options for this is Gastronomia Pizzeria, a genuine Italian pizza place in Frederiksberg. Not only are the pizzas good but there is also a selection of delicious sandwiches with fresh, high quality ingredients and homemade ciabatta buns! Well worth visiting if you're in the area and feeling peckish.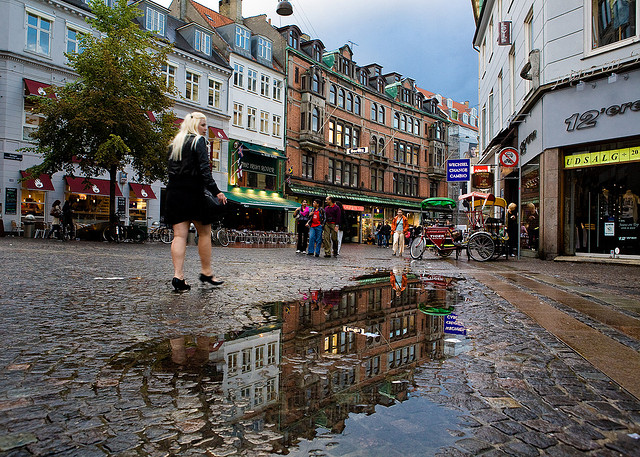 Strøget – the perfect place for a stroll. Photo via Kennymatic, FlickrCC
Strøget is Denmark's oldest pedestrian street, and is home to many different shops and restaurants. To experience the best of this area, take a walk from Rådhuspladsen, heading down towards Kongens Nytorv and stopping by Magasin du Nord – Copenhagen's premier department store – on the way.
Dragør is another area well worth seeing. This is the 'old town' district of Copenhagen, the perfect place to stroll around and admire the grand architecture, heading back towards the harbour, where there is a little ice cream shop on the waterfront which is nearly always busy. If you're happy to join the queue you'll be rewarded with arguably Copenhagen's best ice cream!

Copenhagen Harbor and The Little Mermaid. Photos via Heatheronhertravels and News Oresund, FlickrCC
Once you've got your ice cream, enjoy the harbor's beautiful views and find your way to the iconic Little Mermaid statue that resides on the seafront in Copenhagen Harbor. It's based on the 'Little Mermaid' fairy tale by Hans Christian Andersen is regarded as one of Copenhagen's landmarks. There's usually a crowd of tourists around the statue, and often an equally large crowd of locals rolling their eyes.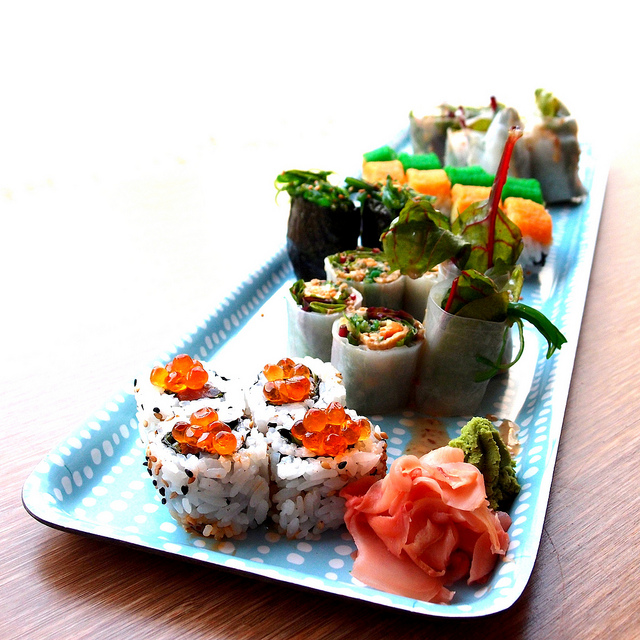 Typical Copenhagen sushi – fresh from the sea! Photo via Henrik Chulu, FlickrCC
The possibilities for dinner are endless in Copenhagen, but in recent years Copenhagen's abundance of fresh fish has made in an unlikely hot spot for Sushi, with Sticks and Sushi Frederiksberg offering some of the best. Restaurant Quattro Fontane in Nørrebro is also highly recommended for its great Italian food.