The Erasmus program can look back on a long-standing tradition. The European Union launched the program back in 1987. It has already enabled a large number of students to study at a university in another European country. Up to 4 million people have already enjoyed the experience of these scholarships. But do you know which cities and countries send the most students abroad? And which are the ones who welcome the most??
Which destinations are the most popular with Erasmus students?
It won't be very surprising to know that Spain stands as the destination most preferred by European Erasmus students. But what you might not know is that Spain also sends the most students to other countries. Cities like Barcelona, Valencia and Granada usually appear on the 'most popular destinations' list for Erasmus students. Is it because of the weather? The idea of a leisurely life? Or, on the contrary, is it the quality of Spanish universities that attracts so many young Europeans?
Spain's popularity seems to be made up of several factors. The decision of the students who come to the country seems to weigh less on academic factors though. On the other hand, Spanish university students are increasingly interested in knowing more about other countries and cultures. This explains the growing movement of students across its borders. In total, there have been more than 900,000 Spaniards who have enjoyed this enriching experience. They have already born the fruit of countless cooperative works, various collaborations and, above all, affective ties at a social level to which no other community policy could aspire to.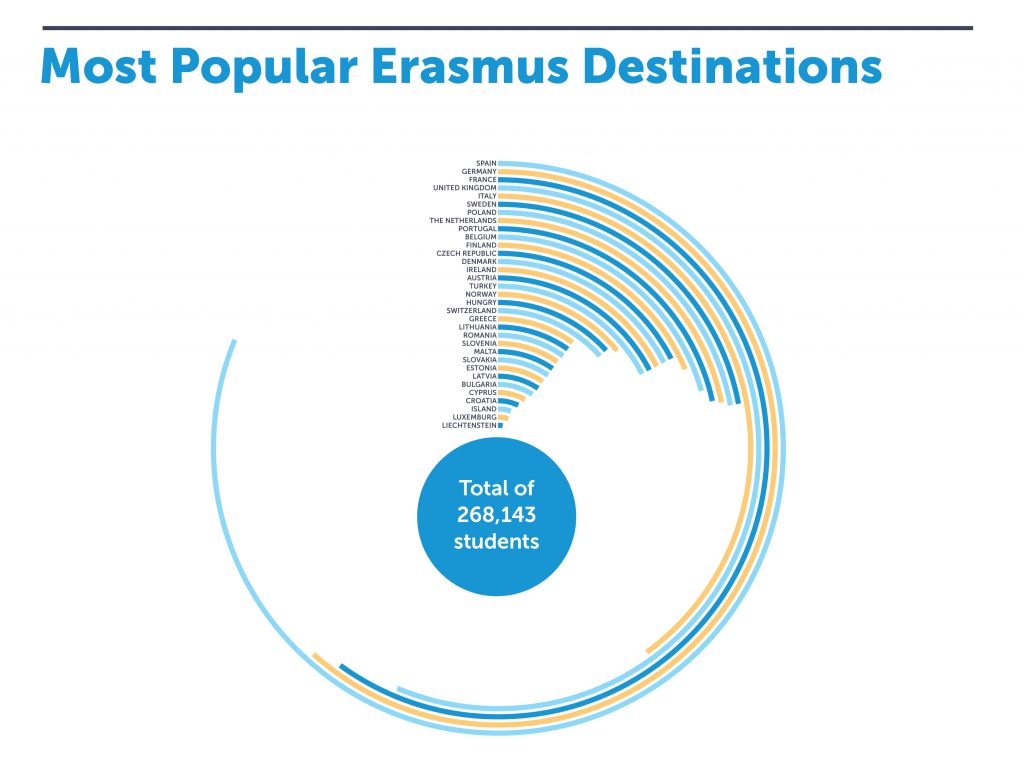 Spain is crowned the champion of foreign students. This is thanks to universities such as those in Barcelona, Valencia, Madrid, Granada and Salamanca. Although nowhere near as popular as Spain, we find Germany in second place. It is a country that also has a large number of prestigious universities spread out across many cities. The fact that Germany is an economic powerhouse makes it an attractive destination for those searching for employment after studying. France, the United Kingdom and Italy appear in third, fourth and fifth position. The rest of countries rank behind at a considerable distance.
Which countries are the main exporters of Erasmus students?
Spain takes the top spot again, although this time it is closely followed by France and Germany. Italy, meanwhile, is in fourth place. After these countries, the United Kingdom, Poland and Turkey stand out as countries with large numbers of students who take part in the Erasmus exchange program.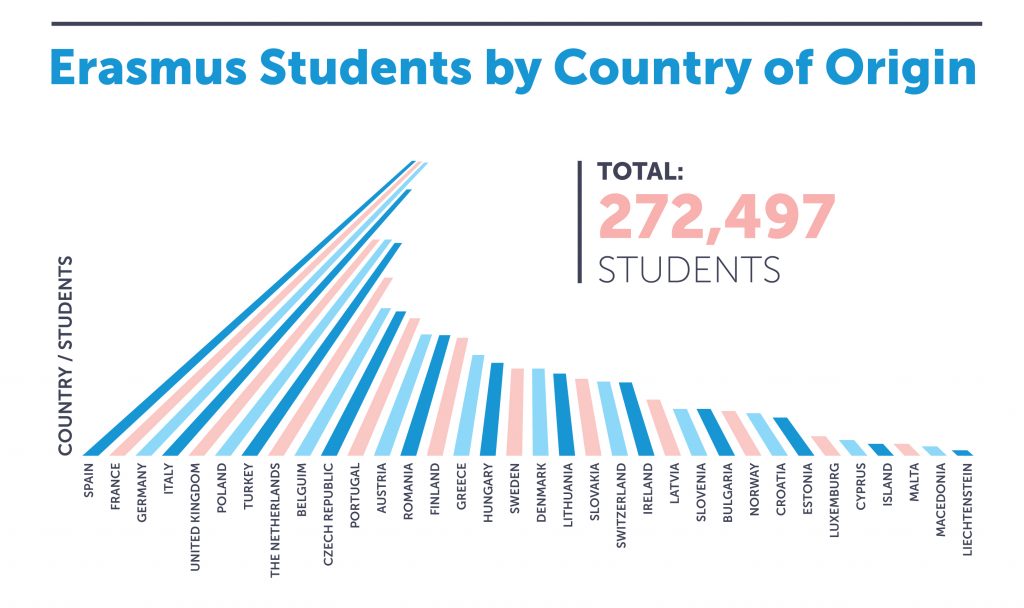 What is the life of an Erasmus student like?
When inquiring among alumni about what an Erasmus student's day-to-day life is like, we came to the conclusion that there are a number of common situations that are often repeated, regardless of the host country or the origin of the participants:
Friends for life
The friendships that are created during those months are crucial and usually last a lifetime. Some people say that the Erasmus program is most similar to American fraternisation. At the end of the day, it is a question of spending most of our time with the people we live with, whether in a student residence or a shared apartment.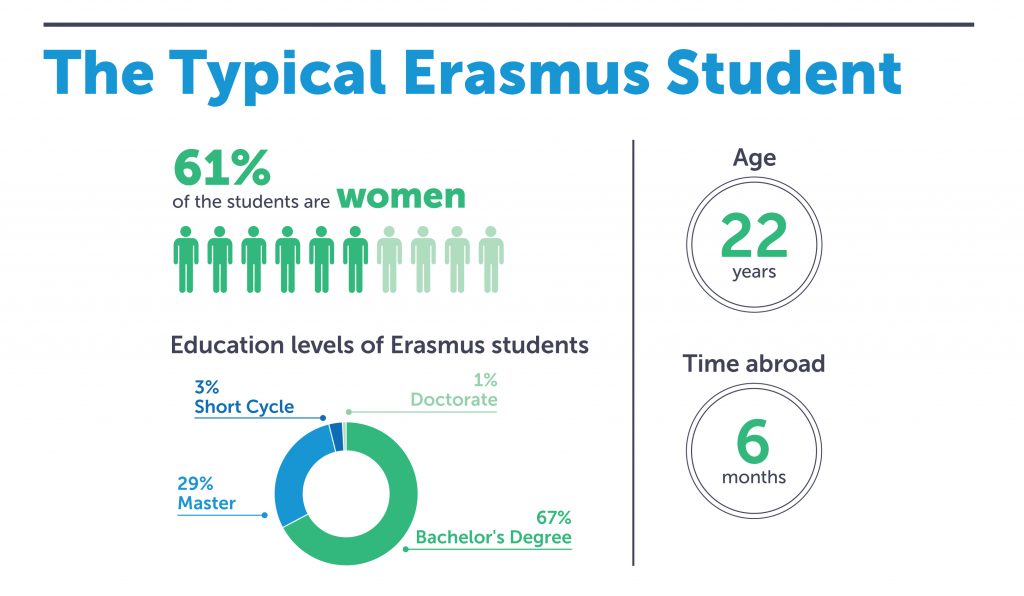 What is the typical profile of an Erasmus student?
The data from the European Commission shows some striking statistics. Most of the university students who take part in the program are women. They are on average 22 years of age and spend six months in their respective host countries. Students have the option of completing either half a term or an entire term in their Erasmus destination. When we say six months, we are talking about half a term.
Around 67% of Erasmus students are studying for a bachelor's degree and 29% a master's degree. PhD students and short cycle students also take part but they represent only 4% of the total number.
Learning languages
During their Erasmus studies, students are immersed in other languages. In many cases, English is the dominant language among Erasmus students. This is the case in The Netherlands, Czech Republic, Poland, Greece, Norway and Sweden, among others. In these cases, it can be difficult to master the local languages of these countries. Little time is available to spend learning the language and students usually end up imposing English as a vehicular language. In fact, English is the language in which Erasmus subjects are usually taught in these host countries.
This is not the case, for example, in Italy, France, Portugal or even Germany. Here students develop in the local language because they also have to study most subjects in the local language. In Italian cities such as Rome, Florence, Padova and Bologna, there is traditionally a high percentage of Spanish Erasmus students. In recent years, however, applications for scholarships have been growing for universities in Eastern Europe, where accommodation is more affordable.
The Nordic countries, on the other hand, offer a very different experience and way of life in comparison to Spain. This leads fewer students to embark on an adventure in countries like Finland, Sweden and Norway. The dreaded cold is an impediment. We can appreciate it is not a hard choice between destinations like Oulu, in northern Finland, a city which sees hardly any sunlight during the winter; or Spain where students can experiencing nightlife under a resplendent sun.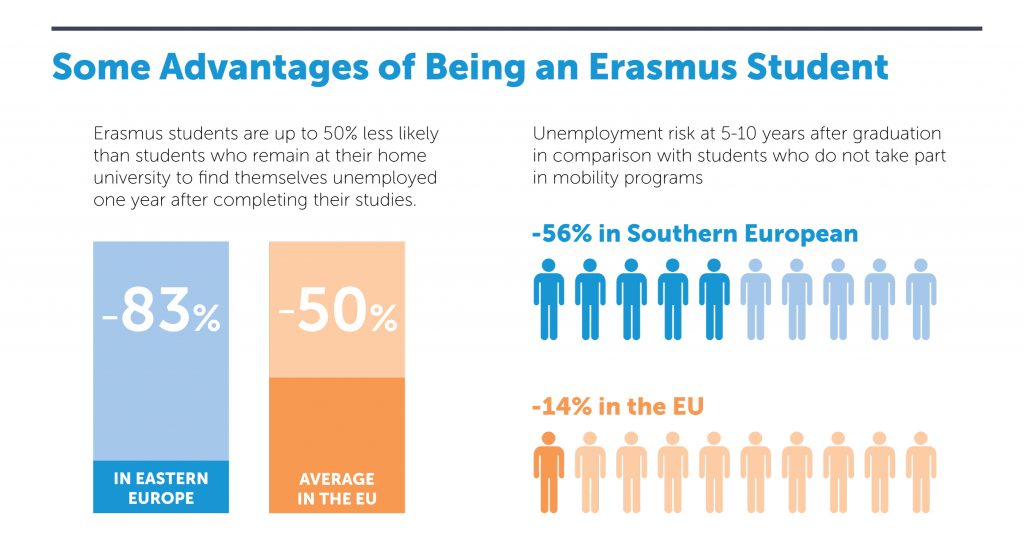 Are Erasmus students more likely to find employment once their studies are complete?
The answer to this question obviously depends on many factors. But, official data in this regard would point out that the university students who went through the program do have some advantage when it comes to looking for work after finishing their studies. In fact, as shown in the above chart, Erasmus students have a 50% higher chance of finding a job compared to university students who do not take part in mobility programs. In the case of Eastern European countries, the probabilities are extended to 83%.
Within 5-10 years of graduating college, alumni from Southern Europe, from countries such as Spain, Portugal, Italy and Greece, are up to 56% less likely than students who studied completely in their home countries to stay unemployed.
Take the time to travel
One of the favourite activities of Erasmus students from all over Europe is to visit places that are close to their destination universities. They take the opportunity to rent a car or a van with other students to hit the road and visit that city or neighbouring country they haven't previously had the opportunity to see. Sharing the cost of transportation between several people, in addition to renting accommodation for everyone, such as an apartment or a hostel room, makes the price of these trips more affordable.
In search of the sun and beach
In the case of Erasmus students who land in Spain, the main attractions are the climate and the culture, which may seem exotic compared to their places of origin. Being able to enjoy a good sunset on the beach or wearing short sleeves in the middle of March is something that many young Europeans are not at all accustomed to. Valencia and Granada are the Spanish cities that welcome the most foreign students. Valencia has the appeal of being a big city without the problems capital cities can present. It is perfect to cycle around and also has a beach and a very benign climate. All this makes it a very attractive destination for Erasmus students from all over Europe.
Accommodation
There are usually two accommodation possibilities for Erasmus students. These are either a student residence or a room in a shared apartment, depending on the city or country. In large cities like Rome, Paris or Amsterdam, shared apartments are the most popular choice. This is also the case in the vast majority of Spanish destinations. There are apartments which accommodate almost all Erasmus students. Dormitories usually host students coming from other Spanish cities. In countries like Poland practically all foreign students are usually housed in student residences. Each accommodation has its advantages and disadvantages. There is always someone who prefers the relative independence offered by a shared apartment- This is also associated with a higher level of immersion in the host country. The residence option is ideal for those who seek a lively environment and coexistence with a greater number of people.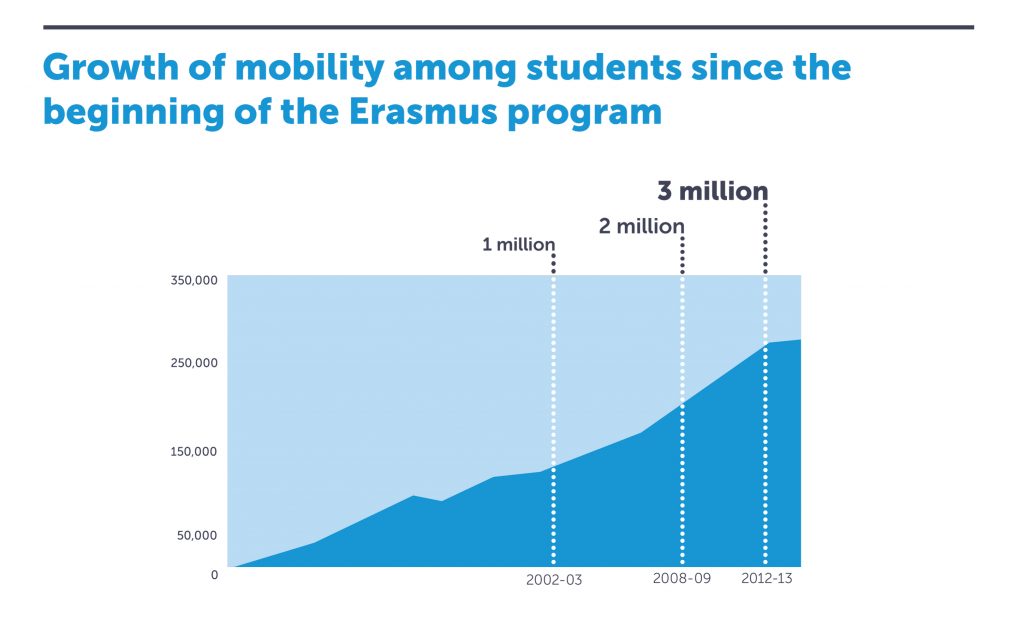 An upward trend
If we look at the growth trend of the number of university students from all over Europe who are going to be enrolled in the Erasmus program, we will realise the spectacular increase in numbers. In fact, using the data collected by the European Commission during the 2012-2013 academic year, we can see that the number of people who benefited from these scholarships has already surpassed three million. It appears this will continue during the following academic years. The Erasmus program is something that Europeans can be proud of. No other community did more for the coexistence between the countries of its territory, helping to establish affective ties that had not been known until then.
Like the Erasmus scholarships, one of Wimdu's goals is to allow you to experience other cities and countries as if they were your own, to really feel like a local as you discover other cultures. So, if you are currently planning your next trip, we invite you to take a look at our apartments.