Ibiza is known the world over as a clubber's paradise. It's a glamorous riot of celebrity dj's, boat parties and an endless succession of superclubs. It's a place where tanned and happy ravers spend night after long, long night. Yet the unprecedented surge in popularity and commercial growth since the 70s has led to it gaining a less-than-savoury reputation. Cynics call it touristy, tacky and overpriced – fallen from glory into a crowded resort island full of boozed-up 'Brits abroad'.
Don't believe the haters. For those in the know, the White Isle has more to offer than never-ending nights of music and mayhem. A burgeoning wellness community has put it firmly back on the map as one of Europe's most sought-after holiday destinations. For every new bar that springs up there's a yoga retreat to match it. Rustic cafes supply a steady stream of organic smoothies and homemade veggie food to all visiting the island. Ibiza is rediscovering its hippy past – and itself, in the process.
As visitors seek peace beyond the party towns, the natural beauty of the island is once again taking centre stage. Hidden coves, sleepy villages and rows of almond and olive groves provide the perfect backdrop for your spiritual awakening. Add to that a plethora of walking and cycling trails, diving spots and luxury spas. Ibiza truly comes into its own as a catch-all hotspot for sports nuts, health fanatics and nature lovers.
To help guide you along your way, here's a comprehensive low-down of everything you need to know about Ibiza's lesser-known 'other side'.
What To Do
Get buff
Most people like to lay off the weights while they're on holiday. If you're reading this, however, you're probably pretty active. If dumbbells are your drug of choice and you can't get through the day without the gym, you're in luck. Ibiza Town, San Antonio and Santa Eulalia all have a great selection of fitness centres to get the blood pumping. For a more refined workout, Atzaró Fitness Club, a century-old farmhouse on an orange farm, offers a superb range of familiar and more unusual classes, from 'Yoguilates' to 'AfroYin' and 'Cardiotono'.
If you're looking for a more personalized experience, you'll be in good hands with Sandra Albuschat. She was the first personal trainer on the island and has since grown to be an established name world-wide. In addition to private training, Sandra also offers an extensive range of classes. These include weight management, pre and postnatal sessions and a variety of group classes.
Get in touch with your spiritual side
Whether you're already a convert or you're sick of the sight of it, yoga isn't going anywhere fast, so you might as well jump on the bandwagon. Ever-popular and everywhere, it remains the go-to activity for toned tums and zenned minds. The stunning backdrop of Sol Den Serra Bay, where Amante Ibiza hosts Hatha classes in English and Spanish, makes those downward-facing dogs a little more bearable, as does the thought of the healthy buffet breakfast afterwards. And if Ibiza's Mediterranean climate isn't hot enough, be sure to check out the gorgeous studio at Hot Yoga Ibiza. A range of drop-in classes, including Ashtanga. Yin, Iyengar, Hatha, Vinyasa Flow and Kundalini, can be found at Ibiza Yoga.
Take to the high seas
Calm, crystal clear waters make Ibiza a haven for all things agua. Pretty much every watersport imaginable is on offer on the island, from wakeboarding to jet skiing, diving, parasailing and flyboarding. For something a little more tranquil, join the latest craze and paddle around the island on a SUP board – SUP Ibiza offers exciting excursions on the beautiful waters of the ocean. If you prefer old-school surfing, you can do no better than Surf Lounge in San Antonio Bay. The one thing Ibiza is lacking is big waves, but a couple of rides on the man-made 'Flowrider' should be enough to keep you satisfied.
Go Down Under
For something a little different, why not head to the Can Marçà Caves in Puerto San Miguel. Venture into the eery depths, where you can still see the marks used by smugglers to illuminate their way. The guided tour leads you past other-wordly stalagmites and stalactites into the heart of the caves, where you can enjoy a music and light show featuring a 30 foot cascade of water.
Dance the night away
Dancing on Ibiza doesn't have to mean bopping your head to house and techno. GoLearnTo offers a one-week long 'Spanish and Salsa Course', which involves 4 language lessons a day and 5 hours of dance lessons at a local salsa school. Train your brain and body in one!
Go Wild
Ibiza doesn't just have beaches to offer. Its rugged inland boasts verdant valleys and craggy hills, and is perfect for getting off the beaten track and back into nature. A huge range of walking and cycling trails criss-cross the island for those looking to stay fit but out of the gym – or if you're feeling lazy, you can take in the magnificent views from the back of a horse. For those looking for more of an adventure, Into The Wild offer tailor-made kayaking, mountain-biking, climbing and snorkelling tours. Or opt for 'The Wild Game' and let them 'create an adventure' for you.
Where To Eat
Breakfasts at The Skinny Kitchen
The Skinny Kitchen promises 'good clean fun' in the form of high-protein, low-carb meals designed to appeal to slender young things on the go. Despite the name, the team don't advocate fad diets but rather healthy, wholesome food to make you look and feel great. All dietary requirements are provided for and clearly marked on the menu, which includes 'muscle up' and 'get lean' options. Perfect for a hearty breakfast after a workout.
Passion
Perennial favourite Passion has grown from a humble juice bar in 2002 to a chain of cafes, restaurants and organic shops in 6 locations dotted around the island. The island's 'home of health and happiness', Passion serves up vegan, vegetarian, macrobiotic and raw cuisine – as well as locally-roasted coffee and meaty options for the carnivores. Expect delicious salads, smoothies and shakes, as well as pre-prepared treats to take away and even T-shirts for hardcore fans.
Aubergine
The cosy restaurant Aubergine offers Mediterranean-inspired dishes lovingly prepared with organic produce plucked from the garden. If that's not enough to tempt you, come for the decor alone. Located slap-bang in the middle of the island, the restaurant is a lesson in 'rustic chic', and offers a tranquil, inviting haven away from resort life. They even run an organic Farmer's Market every Sunday where you can pick up cheese, patés, cakes and veggies with which to make your own hearty grub.
Go on a juice cleanse with iPurify
For those who've partied themselves into oblivion (or just fancy a lazy day), there's always the option to detox with a juice cleanse – and you don't even have to step out the front door. iPurify are the only juice cleanse delivery service in Ibiza, and will deliver to anywhere on the island – be it hotel, villa, tipi or boat. They offer 3 different set cleanses, as well as a 'Custom Cleanse' tailored to your needs. If you fancy something more solid, owner Cliff Grubin also runs Wild Beets restaurant, which offers a plant-based menu in a stylish setting.
Learn the basics at a workshop
If you're interested in learning more about how to eat well, Healthy Ibiza offer workshops centred around creating a balanced diet you can enjoy at home, at work or on the go. With a focus on mindful eating and the holistic power of herbs, qualified nutritionists talk you through the physical and emotional effects of the food we consume, and demonstrate healthy recipes for you to try out for yourself.
Where to Shop For…
… Food
Alongside its cafes, Ibiza offers a wealth of health food shops, from family-run Can Curune on San Joan Road to hippy chain Natural1 and Natural2. If you're in the thick of it and need a healthy pick-me-up, Biorganic (located on Avda Espana in Ibiza Town) has juices and sandwiches to take away alongside the usual groceries, whilst the west coast is well-served by one-stop supermarket Es Cucó serves. Last but not least, don't forget to check out the Forada Local Products Market, which offers a range of locally-grown products and local artwork, live music and a chill-out area (every Saturday, 10am – 4pm).
Cosmetics/Supplements/Medicine
Alongside fresh fruit and veg, Natural Living in San Carlos sells organic cosmetics perfect for a bit of pampering, and they even offer home delivery. For all other health and beauty needs, head to Sakura in San Antonio. In additoinal to organic, natural cosmetics and food supplements, here you can find workshops, alternative therapies and advice on everything from electrosensibility to geobiology.
… Clothes
If your hand luggage limit didn't allow for that 10th bikini, hi-tech trainers and all those jazzy leggings, fear not. Ibiza has everything you need to ensure you can still work out in style. The island has two Intersport stores where you can find anything you need for your favourite exercises.
If you're more sport-chic than sporty, go to Yonkie Corner and get yourself kitted in the latest trainers. For all those yogis out there, a trip to La Galeria Elefante for some harem pants and a t-shirt or two might be on the cards. They also have beautiful handmade clothing and accessories for when you're not on your mat.
And for cooling off in the sea after all that hard work? You can do no better than Frank Mojado. Inspired by the island's infectious free spirit and the colours of the Mediterranean, the new luxury swimwear line boasts high-quality fabrics and impeccable tailoring (available at Cotton Lifestyle Store and Nassau Beach Club).
TLC for the Mind, Body and Soul
Good health doesn't stop with the body. Keeping trim and toned is all well and good, but it isn't a fast-track to happiness. Most of us carry around a huge amount of stress and tension – physical and emotional – that can have a long-lasting, negative impact on our lives. Here's a few tips to make sure you leave the island feeling like the best version of yourself:
Meditate
Switch off from the daily grind and connect to your inner self. Regular meditation has been scientifically proven to: increase concentration and improve cognitive skills and memory; reduce anxiety and depression and enhance self-esteem; improve the immune system and regulate breathing and heart rate. See what all the fuss is about with a private session with Carina Bo, a native Austrian but White Isle convert. She offers a variety of techniques based on your individual needs, including 'Chakra Meditation', 'Mindfulness Meditation' and 'Walking Meditation.'
Have a massage
Ibiza Moving Arts, located in the north eastern village of San Miguel de Balansat, runs an eclectic range of activities and therapies aimed at supporting you along your journey to 'inner balance and healing'. Founded by trained dancer, yoga teacher and health practitioner, Sandra Morrel, the centre offers a variety of different massages, including the Lomi Lomi Nui technique, which originated in Hawaii as an ancient healing ritual. Incorporating music and rhythm, the massage uses long, wave-long strokes over the body to lull you into a state of 'innocence and openness within yourself and toward life.'
Get in touch with nature
Experience a boat trip with a difference. La Bella Verde's ECO Catamaran cruises allow you enjoy Ibiza's gorgeous coastline and turqoise waters without the chugging motor and blaring house music. Their 100% solar-powered boats glide through the water silently, enabling you to truly switch off and be at one with your surroundings. Day trips last for 8 hours and include drinks and an optional picnic.
If you prefer to stick to solid ground, make your way to the Broll of Buscatell. Notoriously difficult to find, but well worth the effort, the broll (Catalan for 'stream') is nothing more than a mountain spring. But through a series of irrigation channels and ditches, it has transformed the land around it into a veritable oasis. Imagine a luscious valley filled with flowers and plants and nothing but you and your thoughts. Tranquil, secluded… Bliss.
Have a Soak
For some serious relaxation, indulge in a treatment at La Posidonia Spa, named after a special kind of seaweed native to the Mediterranean. Perched on a cliff 180 metres above the sea, the spa offers unbeatable views from the Cascadas Suspendidas, a series of 8 pools featuring high pressure hydro jet massages – perfect for resting those weary limbs.
Connect
If you're done with the soul-searching and you're ready to reconnect with your fellow health warriors, Ibiza hosts plenty of events not held at Space, Pacha or Amnesia… Probably the biggest is Energy Week (held annually, around the third week of October), a week-long gathering offering, to name a few: yoga and indoor and outdoor exercise classes; workshops and lectures on holistic health, nutrition and consciousness; a trip to a sunset drumming ritual; and mantra singing circles.
If that's not wholesome enough for you, the Ibiza Spirit Festival (2nd October 2016) provides a similar set-up, with all the proceeds going towards local charities. Also held at Atzaro is Healing Ibiza, a music-led festival with a mission to help you on your way to heal 'mind, body, spirit'. It already happened in May, but be sure to check it out for next year!
Where to Stay
Santa Gertrudis de Fruitera
Though it's just a 20-minute drive away, sleepy Santa Gertrudis de Fruitera is a world away from Ibiza Town. Over the years, artists, musicians and sculptors have flocked here en masse, giving it the bohemian atmosphere the island is famous for. Though increasingly popular, its pedestrianised centre, with the pretty whitewashed church as the focal point, has retained a laidback, authentic feel.
Portinatx
Beautiful Portinatx is truly picture perfect – so much so that it was chosen to represent 'paradise' in the 1950s film South Pacific. Spend your days soaking up the sun on one of 3 sandy beaches, or enjoy a spot of snorkelling in the crystal clear waters. If you're feeling adventurous, trek up to the highest lighthouse in the Balearics for stunning views of the Mediterranean.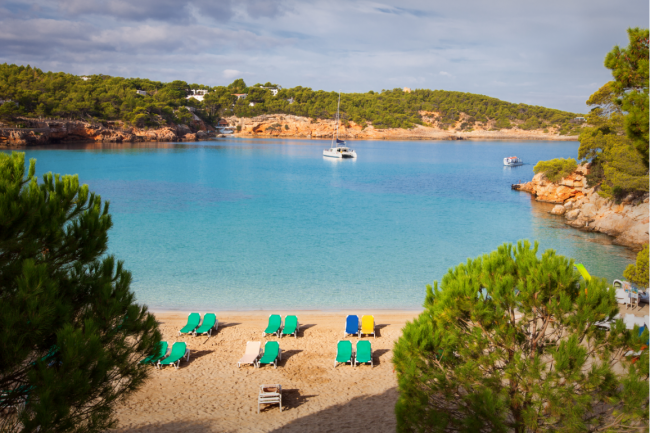 Cala de Sant Vicent
Cala de Sant Vicent is known for one thing – its magnificent, azure waters. Add to that a wide curve of golden sand, backed by palm trees and a great selection of cafes and bars, and it's no wonder the place attracts visitors from all walks of life. Young people, old people, families and couples all flock here due to it being easily-accessible and safe – and it's big enough for there to be plenty of space for them all, even in high season.
Cala Tarida
Cala Tarida boasts the longest, widest sandy beach on Ibiza's western coast. Backed by hills, the bay is sheltered and has shallow waters, making it perfect for families. If you can pry yourself from your sun lounger, snorkel out to the small collection of rocks just off the mainland, before enjoying the magnificent sunset from one of the beach bars.
Where to Sleep
Room with a View
Enjoy stunning views of the islands of Es Vedra and Es Vedranell from the private terrace of this delightful villa on the west coast. (Sleeps 4)

Best Pool
For lazy days spent sunbathing in your very own infinity pool, look no further than gorgeous Villa Sunset.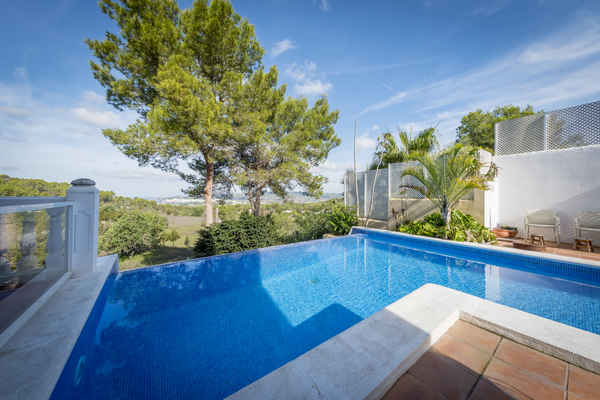 Perfect for Families
This colourful 3-bedroom house is just 500 metres from the nearest sandy beach. With bunk beds and a pretty terrace with an outdoor sun bed, it is the perfect place to relax with family and friends. (Sleeps 7)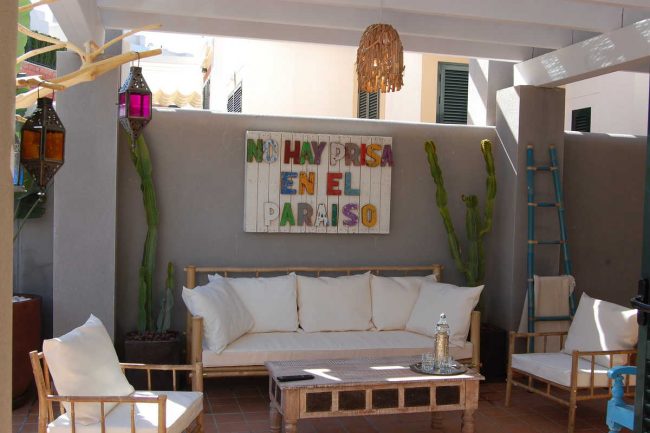 Finca Fun
This gorgeous finca combines rustic charm with chic contemporary decor and is perfect for a slice of authentic island life. (Sleeps 12)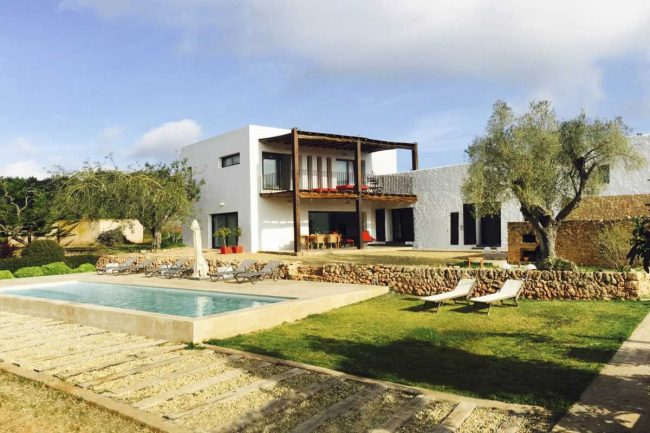 On the Sea
Enjoy private access to the crystal clear sea from this lovely beach house, which boasts a superb location in Talamanca Bay. (Sleeps 8)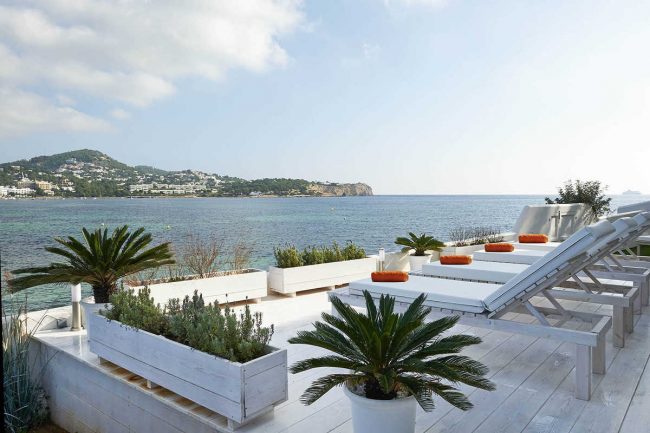 If none of these tickle your fancy, you can check out our other accommodation in Ibiza here.