In case it's passed you by, Monday March 17th is St Patrick's Day, a celebration of the Patron Saint of Ireland. The day marks the death of St Patrick in the 5th Century, who spent the latter years of his life building churches and monasteries all over Ireland. St Patrick's toils are credited not just for introducing Christianity to the pagans of Ireland but also for driving snakes (a symbol of evil) from the shores of the great Irish nation.
A typical scene from the St Patrick's Parade in Dublin. Photo via Miquel Menez
Since the Irish are experts at successfully relocating themselves across the globe, this once small celebration has become a global concern. It's particularly popular in the USA, which has a huge Irish immigrant community that have established themselves firmly into the American way of life over many generations. It's also popular in the UK where each year many thousands of people flock to Trafalgar Square for a typically raucous shindig. Much of what 'Paddy's Day' originally began as has changed over the years and to a lot of Irish people, the sight of a green pint of beer or a slogan t-shirt is often too much to bear. How does one properly celebrate such an occasion, and what are the worn out cliches that really need putting an end to? We've asked our resident Irish colleagues Joy and Niall to give us a rundown on the worst offending St Patrick's Day cliches that rankle them every year and ways to avoid them.
Patty's Day – Say What?!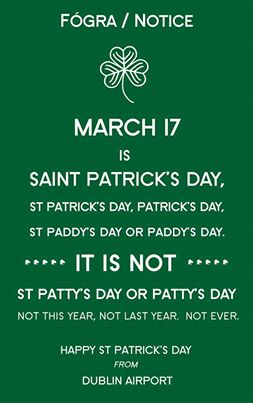 There is always a chance to educate readers, so here is a little lesson on gender. Patrick is a male name, Patricia is more likely what a female will be christened. Paddy is short for Patrick, while Patty is short for Patricia. So, please, stop calling it St. Patty's Day.

Really get to know the man behind the celebration before you use him to down 20 pints of Guinness in his honour.

Really get to know the man behind the celebration before you use him to down 20 pints of Guinness in his honour. Considering that he is not around anymore to pour glasses of the 'black' stuff down his own neck, honour him by getting his name and gender correct.

While we are still discussing the best ways to address people, don't even bother greeting an Irish person at 9:00 am on the 17th of March with 'top o' the mornin' to ya'. Nobody says this. Ever. A simple 'hello' will do. If you insist on being a know-it-all, fake Irish person, try to to get your tongue around some greetings as Gaeilge.

Fáilte romhat – Welcome

Dia dhuit – Hello

Conas atá tú? – How are you?

Dia dhuit ar maidin – Good morning

Lá Fhéile Pádraig Shona Duit – Happy St. Patrick's Day
Knowing When To Stop Drinking
It might come as a surprise to hear this but up until 1966 it was illegal to drink in Ireland on St Patrick's Day! The pubs were shut and everyone was expected to pay their respects to St Patrick in church. Whilst this has all changed now, it's best to try and steer clear of the typical heavy drinking that is encouraged on this day. Now we know Paddy's Day wouldn't be Paddy's Day without a glass or two of beer, but why not stave off a hangover by keeping yourself well fed with Irish food? We recommend you and your friends try a breakfast roll, the quintessential Irish sandwich that takes the best parts of a fry up and puts them into a conveniently portable bread roll! Do you need any more convincing? Watch this video from Ireland's unofficial spokesman for the breakfast roll, Pat Shortt.
Wash your Guinness down with one of these and you'll be well placed to keep partying all day without going to crazy!
One More Tune!
Monday will inevitably be filled with the same tired and typical Irish tunes from the likes of U2, Thin Lizzy and The Dubliners. But you, dear reader, can do better than this. To many people, music from Ireland is characterised by certain features and flavours, and whilst it's all very well to stick on 'Whiskey In The Jar' once again, why not impress your friends with some fresh Irish tunes this year?
'Where's Me Jumper' is one of Ireland's most bonkers and funny songs. It's by the Sultans of Ping, a band hailing from Cork City. Stick this tune on at your St Patrick's Day party and watch the dance moves get crazier and crazier!
Of course it wouldn't be Paddy's Day without a bit of traditional music being played at least once during the day. Lunasa are an excellent band of musicians who take their name from the ancient Irish harvest festival Lughnasadh. Any excuse not to steer clear of The Chieftains is a good one as far as we're concerned!
Hearty Irish rock 'n roll is the perfect accompaniment to a pint of Guinness and a bowl of stew, but why wear out your Thin Lizzy albums when there's a wealth of other excellent bands out there playing? Sligo's Oddsocks are one of our favourites and we totally recommend you step away from the Lizzy and try something else!
Your Beer Is Quite An Unusual Colour……
Like you shouldn't eat yellow snow, don't drink green beer. Why are you even considering this and making me have to put an immediate stop to it? There is actually no need to dye your beer green. None whatsoever. It will not make you nor your American/German/Czech beer more Irish. Don't dye your Guinness green either (which is a stout not a beer by the way!). Having the harp on your glass will be considered patriotic enough. If you really want to flaunt your knowledge of tasty Irish tipples, why not have a glass of Murphy's instead, or some Kilkenny or Smithwicks. A glass of cider will do too. Or if you are feeling really brave and have connections in all the right places, have some poitín.
A quick tip on ordering drinks in the Emerald Isle if that is where you find yourself on March 17th. For the love of St. Patrick and all the snakes he drove out of Ireland, do not order an 'Irish Car Bomb' or a 'Black and Tan'.
Dress Appropriately

Dressing head to toe in green can be considered acceptable at this time of year. An overly large leprechaun hat and a 'Kiss me, I'm Irish' t-shirt we can also let slide. What you should not do is let outlets like Wal-Mart influence your rig out for the day. 'Blame the Irish for my behavior' – your drunken stupidity is your own fault! 'I may not be Irish but I can drink like one' – keep the stereotypes to yourself. Instead of the giggle you are looking for, you will instead be greeted with a long story about Irish immigration and struggle and how far we have come as a nation to not be downtrodden by such trashy outerwear. Ireland has a long history so prepare to lose anything up to 3 hours of drinking time if you pull a stunt like this. Why not go old school and wear some shamrock or a badge pinned to your jacket instead? Hipsters love retro.