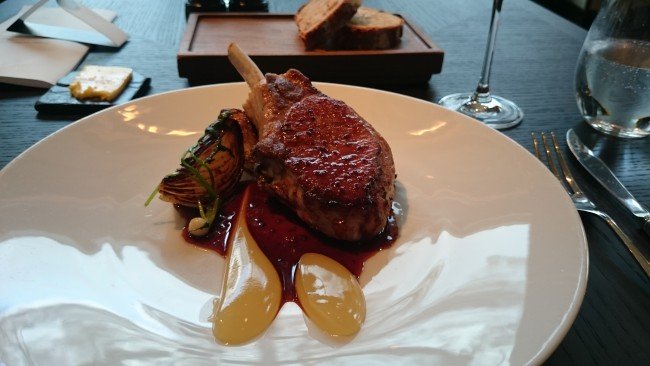 As an international culinary capital London has an incredible array of choice when it comes to cuisine. The huge variety on offer would make it difficult to provide an overview of the eating out options in the city, so we've put together a list of recommended restaurant suggestions based on where you're staying in the capital and what kind of thing you'd like to eat.
Bethnal Green
Best for: understated eateries, simple and honest food.
American
Clutch – 'guilt-free' chicken, innovative dishes.
British
Mr. Buckley's – understated two-level contemporary space, serving 'small plate', internationally influenced dishes.
Palmers – family run restaurant serving modern British dishes, with a simple warm oak and stone floor interior.
Mother Kelly's – New York inspired tap room, with the food designed more to compliment the drinks.
Chinese
Old place – traditional chinese restaurant.
French
Brawn – honest, simple, locally sourced food, with respect for the traditional, and an atmosphere to match.
Indian
Mai'da – Indian and Indo-Chinese eatery, with wedding venue presentation – and atmosphere.
Italian
E Pellicci – homely Italian atmosphere, traditional English cafe food – strangely, it works!
Middle Eastern
Tas Firin – Succulent meats and seasoned salads. Gets busy at the weekends.
Spanish
Laxeiro – vibrant wine bar with top notch tapas.
Brixton
Best for: Informal eating, international variety, hipster vibe, pre-party food.
Caribbean
Fish, Wings & Tings – laid-back Caribbean cafe with a sample of lesser known dishes from the Jamaican norm.
Chinese
Mama Lan – Chinese café serving hearty northern-Chinese street-food – in particular, dumplings.
Italian
Franco Manca – Proper Italian pizza joint, genuine, Neapolitan-style pizza, made with fresh UK sourced ingredients – and professional Italian service.
Agile Rabbit – An independent pizzeria and café-bar housed within Brixton Village Market, with live music on Thursday and Friday evenings.
Japanese
Okan – Japanese cafe specialising in the Osaka street-food with a heavy emphasis on choice (okonomi means 'as you like it').
Koi Ramen – Specialises in Japanese version of noodles in soup. Great value for money and great food.
Seafood
Etta's seafood kitchen – welcoming atmosphere and delicious, well executed seafood dishes.
Spanish
Seven at Brixton – tapas on sticks, or larger dishes if your appetite is a bit more on the hefty side.
Thai
KaoSarn – one of the biggest crowd-pullers in Brixton market, usually packed with regulars . The food is cheap, fiery and flavorsome, and the staff ever-friendly.
Best for: warm and welcoming atmosphere and traditional food from a range of ethnicities.
American
The Blues Kitchen – baked chicken and live music, what more could you want.
British
York & Albany – from the Gordon Ramsey group, York & Albany is a bright and stylish space, serving simple but exquisite food.
Frederick's – a light and airy restaurant space, blending the indoors with the outdoors, Frederick's is a family run establishment serving a mix of seafood and meat classics.
Brazilian
Made in Brazil – a restaurant that celebrates Brazil, with traditional dishes and a comprehensive drinks menu.
Greek
Alexander the Great – cosy, homely and compact, this is a traditional Greek restaurant through and through.
Andy's Taverna – friendly and relaxed atmosphere, good food, good wine, good company – the special menu offers more variety, and the restaurant even has a garden.
Karavas – authentic and freshly prepared cuisine, accompanied by a classy and formal dining experience.
Indian
Masala Zone – at once both vibrant and relaxed, this London chain is perfectly pitched for a mix of people, with a rotating menu of different veg, dahl, raita and curries, and an interesting selection of fresh and unusual drinks.
Japanese
Asakusa – statement decor and low-lit dining make for a popular combination in Camden. The atmosphere is buzzing and the range of dishes on the menu is extensive, there is even a three-cup tasting menu for Sake novices.
Seto – the place to come for the perfect ramen dish.
Shimogamo – low-key, authentic Japanese restaurant with plain wooden furniture, respectful staff and expertly executed food made with fresh ingredients.
Pan Asian
Gilgamesh – a critically acclaimed celebrity favourite, this Pan-Asian restaurant is where dining area meets exclusive nightclub. The emphasis here is on luxury.
Seafood
Simply Fish – simple decor, simple idea. Simply fish is a great place to come if you're looking for an affordable seafood meal.
Steak House
Shaka Zulu – London's largest South African restaurant, with a stunning and dramatic venue and a 'theatre of food' menu, fit for a warrior.
Thai
Taste of Siam – warm and homely, Taste of Siam serves traditional and understated thai dishes at reasonable prices.
Best for: modern and sophisticated dining.
Brazilian
Rodizio Preto – authentic Brazilian grill: vibrant dining and delicious meats.
Chinese
Zen China – specialising in Imperial Beijing cuisine, with a focus on traditional North Chinese regional cooking.
Contemporary
Brasserie Joel – French food excellence and presentation that can't fail to impress, Brasserie Joel follows a successful restaurant recipe.
Indian
Cinnamon Club – modern Indian dining experience, with a dining room reminiscent of a wedding venue.
Italian
Cotto Italian – traditional pizzeria with an intimate eating space and artsy decor.
Clapham
Best for: contemporary dishes served in a relaxed and modern atmosphere.
British
Bistro Union – a 'quintessentially British bistro', with welcoming staff and a rustic and warm interior and an incredibly British menu. There is even cutlery kept in drawers under the tables.
The Manor – contemporary dining experience and food excellence following a contemporary British menu.
Cornish Tiger – describes itself as 'fine casual dining' with a hearty British menu and a pub-feel interior.
The Dairy – An independent bar/restaurant serving craft beers and scrumptious food (including homemade bread!) is made with seasonal British ingredients and an impressive level of finesse.
Contemporary
22 North Street – serving traditional classics with a twist, 22 North Street gives off a romantic, rustic vibe, with its candle lit tables and exposed brick walls.
European
Four O Nine – exclusivity and comfortability fused together, Four O Nine is both stylish lounge bar and restaurant in one, serving a mix of European influenced dishes.
Trinity – this is a destination for special occasions: smart decor and impressive food justify the somewhat expensive prices.
Italian
Eco – a simple pizza bar with a comfortable atmosphere.
Donna Margherita – an authentically neapolitan restaurant and wood fired pizzeria, Donna Margherita serves a piece of Italy with every dish.
Spanish
Boqueria Tapas – a fresh modern restaurant with a fresh modern tapas restaurant.
Abbeville Kitchen – a mish mash of styles, serving great food from mainland Spain.
Thai
The Pepper Tree – authentic Thai food with a relaxed atmosphere.
Best for: sophisticated menus, beautiful presentation and buzzing atmosphere.
French
Clos Maggiore – recently crowned London's 'Most Romantic Restaurant' in Harden's Restaurant Guide 2014, Clos Maggiore is a beautiful French restaurant serving contemporary cuisine.
10 Cases – Rustic tables and quality wine, 10 cases serves modern European dishes to compliment the extensive wine list.
L'Atelier de Joel Robuchon – delicious, uncomplicated and beautifully presented classic French dishes, combining contemporary imagination and the best possible ingredients.
Indian
Dishoom – this retro Bombay brasserie in the style of an old post-colonial 'Irani café'' is commonly packed out, particularly in the evenings.
Italian
Jamie Oliver's – mid-priced and full of choice and perfect whether you're dining with the family or on a date.
Mexican
Cantina Laredo – this buzzing mexican offers tequila dinners for those on their way to a party.
Spanish
The Opera Tavern – deemed one of London's top tapas restaurants, featuring a menu fresh with regular specials and a well curated wine list.
Condesa – another great tapas joint just off Covent Garden with ample group seating and dinner specials that change weekly.
Thai
Suda Thai Cafe – a celebration of rice and vibrant flavours, with dishes ranging from the classic to the totally unexpected.
Central London: Hyde Park and Knightsbridge
Best for: modern fine dining and high class, trendy venues.
British
Dinner by Heston Blumenthal – one of the world's most celebrated restaurants, this is impressive gastronomy in all its glory. The menu has achieved worldwide recognition from food critics, and the interior is at once both rustic and contemporary.
Chinese
Mr Chow's – a stylish and sophisticated favourite local haunt. The restaurant itself is friendly and relaxed but the food is on a whole other level.
French
Bar Boulud – a French bistro and wine bar with a distinctively American touch, with a unique modern interior and private dining rooms for those seeking a more intimate gathering.
Indian
Buddha Bar – set over two floors Buddha Bar's stylish interior is aweinspiring. Despite its size the vibe of the restaurant and lounge bar is incredibly relaxed.
Japanese
Zuma – a sophisticated twist on the traditional japanese style of informal eating, zuma authentic eastern dishes in surrounds which respect the traditions of the past.
Nobu – "new style" Japanese cuisine served in subtle and elegant surrounds, incorporating the purity and quality materials of traditional Japanese design.
Seafood
Scott's – for London's finest oysters, fish and crustacea, head this way.
Russian
Miri Vana – with successful sister restaurants in St Petersburg, Moscow and New York, upmarket Russian restaurant Mari Vanna in Knightsbridge is a nostalgic take on Russia: cosy and filled with typical Russian trinkets, serving traditional home cooked food.
Best for: strong flavours and buzzing atmosphere.
Chinese
Yipin China – here you can contrast the spicy, earthy flavours of China's Hunan province with the sweet, subtle of the more familiar Cantonese style.
European
Little Georgia – an unusual restaurant offering an introduction to an unfamiliar Georgian cuisine that has influences from Europe and Asia, with an extensive Georgian wine list.
Mexican
Chilango – inspired by authentic Mexican cuisine, but with a twist of new flavours.
Mediterranean
Mem & Laz Brasserie – comfortable dining in a warm and cosy atmosphere with plenty of colourful hanging lamps and handmade mosaic chandeliers, but with dancing on tables as the night descends.
South East Asian
Zafrani – traditional Indian dishes with the authentic flavours of South East Asia, served in a modern and trendy environment.
Thai
Isarn – contemporary decor, with dark wood and oversized lamp shades and reasonable prices means this Thai gem is often packed with 20-30 somethings.
Vegan, Vegetarian and Organic
The Gate – a class act, with a modern and airy interior featuring an open kitchen/bar and big industrial lights under which to examine the menu, serving beautifully presented, flavour packed dishes.
Ottolenghi – smart cool white interior serving elegant fusion dishes designed for sharing.
Kensington and Chelsea
Best for: Romantic environment and food excellence.
British
Babylon Restaurant at the roof gardens – a changing menu dictated by the freshest, seasonal ingredients, and breathtaking surrounds.
Ffiona's – specialising in home made classic British dishes made using the very freshest ingredients.
Chinese
Min Jiang – a traditional restaurant serving authentic Chinese food.
Contemporary
Kitchen W8 – a genuinely relaxed and friendly neighbourhood restaurant, serving Michelin star food. What a combination!
Maggie Jones's – a favourite among the locals, Maggie Jones's is a cosy, rustic, informal and incurably romantic restaurant.
French
Cote – a modern interpretation of the many famous bistros of Paris, inspired by new trends and dedicated to serving authentic classic brasserie dishes with a modern twist.
Indian
Zaika of Kensington – stunningly romantic and dishes infused with pungent aromas and flavour.
Italian
Spaghetti House – serves old favourites from typical Italian cuisine.
Japanese
Itsu – good quality beautiful sushi and beautiful people.
Lebanese
Maroush – a lively, two-floor restaurant featuring live Lebanese music and belly dancing in the evenings. The atmosphere at Maroush Edgware Road is upbeat and energetic through to closing time at 2am.
Spanish
Capote y Toros – Spanish through and through, with all the passion and vibrancy, not to mention live Spanish guitar.
American
The Beaumont Hotel – a hive for the international super-rich, with a menu that concentrates on doing essentially simple grilled dishes well: the emphasis here is on top quality.
Greenhouse – a decked, tree-lined entrance and a deliberately cool and calming atmosphere.
Chinese
China Tang – art deco furnishings in a slinky dining room evoking 1930s Shanghai transport you from Mayfair but the classy clientele remind you where you are.
French
Brasserie Chavot – smart and refined French dishes served in a high class formal venue.
Italian
Cecconi's – London at its most chic and cosmopolitan, serving exquisite high-class food.
Indian
Gymkhana – nostalgic retro decor accompanied by theatrical cocktails and a splendid spread of modern Indian dishes based on regional masalas and marinades.
Shepherd's Bush
Best for: an array of culinary options and intimate and authentic dining spaces.
Indian
Raj of India – authentic Indian in warm surroundings.
African
The Red Sea – workman caff aesthetic serving a mix of Eritrean, Ethiopian, Somali and Yemeni cuisine, at exceptionally good value.
Mexican
Wahaca Mexican market – not actually a market but a modern and quirky restaurant space with brick walls, spot lighting, ferns and spicy food.
Middle Eastern
Sufi – exquisite Persian, flavoursome and spice infused food at low prices.‬
Polish
Tatra – modern Polish and East European cuisine with a vast selection (homemade flavoured) of vodkas. The restaurant itself is of the low-key sophisticated cafe style.
The Patio Restaurant – a family run business serving homemade Polish food for more than 22 years. The restaurant is unpretentious and homely with real olde worlde charm.
Spanish
Tapas Revolution – a sincere and decent tapas bar – great value for money and the perfect spot for a recharge, while shopping.
Thai
Esarn Kheaw – serving north-eastern (Esarn) Thai cooking within a traditional dark and imperial dining room.
Best for: steaks, hearty British grub and street food.
British
The Clove Club – a bar and restaurant in Shoreditch Town Hall – a popular arts and events space – serving an ambitious five course set menu, featuring interesting and often overlooked British ingredients and produce, with a lively bar next door.
The Princess of Shoreditch – a proper Gastro pub with a sophisticated, yet homely air and a lively bar downstairs.
Hawksmoor Spitalfields – Spitalfields' best steakhouse, supplying excellent produce (from nearby renowned London butchers), cooked well, and served by well educated staff who can tell you about the different cuts.
Tramshed – the idea is simple – its chicken or steak to share (from hand selected cows and free-range chicken). Starters and puddings change with the seasons.
Middle Eastern
Andina – Peruvian-inspired street food, served alongside colourful smoothies and upbeat music.
Soho and Southbank
Best for: contemporary dining.
Contemporary
Balans – located at the heart of soho and open long into the night (until 6am at weekends!) Balans serves contemporary global cuisine in a bright 70's feel cafe environment.
BFI – good catering (now) and a relaxed and sultry atmosphere, right on the river Thames. The bar at the back is always busy with a mix of people who've realised that this is the best place to drink on the South Bank.
Mondrian at London's Sea Containers Hotel – eclectic dining and cruise ship glamour.
Best for:
Contemporary
Peckham Refreshment Rooms – serving contemporary european cuisine in a 1930s Art Deco interior.
Greek
The Real Greek – authentic Greek food
Indian
Ganapati – the home of south Indian cuisine in Peckham. The food is inspired by the home style cooking and street food of Kerala, Tamil Nadu, Karnataka and Andhra Pradesh.
Silka – modern Indian food 'for the soul', and a good range of speciality dishes.
Sardinian
Il Giardino – traditional food served in a cosy atmosphere.
Italian
Vapiano – an authentic pizzeria serving homemade pizza, antipasto, dolce and fresh salads
Richmond
Best for: fashionable dining spaces and sophisticated ambiance.
British
Gaucho – relaxing and enjoyable al fresco dining along the Thames towpath. Inside an elegant cocktail bar with sophisticated ambience and further seating for indoor dining.
French
La Bouvet – markets itself as Richmond's premier, independent French restaurant but with an informal and intimate dining space.
Indian
Tangawizi – smart and contemporary dining space decorated in saffron and blackberry, Tangawizi serves authentic North Indian dishes, but with less oil and more flavour.
Italian
Al boccon di'vino – traditional Italian food served in a warm and welcoming environment. In Italian, Al Boccon di'vino translates as "a divine mouthful". There is no menu so in true Italian style, you get what you are given – which means fresh seasonal ingredients and top quality.
Mamma Ristorante – quirky decor and an outdoor courtyard designed to look like a courtyard in Italy, complete with washing lines hung with clothes strung over the tables, make for a homely dining experience. As for the food, the extensive menu is full of authentic Italian classics.
Bacco – Relaxing atmosphere with delicious food, fine wine and great people – quintessential of authentic Italian charm. Everything is freshly cooked using only the finest ingredients, and the pasta is handmade every day!
Modern European
Restaurant 109 – a small and intimate dining experience offering innovative European and British influenced cuisine.
Rock and RoseRock & Rose – an award winning restaurant & cocktail bar, with an opulent and decadent decor and an interesting crowd of fashionable people.
Still looking for a crash pad in the capital? Check out our London property range.