Planning on taking your canine companion on holiday with you? Check out our infographic for all the information you need on how to prepare, what to pack and how to get there.
We've also made a printable checklist that you can stick on the fridge so you don't miss anything out. Enjoy your trip!

What do you miss most when you go away? Your own bed? Your favourite TV show? Or your nan? Perhaps not. According to a recent survey, 47% of us miss our pets more than our family members when we're on holiday. When did our affection for our furry friends overtake that for our relatives?
Cats and dogs once served only functional purposes in the home. Now the number of pets in the UK alone now stands at around 58 million. And a cursory glance at our online activity seems to confirm that we are, in fact, animal-obsessed. A 'Funny Cats Compilation' on youtube has been viewed over 73 million times. That's more than Felix Baumgartner's freefall from the edge of space (39 million). It's even more than that video of Justin Bieber singing a Ne-yo cover (7.8 million), frequently heralded as one of the most important clip's in the site's history.
But why? Experts offer a range of explanations as to why we surround ourselves with animals. They make us feel instinctively protected and they offer support, companionship, and even empathy. They can calm us down, boost confidence and offer a form of interaction for those who struggle with human relationships. Experiments conducted from the late 18th century onwards have suggested that even patients suffering from a variety of mental illnesses and neurological disorders saw improvements with increased contact with animals. Well over 200 years later, and students at Bristol, Nottingham, Aberdeen and Central Lancashire University now have the opportunity to spend 15 minutes in a 'puppy room', cuddling up to four-legged furballs in a unique attempt to alleviate exam stress.
Dogs in particular seem to have a particular affinity for worming their way into the even the coldest of hearts. Now they are used as guide dogs for the blind, emotional support animals and even life guards. They're such an integral part of life for some, that it's no wonder we can't bear to part with them. When we do go on holiday, 36% of us spend our holiday worrying about the pets we've left behind. 'Dogs aren't just for christmas', the old adage goes. They're also no longer 'just pets'- they're part of the family.
So why not take them with you? Travelling with pets doesn't have to be stressful. With our 'Ultimate Guide to Taking Your Dog on Holiday', it can even be easy- and fun! We've covered everything from passports and vaccinations to what to do when you arrive. We've even created a handy printable checklist to help you get organised. So cancel the kennel and pack your doggles. There's no more excuses- in the words of Cliff Richard, we're all going on a summer holiday.
And if you're worried about where to stay, 24% of Wimdu apartments are pet-friendly. This means there's more choice than ever for you and your mutt.
Before You Travel
Getting organised is key to a stress-free trip. The more preparation you can do before you leave, the less chance you have of encountering mishaps along the way. This will leave both you and your dog free to sit back, relax and enjoy the ride.
Planning should start months beforehand. This will give you enough time to check out which vaccinations your pooch will need for where you're going. You may also need to get them microchipped or tattooed with an ID number if they're not already. You shouldn't encounter any problems getting a pet passport from the vet. As long as your dog is healthy enough to travel and you take all the correct documentation with you, anyway.
It's also good to start researching early on how you're going to get to wherever you're going. Unsurprisingly, there are almost as many rules regarding travelling with pets as there are carriers. It's important to decide on a method of transport that not only suits you and your budget. You should also consider the most comfortable option for your dog.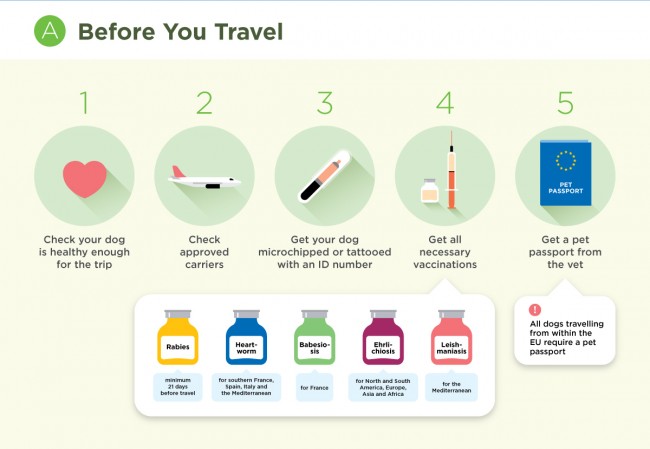 What To Pack
An incredible 34% of Brits admit to packing a holiday wardrobe for their pets when they go away. And is it any wonder? You can now get everything from bikinis and boards shorts to seasonal fancy dress outfits, pyjamas, and even 'doggles' (dog goggles- geddit?). So jump on the bandwagon and get your dog suited and booted so they'll be the leader of the pack wherever you're going.
Once you've made sure your dog is the stylish hound in town, turn your attention towards our 'What to Pack' guide. We've listed all the essentials you should take along, as well as plenty of other handy bits and bobs and 'top tips' to help you to make your journey a smooth one. Split into 'Necessities', 'On the Go', 'Car Travel' and 'Extras', we've got every stage of your trip covered. And don't forget about our printable checklist below!


Who To Travel With
Perhaps the most difficult part of taking your dog on holiday is the actual travelling. Many dogs suffer from motion sickness, and travelling can often be a scary and overwhelming experience for them. It's important to know your dog well, and consider the best method of transport to make their journey- as well as yours- as calm and stress-free as possible.
Luckily for you, we've compiled an overview of the pet policies of all the major European airlines, train, ferry and coach companies, so you can make an informed decision about how to get to your destination.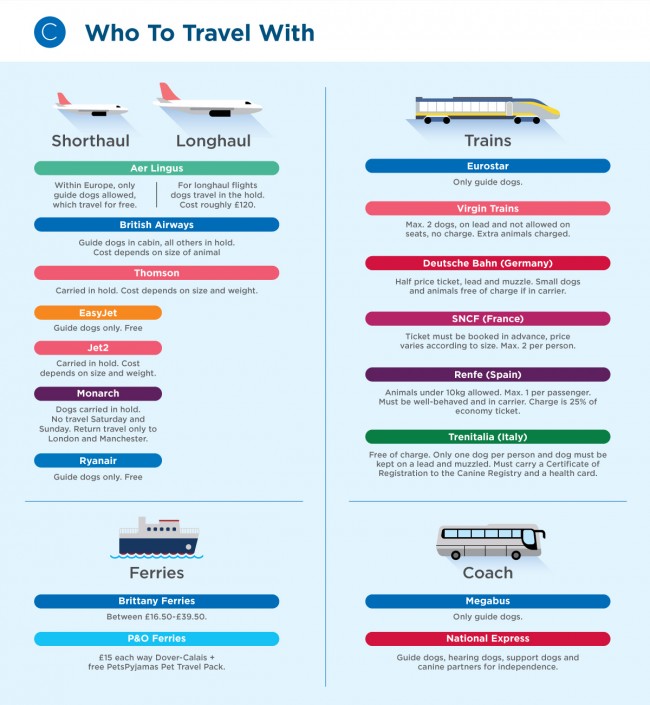 What To Do When You Arrive
Congratulations- the hard part's over. You've done the prep and you've got yourself and your dog safely and happily to your destination. But hold on- tempting as it may be, don't reach for the sunnies and piña colada's just yet. There's just a few more simple steps to go through before you can both start relaxing.
Having arrived in an unfamiliar environment after a long journey, your dog will likely be confused and over-excited, and it's important that you take control of the situation immediately. Whether it's simply going for a long walk, or having a familiar toy to hand and making sure your holiday apartment smells like you, there's plenty you can do to ease your dog into their new surroundings.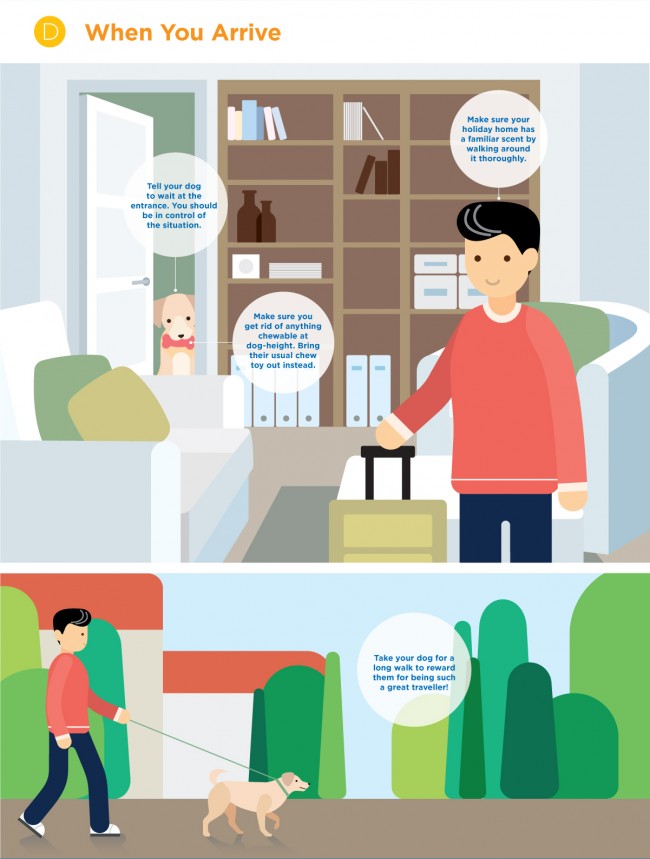 Useful Resources
Our guide is pretty comprehensive, but if you need any more information, we recommend the following resources.
Guidebooks:
Globetrotting Pets: An International Travel Guide, David Forsythe
Cruising With Your Four-Footed Friends: The Basics of Travel with Your Cat or Dog, Diana Jessie
Traveling with Your Pet: The AAA Petbook, AAA Publishing
The City Dog series, Cricky Long
National Geographic 'The Dog Lover's Guide to Travel', Kelly E. Carter
Blogs:
The Ramble
Cycling Gypsies
The Road Forks
Dog Jaunt
Montecristo Travel
To embed this infographic into your own site, please cut and paste the code below: