'Water, water everywhere, but not a drop to drink!' wrote English poet Samuel Taylor Coleridge in his poem 'The Rime of the Ancient Mariner'. Perhaps he was inspired to write this line by the state of the weather? Europe is a notoriously wet continent and even the more southerly countries don't escape a bit of precipitation now and again. What are Europe's wettest cities? You might be surprised to learn that Milan, Rome and Lisbon are all in the top 10! What also might come as a shock to some is that Zurich tops the list and is twice as wet as London.
Did you know that radio weather forecasts begun because of people's need to know if it was raining or not? An American radio station began reporting on the rain several times a day and the trend took off. Did you also know that every year, 519,000 km3 of rain hits the ground? That's astonishing considering 1km3 of water is equal to a billion tonnes of water! One more fact for you: the game of darts was invented after archers sought shelter from the rain in a nearby pub. To continue playing their sport, they shot arrows at a wall inside the pub instead!
Keeping an eye on the forecast in the days leading up to a vacation is often a nerve wracking experience. You've spent months planning your trip and the prospect of it being scuppered by poor weather is not something you want to deal with. How do you make the most of your city trip if rain threatens to spoil your plans?
As you'll find out, it's entirely possible to get a lot out of a trip even if it's raining cats and dogs all day long! Museums are perfect places to spend time in and it's very easy to while away a few hours admiring the exhibitions and displays. Many of London's museums are free to enter such as the Natural History Museum – you can dip in and out as you please! Berlin's Currywurst Museum offers a fun take on the history of Berlin's popular fast food dish. For lovers of history, it's possible to venture below the streets of Paris and Rome to explore the eerie catacombs and crypts.
Our useful infographic below offers a wide range of indoor activities in several top European cities. Beat the rainy day blues and make the most out of your vacation – whatever the weather!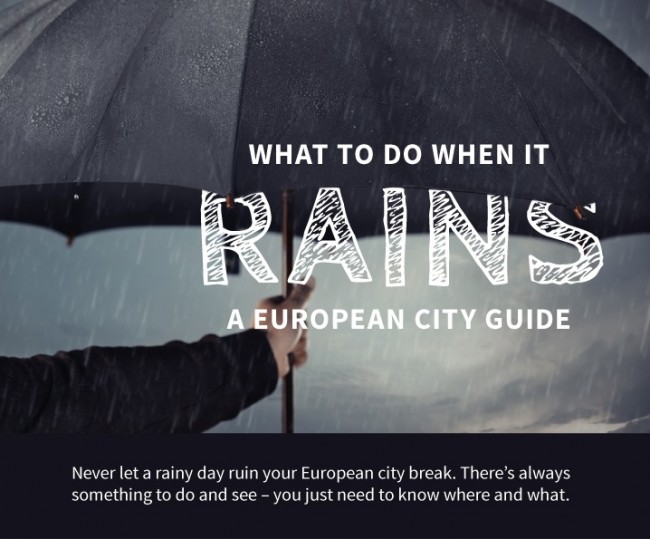 With the British capital of London enduring over one hundred rainy days a year, it shouldn't be a surprise to learn that the city is well suited for the odd shower. Tour the BBC Broadcasting House or practice your indoor sports skills at a ping pong bar! Find out more below.

Like London, Paris is also known for its less than reliable climate. Fortunately, it matters not a jot that if there's a spot of rain in the air in the French capital. Amongst other things, a variety of intriguing museums await those seeking shelter!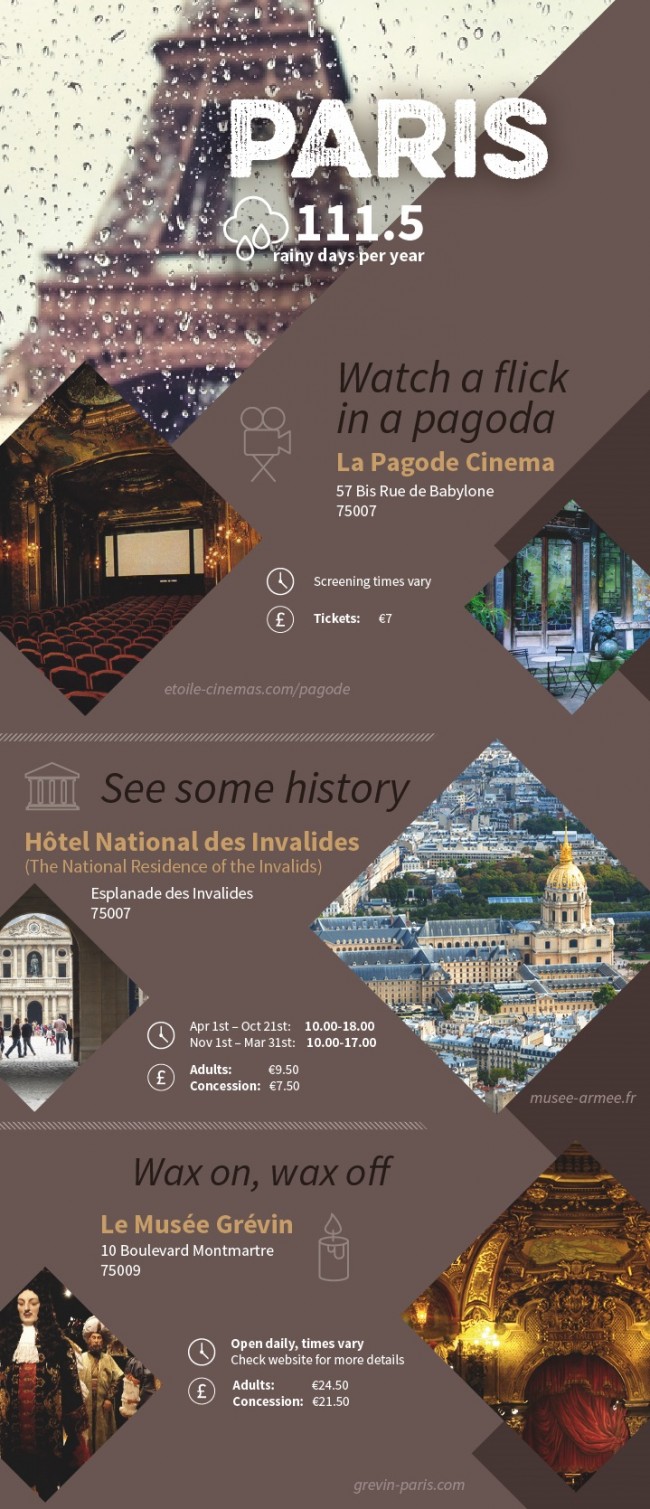 Berliners are used to the weather turning sour and you'll find many cosy bars and restaurants across the city. Delve deep under the city and take a guided tour of an old air raid shelter or nuclear bunker.

Rome might not usually be associated with rain, but that's not to say it doesn't exist! With approximately 73.9 wet days a year, it's entirely possible you might encounter a bit of rain on your vacation! Step inside the Pantheon or the Piccolo Museo del Purgatorio if the heavens open!

Perched over 600 metres above sea level, it's no wonder that Madrid is exposed to the elements. It has nearly 100 rainy days per year but luckily there are plenty of nice places to shelter from the deluge! Fill up on tasty Spanish food at the Mercado de San Miguel or sample the famous chocolate churros at Chocolatería San Gines.

Copy and paste the following code to embed the infographic on your website: