Barcelona is one of the liveliest and most cosmopolitan cities in southern Europe. It's a city with many districts, and it's important to know a little of each before going for dinner. Avoid tourist places if possible or you may be disappointed by poor service and high prices.
However, if you find a typical place crowded with locals, a piece of advice is make use of whatever Spanish you know. Note that in Barcelona the official language is Catalan but they do speak Castilian (Spanish).
Starting the day like a Barcelona native!
Starting your day with a typical breakfast or 'desayuno' is an important step for a great day in Barcelona. Chocolate is very traditional in this city but not in the usual way. Here you will order a hot chocolate with a very thick consistency and you can dip 'churros' into it. Churros are very typical but can be a little heavy, especially if you're on a diet, unless you are visiting Barcelona during the winter. It is not that difficult to find somewhere to eat 'Churros y Chocolate'. You can find them in fairs, on food trucks or in café, called 'granjas' in Spanish.
These places are also called 'Xurreria' or 'Churrería' from the word 'Churro'. Note the opening hours are typically Spanish. They open at 9.00 am and they respect the famous 'siesta' closing in the afternoon from 1.00 to 4.00 pm. Three churro stalls can be found in the Gothic district aside the 'Ramblas': Xurreria Banys Nous, which actually is a shop where you can just buy some churros and eat them while walking; Granja La Pallaresa, not fancy but very typical, good service, a bit pricey though and Granja Dulcinea, opened since 1941. Prices range from €1.20 for 3.5 ounces to €6 for a plate of churros and hot chocolate.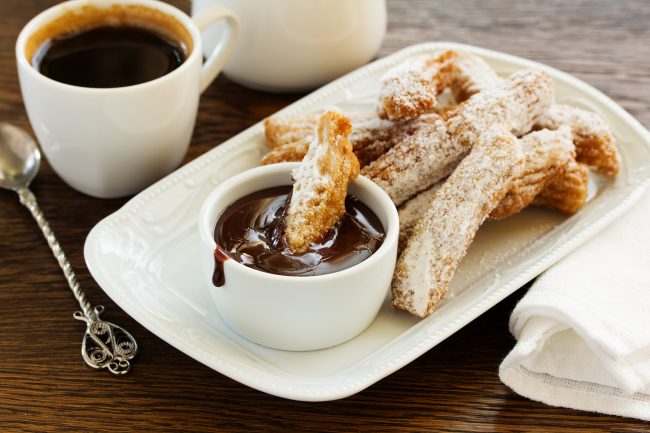 Other Breakfast Options
Another very typical and perhaps healthier breakfast is the famous 'Pan a la Catalana' or 'Pan con Tomate'. This is a special crunchy bread with tomato, olive oil and garlic rubbed and squeezed over it. You can also find it as 'Pan tumaca' or 'pa amb tomaquet' on the menus, which is the Catalan version. Most cafés and coffee shops serve this delicious tomato bread and it can also be enjoyed as a snack at lunchtime or as tapas.
For a typical continental breakfast with fresh orange juice and a butter croissant, go to Pastelería L'Escribà. They have several places – one at Avinguda Diagonal, one at Gran Via de les Corts Catalanes and the Ramblas. Here you can also taste other sorts of delicious pastries. It is not very cheap but the orange juice or the famous 'horchata' (a traditional, natural and very healthy drink made of tiger nuts and served ice-cold) is well worth it. Breakfast here will cost around €6 per person. If you wish to taste the best horchata in Barcelona, then you need to go to 'Horchateria' places. Why not check out 'Orxateria Sirvent', located in the El Raval district?
Snack or lunch like a local!
After wandering for miles in Barcelona, it's time to stop and recharge your energy. There's a huge variety of snacks on offer because Spain is a country that's famous for its food.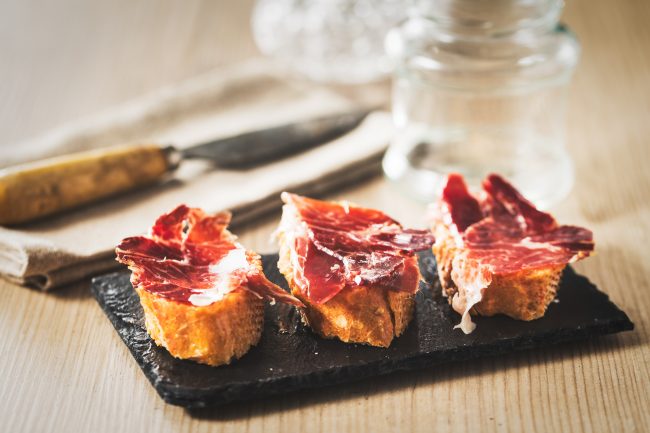 You shouldn't miss the chance to have a 'market' experience in Barcelona, and there are many to choose from. The most famous is the Mercado de La Boqueria and it's located in the middle of the La Rambla. Boqueria is an explosion of so many colours and smells that is an experience worth having. If you're travelling with kids, it's a good place to go as you'll find fresh fruit and juices. There are also sweet stalls with an amazing array of treats for you to enjoy. Your next stop could be at a 'Jamon' stand and you can sample this deliciously tender and unique ham.
On top of all this, you can also find bars such as Bar Pinotxo. There you can either sit in front of the counter or stand. It's always crowded but you will eat alongside locals and it shouldn't take long to order. The other place we recommend is El Quim de la Boqueria, which is a family-run business with similar characteristics. Here you'll find codfish, octopus, peppers or 'Pimientos Padrón', omelette, razor clams, prawns, sardines, salted anchovies, and much more. You may want to ask the waiter for a recommendation as there are so many options that it can be hard to decide. If you want to avoid other tourists, try the less crowded Sant Antoni Market, located in El Raval district. It is as big as its cousin and offers as many stalls, bars and restaurants for a snack or lunch.
Tea time in Barcelona
If you love sweet treats, you should try 'Ensaimadas'. They look like a fluffy bread and are covered with icing sugar. They come from Majorca but can be found everywhere in Barcelona. You'll find the best ones at Pastisseria Mallorquina Formentor in the Gràcia district or at Pastisseria Ideal. Another good spot is Forn Mistral, located on Ronda de Sant Antoni street not far from Barcelona University. You can enjoy this pastry and other light meals, such as salads, and it is not expensive.
A nice place to taste this speciality is Petritxol Cafe, located in Petritxol street, in the Gothic district. This is also a chocolate shop so you can sample the wares and take some back home.
A great place to take a late afternoon coffee is 'Cafè de La Pedrera'. On top of enjoying a delicious meal, you'll be sitting in a historic building designed by Gaudi. The view is superb and it stands in a very trendy street called Passeig de Gràcia in the Eixample district. Both places are middle-priced, so expect to spend around €4-5 per person for a drink and a pastry. An advantage of the latter is that it opens through from 9.00 am until 11.00 pm, which is not common in Spain.
Happy hour in Barcelona
Although you can drink it at any time of the day, Vermouth is an aperitif that one usually drinks before lunch or dinner, and there is a Catalan version of this drink that is well worth trying. Vermouth can be white, red or black depending on the wine used, and it's made of herbs that contain Artemisia, which is also used to make absinthe. The drink has a rather bitter taste that can be softened with soda and it is typically served with a slice of orange. Vermouth doesn't contain too much alcohol and is generally accompanied by olives or seafood like anchovies.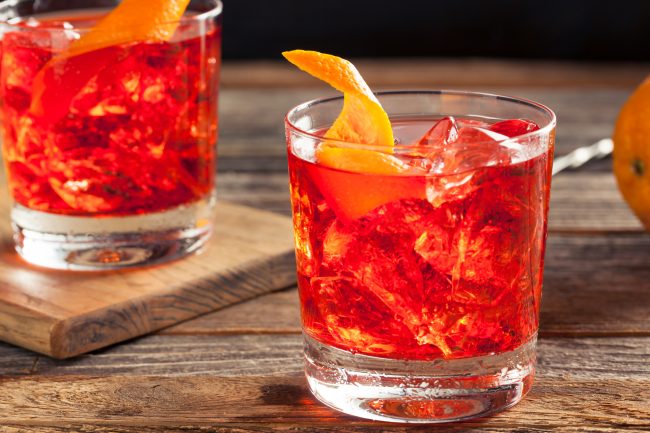 Vermouth
It has long been a tradition in Spain to drink Vermouth on Sundays after mass and before Sunday lunch, and it's becoming a trend among younger generations who meet on terraces in the summer to have a glass before going out for dinner. Although Vermouth is available most places, there is a special word for these bars and they are called 'Vermuterias'. As it has become trendy, there are many of them.
Our choice goes to a traditional one called Senyor Vermut, not very easy to find in Eixample district but worth the effort, not crowded with tourists and not overpriced. It will be tough to choose from around 40 varieties, but they have their own special reserve that was aged in barrel and will be served from the tap. The cherry on the top is the best 'Patata Brava' to accompany your drink. Patata Brava is a local speciality composed of potatoes, first boiled, then fried and cut in squares and originally served with a creamy tomato sauce or a garlic aioli. Casa Mariol is a perfect option if you just ended your visit to 'Sagrada Familia' cathedral. Prices are around €10 per person.
Tapas, to eat or not to eat!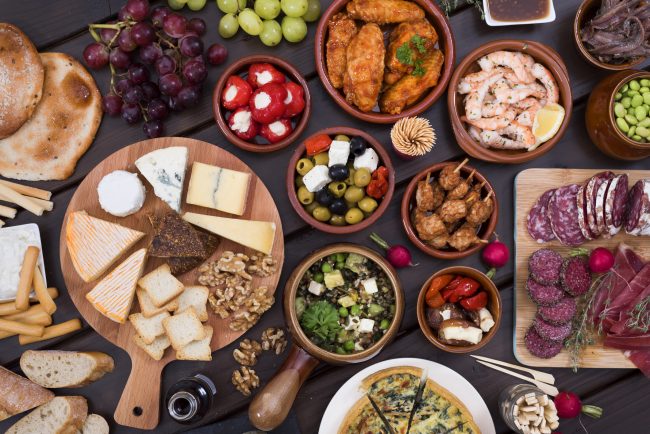 You cannot experience Barcelona without sampling the tapas! And if you want to be like a local, this is what you will do. Tapas can be found all over the city and when bars are frequented by locals, you will find them standing at the bar counter, speaking loudly, laughing, shouting one at another and eventually at the bar tender ordering tapas. Important also: tapas are meant to be shared, with your family, your friends. You may have to struggle to find a free corner on the counter and it might be a better idea to wait for a table, especially if you are travelling with your kids.
Another important hint to avoid turning your tapas experience into a nightmare is to know some basics on the Spanish menu: a 'tapa' is a small portion of food; 'raciones' is the same dish with a bigger portion; 'pinchos' or 'montaditos' is a 'tapa' served on bread and mouth sized, and finally 'platos combinados' is either a full dish served on a normal plate or it can also be a larger quantity (more than 'raciones' or a combination of 'tapas'). Although tapas is more popular in other Spanish cities, it has spread over Barcelona and there are tons of options. Do as the locals, enjoy, relax and when you are satisfied just say 'La cuenta por favor'. Also keep in mind that most 'tapas' places are restaurants that also serve normal food.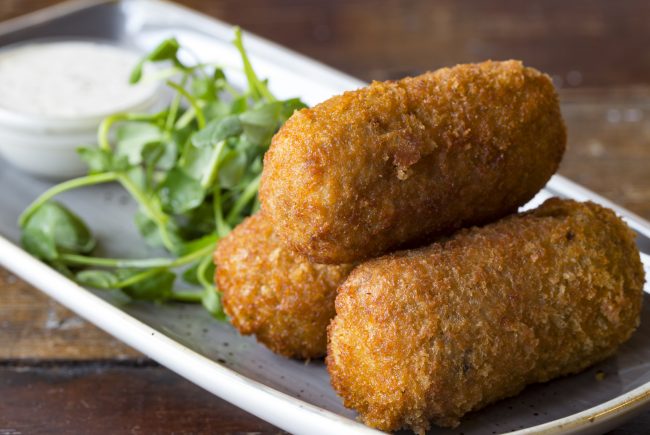 Our first is Ciudad Condal, located at Rambla de Catalunya, 18, near the Passeig de Gràcia metro station. Opening hours are unusual from 8.00 am to 1.30 am. Be prepared to spend more than usual, around €15 to 20 per person depending on the quantity of course, but you will leave very satisfied.
Quimet & Quimet is a classic option, opened since 1914, located in El Poble Sec quarter. It's a family business and it is small, so be prepared to see a crowd, although it is well worth the effort. Here you will find quality and creativity. Forget about the traditional tapas. They serve salmon with yogurt and honey or shrimps with caviar and all at reasonable prices.
Finally, Quimet d'Horta, located in the neighbourhood of Horta, is also worth the trip. The restaurant is another a family business and is open since 1927. It is frequented by locals and is a very charming place with a collection of more than 3,000 mini-bottles of alcohol from all over the world, some bought, others given by travellers. Their inexpensive menu includes no less than 85 different tapas served on ciabatta bread.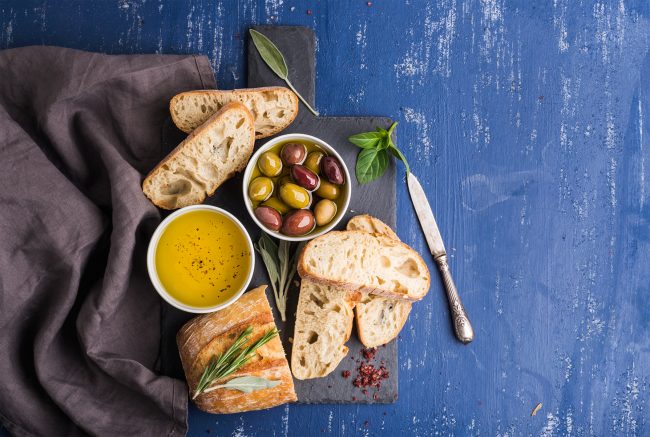 To end with our gastronomic journey, let's speak about typical Catalan dishes that can be found in regular restaurants as some of the above mentioned. Here are the 3 E-dishes:
'Escalivada' which is made of roasted vegetables (tomatoes, eggplants, peppers, and onions).

'Escudella i carn d'olla' which is a kind of Catalan version of 'pot-au-feu', with meat and varied vegetables according to the season.

'Esqueixada' is a salad made of salted cod, tomato and onion, and sprinkled with olive oil.
Gourmet dinner in Barcelona
Barcelona also features several Michelin starred restaurants, like Enoteca, located by the sea in the olympic port and run by chef Paco Pérez, whose offers are taken from the Mediterranean cuisine. You will pay around €175 per person. Lasarte is another great choice run by the famous Basque chef Martín Berasategui and Paolo Casagrande. It has been recently refurbished with exquisite decorations. Menus are filled with famous creations from the chefs or carry Catalan cuisine inspiration. Several menu options are available starting at €130 per person. Finally, Àbac, located on the outskirts of the city between Sant Gervasi la Bonanova and Vallcarca i els Penitent. It is run by young chef Jordi Cruz who mixes tradition and creativity in his dishes. Menu options start at €140 per person.
Eating in Barcelona provides a great range of colours, flavours and human experience. We hope you will enjoy each moment as each of them will bring a different taste that you have never tried before!