B"Berlin, du bist so wunderbar!"
This slogan from one of Berlin's locally brewed beers means "Berlin you are so wonderful" and it's true!
Berliners love their city, and even a short visit will show you why. Each corner of this city has something to offer and you'll notice distinct differences in each Berlin neighbourhood as you explore. But which area will suit you best? Where should you stay on a holiday to Berlin? Our guide sets out what you can expect from each district of Berlin, with some ideas for where to eat and drink and things to do and see.
We've also made a map of all the places we mention in this guide – it's at the bottom of the article or you can access it via Google Maps.
Once you've decided which district will suit you best, check out our accommodation in Berlin to find the perfect apartment for your stay.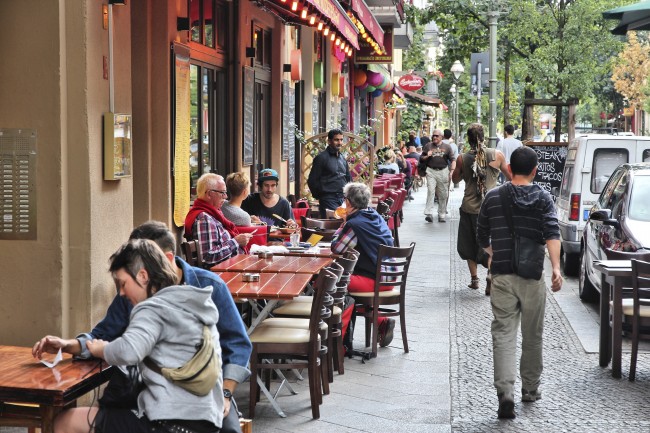 Kreuzberg
Mitte
Friedrichshain
Neukölln
Wedding
Charlottenburg
Schöneberg
Prenzlauer Berg
Kreuzberg
Formerly perched on the edge of the western world along the city's 'death strip' border with East Berlin, Kreuzberg now finds itself at the beating heart of reunified Berlin.
Transport in Kreuzberg
You're never more than a few minutes' walk from an U-bahn metro station in Kreuzberg, let alone one of the many bus routes running through the district. There are 2 main U-bahn 'hubs' in the district which offer speedy links around the city. Kottbusser Tor is where the U1 and U8 lines converge whilst Hermannplatz connects the U8 with the U7. Direct links are available to Alexanderplatz square and the famous Kurfürstendamm shopping street.
What to do in Kreuzberg
Jewish Museum
Lindenstraße 9-14 (U Moritzplatz / U Prinzenstraße)
One of the largest museums dedicated to Jewish culture in Europe, Berlin's Jewish Museum boasts a unique deconstructivist-style building design. The museum's two buildings are connected underground via zigzag tunnels adorned with exhibits.
German Museum of Technology
Trebbiner Straße 9 (U Möckernbrücke)
Showcasing a broad spectrum of technology from around the world, this museum is a top Berlin attraction. Given its location in the locomotive depot of Anhalter Bahnhof, previously one of Berlin's biggest stations, it's not surprising there's a focus on trains. Admire some of Germany's most impressive steam engines which are parked in original train service bays throughout the building. Elsewhere, the impressive array of planes which hang from the ceiling throughout the main hall are hard to miss.
FHXB Friedrichshain-Kreuzberg Museum
Adalbertstraße 95a (U Kotbusser Tor)
Kreuzberg's colourful and vibrant residents play a huge part in making the neighbourhood special. For example, there would be no Görlitzer Park if it wasn't for passionate Kreuzbergers' hard won efforts to preserve it as a green space. This museum, which is free to enter, serves as a monument to people power and paints a wonderfully detailed picture of how the neighbourhood has developed since the 13th century.
Where to Eat and Drink in Kreuzberg
Doyum Grillhaus
Admiralstraße 36 (U Kotbusser Tor)
Whilst you can find excellent döner kebab throughout Berlin, it's not always easy to find a wider selection of Turkish food. Hidden out of sight from the main street but just steps from Kottbusser Tor, Doyum Grillhaus' selection of Turkish dishes is refreshingly broad. Adding to the experience is the authentic sky blue tiles which adorn the walls of this cosy restaurant.
Turandot
Bergmannstraße 93 (U Gneisenaustraße)
Kreuzberg 'Kneipes' (pubs) don't get any more authentic than Turandot. This no-nonsense local attracts a wide range of characters who keep this bar buzzing 7 days a week . Spend a couple of hours propping up the bar and soak up the atmosphere. The lively Bergmannstrasse outside the bar provides ample opportunity for people spotting.
Burgermeister
Oberbaumstraße 8 (U Schlesisches Tor)
As popular as you'd expect a burger joint housed inside a former public toilet to be, Burgermeister is an iconic and unmissable institution in Kreuzberg. Situated just outside of Schlesisches Tor U-bahn station, take your place in the ever-present queue and enjoy one of Berlin's best burgers.
Clubs and Nightlife in Kreuzberg
Going clubbing in Kreuzberg is always an experience. Hours disappear into a blur and you'll step outside into the bright morning sun and wonder if you really spent the past 5 hours dancing. There are clubs to suit all tastes including as well as more than enough techno evenings.
Club der Visionäre
Am Flutgraben 1 (U Schlesisches Tor)
This riverside bar/club features a cosy dance floor which fills up to bursting point on weekends. Renowned for its parties on sunday afternoons, Club der Visionäre is one club you don't want to miss.
Bohnengold
Reichenburger Straße 153 (U Kotbusser Tor)
Resembling an inconspicuous apartment building from the outside, Bohnengold is labyrinth of rooms and corridors which lead to a dance floor. Part bar, part club, Bohnengold is a favourite during winter.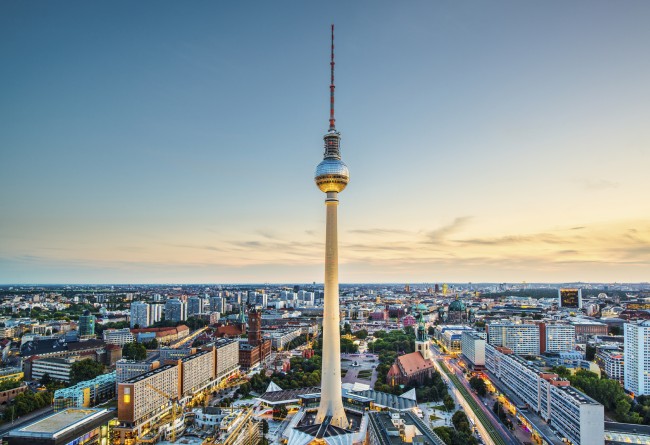 Mitte
Berlin's bustling Mitte district is home to the city's best loved tourist attractions and most iconic architecture. There's much to see including the Brandenburg Tor, the TV Tower and the Berlin Wall memorial at Bernauer Strasse.
Transport in Mitte
Public transportation is in abundance with a wide range of metro, bus and tram links available. Direct metro trains connects key areas such as Friedrichstrasse, Checkpoint Charlie and Berlin Central Train Station.
What to do in Mitte
TV Tower (Fernsehturm)
U/S Alexanderplatz
An elevator whisks visitors from the ground to the top of Berlin's TV Tower, the second tallest structure in the European Union. On a clear day, it's possible to see far outside of Berlin over the surrounding countryside and lakes. Fancy a drink whilst you take in your surroundings? Berlin's highest bar serves a range of cocktails, beers and snacks.
DDR Museum
Karl-Liebknecht-Straße 1 (U/S Alexanderplatz)
Life in East Germany during the Cold War, when the state was called the DDR (in German: Deutsche Demokratische Republik), is a source of fascination to many. This museum focuses on daily life in East Germany, covering everything from food and drink to clothing and holidays. Interactive exhibits including a secret listening device and a wardrobe of DDR-era clothing ensure the museum is fun for all ages.
Berlin Wall Memorial
Bernauer Straße 111 (U Bernauer Straße)
The Berlin Wall bordered Mitte and a 1.4km stretch of it has been preserved to the north of the district. An open-air exhibition details the division of Berlin which lasted from 1961 until 1989. There's also a visitor's centre which houses further information and photography on perhaps one of Europe's defining features of the second half of the 20th century.
Where to Eat and Drink in Mitte
Gorki Park
Weinbergsweg 25 (U Rosenthaler Platz)
A taste of Russia in the heart of Mitte, Gorky Park is a must-visit. Sample a selection of pastries or the fantastic breakfast platters amidst stunning interior decor. Wash down your meal with a bottle of Moskwa beer to complete the experience.
Schokoladen
Ackerstraße 169 (U Rosenthaler Platz)
Back in the early 90s, at the height of Berlin's squatting scene, places like Schokoladen could be found all over the city. Now sadly in decline, this bar and live music venue is a bastion for Berlin's alive and kicking independent music scene. Now owned by its supporters, Schokoladen's future is as sure as the good time you'll have inside.
Augustiner am Gendarmenmarkt
Charlottenstraße 55 (U Stadtmitte / U Französische Straße)
Serving the finest German cuisine as well as the tastiest Bavarian beer, the Augustiner Brauhaus is the authentic German experience many who come to Berlin are looking for. Try the schnitzel, a bratwurst or a pork knuckle and soak up the atmosphere!

Friedrichshain
This former East Berlin district has undergone something of a transformation in the years since reunification. Friedrichshain is now a vibrant neighbourhood offering a colourful mix of trendy shops and excellent bars and restaurants.
Transport in Friedrichshain
Like most of Berlin, getting around Friedrichshain by public transport is straightforward. The U5 metro train links the district directly with Alexanderplatz in central Berlin. Kreuzberg and Friedrichshain are connected via the U1 metro, which elegantly winds it way across the iconic Oberbaumbrücke toward Kreuzberg.
What to do in Friedrichshain
East Side Gallery
Mühlenstraße (U Warschauer Straße)
Located along the infamous 'death strip' section of the Berlin Wall, the East Side Gallery is an open-air art gallery. Painted along a stretch of original Berlin Wall, the 'gallery' exhibits a range of works by famous artists and also paintings that have become icons of Berlin culture. Join the million tourists who visit the gallery each year before heading off into the heart of Friedrichshain to soak up the nightlife.
Computer Game Museum
Karl-Marx-Allee 93a (U Weberwiese)
With over 300 interactive exhibits, the Computer Game Museum certainly doesn't offer your average stuffy displays and information. Dig deep into gaming culture whilst learning about its rapid and exciting evolution.
Boxhagener Platz
U Samariterstraße / S Ostkreuz
Do as the locals do and head to Boxhagener Platz. The surrounding streets offer numerous entertainment options including trendy clothes shops and grungy punk bars. On the square itself, explore the weekend food and flea markets.
Where to Eat and Drink in Friedrichshain
Hops & Barley
Wühlischstraße 22/23 (S Ostkreuz)
Berlin's craft beer revolution might be a slow-burner, but one place keeping it real (and affordable) is Friedrichshain's Hops & Barley. With its elegant tiled interior and beer making equipment proudly on display, there's no better spot to sample a some locally brewed 'dunkel' or 'rot' beer.
Nil
Grünberger Straße 52 (U Frankfurter Tor)
Sudanese food in Berlin? You've heard correct! The good people at Nil serve up an authentic taste of their homeland at this cosy snack bar. Choose from a selection of dishes and wraps including halloumi, falafel and chicken. If the peanut sauce doesn't leave a considerable impression on you then you've clearly visited the wrong place!
Seth Indian Restaurant
Proskauer Straße 29 (U Samariterstraße)
It's a sad fact that finding a good curry in Berlin can be difficult. While many restaurants claim to offer an authentic curry experience, more often than not the results are disappointing. Seth Restaurant, located on a quiet corner north of the elegant Frankfurter Allee boulevard, serves up a wide range of dishes of a higher quality than most found in Berlin. Go and check it for yourself!
Clubbing & Nightlife in Friedrichshain
RAW-Gelände
Warschauer Straße (U Warschauer Straße)
This network of old industrial buildings next to Warschauer Straße station is one of the focal points of Friedrichshain's hectic nightlife. It was originally built in 1867 as a train repair station (Reichsbahn-Ausbesserungs-Werk – hence the name "RAW") but is now a complex of bars, clubs, skate park, climbing wall and more. Definitely worth a visit either during the day for some quiet lunch and a beer or later on for a serious night out.
Kosmonaut
Weisenweg 1-4 (U Frankfurter Allee / S Ostkreuz)
Kosmonaut attracts a keen crowd of techno enthusiasts who spend their nights dipping in and out of the dry iced filled dance floors. Lots of comfy seating outside gives this club a sociable and covivial atmosphere.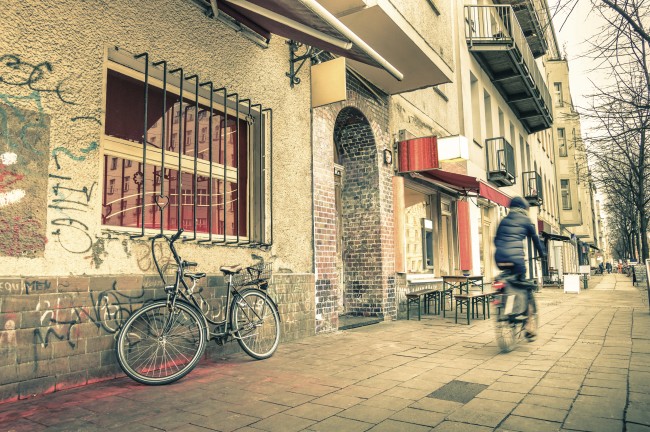 Neukölln
Neukölln is Kreuzberg's slightly messier younger sibling – it's a bit less developed, a touch more youthful and a lot of fun. Come to this neighbourhood for your fix of edgy Berlin nightlife and eclectic food.
Transport in Neukölln
The U8 and U7 U-bahn lines run through the neighbourhood offering links not only to Kreuzberg but also directly to Alexanderplatz. It's a small district and you'll be surprised how far you can get on foot.
What to do in Neukölln
Tempelhofer Feld
Tempelhofer Feld (Tempelhof Park) was originally Berlin's most central airport, and was opened as a public space in 2010 after airport closed down. Stepping off a city metro and strolling down a runway within minutes is definitely one of the most unique experiences that Berlin offers! It's the city's biggest park, so big in fact that it has its own micro climate, making it perfect for kite flying and wind-surfing (really!). Berliners make great use of the open space, from barbecues and dog walking to skate boarding and sunbathing. Grab a beer and join in the action!
Maybachufer Turkish Market
Maybachufer (U Schönleinstraße)
Gathering along the banks of the Landwehrkanal, market traders of all professions sell their wares every Tuesday, Friday and Saturday. Fruit and vegetables, craft products and a colorful array of clothing can all be picked up for excellent prices. Soak up the sometimes hectic hustle and bustle of the market whilst munching on a freshly made Turkish pastry.
Körnerpark
Schierker Straße (U Hermannstraße /U Neukölln)
The elegant Körnerpark is a peaceful gem of a park situated deep in residential Neukölln. It resembles a palace garden and features fountains and an impressive orangery building which houses a cafe and temporary exhibitions.
Where to Eat and Drink in Neukölln
Klunkerkranich
Neukölln Arkaden, Karl-Marx-Straße 66 (U Rathaus Neukölln)
Situated on the top of a carpark above Neukölln's Arcade shopping centre, this bar boasts some of the best views over Berlin. Take a seat amongst Berlin's hippest residents and sip a cocktail whilst admiring the skyline of the German capital.
Al Pasha
Sonnenallee 77 (U Rathaus Neukölln)
Neukölln's Sonnenallee street is the best place in Berlin to eat Middle Eastern food. There are a huge amount of food outlets along this leafy street A favourite with locals is Al Pascha, a Lebanese cafe serving up plates of hummus and fateh. Grab a table outside, order a selection of bowls and feast!
Das Gift
Donaustraße 119 (U Rathaus Neukölln / U Hermannplatz)
Just a few minutes walk from Sonnenallee, on a quiet cobbled street, lies Das Gift bar. This Scottish themed establishment is one of Neukölln's favourite bars serves an excellent selection of drinks. Don't miss their ever changing selection of craft beer and the hearty food from Scotland on the menu!
Clubbing in Neukölln
Greissmühle
Sonnenallee 221 (S Sonnenallee)
This Sonnenallee club has a big outdoor space backing onto a canal – great for chilling out during the summer. It also hosts various events during the day time and in the week, from fleamarkets to comedy nights – but the club nights go on all weekend.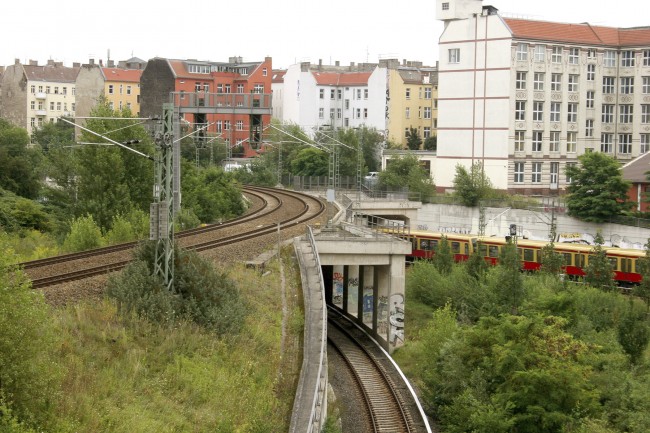 Wedding
Long touted as Berlin's 'next hip district', Wedding seems comfortably happy to remain the city's best kept secret for now. Home to some of the city's most elegant architecture as well as some lovely green spaces, come to Wedding to discover something fresh and new.
Transport in Wedding
With both the U6 and U8 snaking out of central Berlin towards Wedding, it's very easy to get here. Accessing Tegel Airport from Wedding is simple and easy too.
What to do in Wedding
Plötzensee
Nordufer (last stop on tram M13 from U Seestraße)
Berliners flock to the many lakes that can be found in and around the city. Wedding is home to one of the closest city lakes. Plötzensee is a gem – you'll have plenty of space to yourself. It's the perfect place to cool off during Berlin's sticky summer!
Berliner Unterwelten Tours
Brunnenstraße 105 (U/S Gesundbrunnen)
Berlin's chequered and colourful history is brought to life through guided tours run by Berlin's Unterwelten tour company. Step into the past by taking a walk through an old air raid shelter or investigate an underground fortress situated underneath an anti-aircraft tower. Tours are available in German and English.
Where to Eat and Drink in Wedding
Eschenbräu Bräurei
Triftstraße 67 (U Leopoldplatz)
Tucked away in a residential courtyard, Eschenbräu brewery is one of Wedding's best kept secrets. Not only is the home made beer extremely tasty but the flammkuchen (flatbread topped with tasty toppings) is the perfect accompaniment.
Ya Hala Chicken
Pankstraße 50 (U Pankstraße)
A huge plate of flame grilled chicken served with tasty sauces and chips for €5? It's not hard to understand why Ya Hala Chicken is one of Wedding's most popular fast food outlets!
Rebel Room
Seestraße 93 (U Seestraße)
There are fantastic burgers to be found throughout Berlin. Rebel Burger on Seestrasse is Wedding's top meat-and-bun joint and reason enough alone to make the journey up the U6 metro line. The sweet potato chips are highly recommended!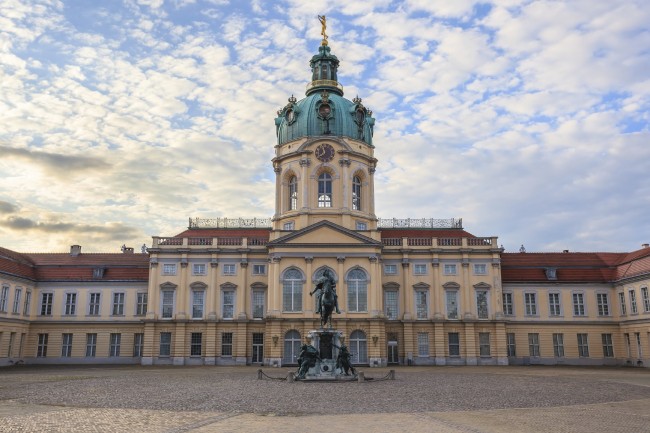 Charlottenburg
A visit to Charlottenburg makes you realise just how different Berlin's districts really are. Elegant and regal, this neighbourhood offers a taste of old Berlin. Visit Charlottenburg for the classy shopping experience on Kurfürstendamm or a walk around the grounds of Schloss Charlottenburg castle.
Transport in Charlottenburg
Charlottenburg lies to the west of the centre of Berlin and can be reached via a number of U-bahn and S-bahn metro lines. The U7 line winds its way from Kreuzberg throughout Charlottenburg passing through the bustling Charlottenburg station.
What to do in Charlottenburg
Schloss Charlottenburg
Spandauer Damm 20-24 (U Richard-Wagner-Platz)
Berlin's largest palace, Schloss Charlottenburg offers an elegant insight into life as an 18th century royal. Not only is the interior of the castle interesting, but the grounds are also well worth exploring. Stroll along the banks of the river and admire the ornate statues and buildings that are dotted throughout.
Kurfürstendamm
U Kurfürstendamm
Ku'damm is Berlin's answer to Oxford Street in London and walking down this classy boulevard is quite an experience. You'll find some of the world's most exclusive brands as well as pop-up stores and hip brands of the moment. Never mind if you're not the mood to splash the cash – the window shopping experience is good enough a reason to go!
Berlin Zoo
Hardenbergplatz 8 (U/S Berlin Zoologischer Garten)
Germany's oldest zoo, the Berlin Zoo has been attracting visitors since 1844. It lays claim to being home of more species than any other zoo in the world. There's also an aquarium that is immensely popular.
Where to Eat and Drink in Charlottenburg
Rogacki
Wilmersdorfer Straße 145 (U Bismarckstraße)
Nothing sums up Charlottenburg quite so well as Rogacki food hall. Serving up typically German meats, breads and fish dishes, Rogacki's clientele like to indulge in the finer things in life. Meals are eaten standing up and lunchtimes can get busy. Don't leave without trying the oysters!
A-Trane Jazz Club
Bleibtreustraße 1 (S Savignyplatz)
With a formidable reputation for putting on the world's best jazz acts, a visit to A-Trane is essential for anyone with an interest in the genre. Entry isn't cheap, but you'll be rewarded with an intimate performance in an unforgettable location.
Zwiebelfisch Bar
Savignyplatz 7 (S Savignyplatz)
A typical Berlin bar, Zwiebelfisch's wooden interior and decor gives it a real charm. Historic pictures adorn the walls and the beer comes fresh and fast.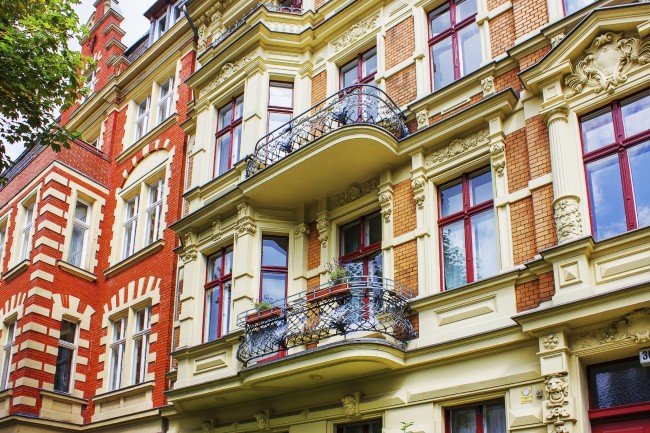 Schöneberg
Peaceful Schöneberg boasts all the fantastic attributes of what makes Berlin great but lacks one important thing – tourists. Head to this district for a glimpse of real Berlin. Stroll the streets and imagine what it was like for former residents David Bowie and Iggy Pop to live there!
Transport in Schöneberg
Given its relatively untouched feel, you'd be forgiven for thinking Schöneberg is denied a spotlight due to its poor transport links. This is not the case – direct links are available from both Friedrichshain and Kreuzberg on both the U1 and U7 metro lines. It takes no time at all!
What to do in Schöneberg
Hauptstrasse 155
U Kleistpark
Whilst there's not much to see at the former address of David Bowie and Iggy Pop, it's still worth visiting to imagine what it was like for 2 icons of music culture to step out of this building each day. Neues Ufer, the bar underneath the apartment, was a popular hangout spot for Bowie and features photos and memorabilia.
Rudolph-Wilde Park
Kufsteiner Straße (U Rathaus Schöneberg)
This lovely park lies next to the impressive Rathaus Schöneberg. The ornate Carl Zuckmayer Bridge, featuring an elegant stone design,, runs through the park and supports the metro underneath. A restaurant serving authentic German food is at the park's entrance.
KaDeWe
Tauentzienstraße 21-24 (U Wittenbergplatz)
Often associated with Charlottenburg and the fancy Kurfürstendamm, the 'Kaufhaus des Westens' is actually a resident of Schöneberg. Europe's biggest and most impressive department store offers 8 floors of a very special kind of shopping experience.
Where to Eat and Drink in Schöneberg
Cielo di Berlino
Monumentstraße 31 (S Yorckstraße)
Perched on the edge of the wide open space surrounding Yorckstrasse, this restaurant-cafe offers a superb selection of simple yet authentic Italian dishes. Sample the bruschetta for starts before gorging on a cheese laden freshly cooked pizza.
Train Cocktail Bar
Haupstraße 162 (U Kleistpark)
An old train carriage parked outside of Kleistpark U-bahn station is the setting of this unique cocktail bar. Step inside, take a booth and sample the carefully put together menu.
Taverna Ousies
Grunewaldstraße (U Bayerischer Platz)
Many Greeks in Berlin declare this lively and atmospheric Greek restaurant to be the best in the city. The platters are generous and are served by bubbly and passionate people.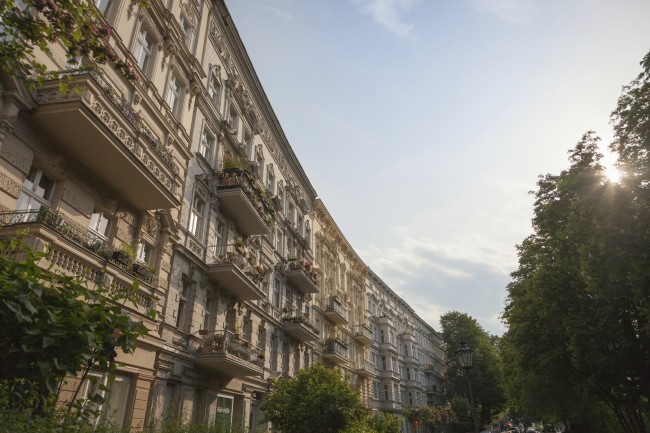 Prenzlauer Berg
Leafy, affluent, refined Prenzlauer Berg is the place to go for fine dining, pleasant parks and up-market shopping opportunities. Visitors flock to this district on sundays for the famous Mauerpark Flea Market.
Transport in Prenzlauer Berg
Prenzlauer Berg is just a short journey via the U2 metro line from Alexanderplatz. Unlike West Berlin, a tram system operates in the former East Berlin neighbourhoods and a number of lines run through Prenzlauer Berg.
What to do in Prenzlauer Berg
Mauerpark Flea Market
Gleimstraße 55 (U Eberswalder Straße)
Located on a patch of land which used to be occupied by the Berlin Wall, this bustling flea market is a top draw on sundays. People come from all corners of Berlin to both sell and buy any number of household objects, clothing and much more. On a sunny day, there's nothing better than relaxing with a beer in the adjacent park in between browsing the many stalls.
Platz des 9.November 1989 – Bornholmer Straße Bridge
S Bornholmer Straße
As rumour spread throughout Berlin that the wall dividing the city for 28 years could soon come down, many Prenzlauer Berg residents gathered around one of the major check-points at Bornholmer Strasse Bridge in anticipation. An outdoor photo gallery complete with a timeline of events at this location to the west of Prenzlauer Berg tells the thrilling story.
Zeiss Major Planetarium
Prenzlauer Allee 80 (S Prenzlauer Allee)
One of the largest planetariums in Europe, the Zeiss Major Planetarium hosts astronomy shows inside its impressive dome. Concerts and special 'audio theatres' where visitors enjoy hearing an audio book under a starry sky are also held inside.
Where to Eat and Drink in Prenzlauer Berg
Cafe Morgenrot
Kastanianallee 85 (U Eberswalder Straße)
Retaining a certain East Berlin edge, Prenzlauer Berg is still home to some typically East German bars and restaurants. Cafe Morgenrot is a collective-run punk bar and cafe offering excellent vegan brunches, typical German beer and exhibitions.
Prater Garten
Kastanianallee 7-9 (U Eberswalder Straße)
Beer gardens are the place to be during the balmy Berlin summer. Prater Garden, with its sprawl of benches, is big enough to seat half of the city. It's not just beer though and the hearty menu of German dishes is well worth lining your stomach with.
Druide Absinth & Cocktailbar
Schönhauser Allee 42 (U Eberswalder Straße)
Bored of beer? Druide Absinthe Bar will satisfy your desire for something different. Try absinthe cocktails or just the real thing straight. Be careful – it's got a mean kick!
Map showing everything mentioned in this article
(Click the icon at the top left corner of the map to break it down by district)
If you have a smartphone, check out our list of essential Berlin apps to download – and you can also download our free tourist guide which is packed with tips on getting the most out of your visit to the German capital.