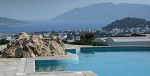 The bay of Bodrum, situated to the very southwest of Turkey, off the Aegean Sea and near the Greek island of Kos, is a beautiful port town, famous in the ancient times for housing one of the seven wonders of the world, the Mausoleum of Mausolus. Bodrum is known for its 'Sugarcube Villas', palm-tree lined streets and authentic Turkish charm. The town has been under renovation over the recent years, with the introduction of several new restaurants, apartments, villas and a new marina. Bodrum is a lively, bustling, happening town, where you won't find find much peace and quiet but certainly will find a good place to let down your hair; especially during the summer months.
Where to stay?
Bodrum itself isn't overly large and can be navigated relatively easily, so it doesn't matter where you stay. The town is situated to the west, with the hills to the east. In terms of accommodation, Bodrum - in fact, Turkey as a whole - is well known for its excellent selection of self-catering villas and apartments, with the commercial accommodation to be found tucked away in the outskirts. The town has accommodation to suit a range of tastes and preferences, with villas high within the hills or right on the bay. You can rent a large family villa with its own private pool and stunning views over the Med here for as little as £48 per night!
The Wimdu Experience: Self-catering accommodation in Bodrum
If it's a self-catering villa holiday you're after, you've come to the right place. Despite its reputation as a resort town, Bodrum is moving much more in the family holiday direction, or a great place to pool together with a group of friends and do the 'villa thing'. There are also a number of modern apartments emerging in Bodrum: typically understated, with white, cream and stone decor, tiled floors and a balcony overlooking the town below. Villas can be a bit more impressive, with ornamental decoration on the outside, bright and airy open plan rooms, and often your own private pool.
Interesting Facts
The name Bodrum actually comes from Petronium, which is what the modern castle became known as .
There are 957 districts in Turkey and Bodrum is part of the Aydin subregion.
Bodrum enjoys a mediterranean climate, with highs in the summer reaching up to 34 degrees .
The Carians were the first recorded settlers in Bodrum with the harbour area colonised in the 7th Century BC.
What can you see and do?
Bodrum is essentially a party resort, which means most of the main activities centre around the restaurants, bars, clubs and beaches in the area.
Nightlife
There is a thriving nightlife in Bodrum, with restaurants and bars spread across the town so you are only ever a short walk from your villa if you want to eat out, grab a few drinks or stroll home easily after a night's partying. The town has a reputation, even among the locals, as being the Turkey's party second biggest party capital after Istanbul and most of the bars and clubs here are open all night long. It doesn't matter what your tastes are, there is something to suit everyone, from cheesy disco halls to classy cocktail bars.
Museum of Underwater Archaeology
The Museum of Underwater Archaeology is a newly built museum in the space under the Castle of St Peter that used to be used for storing the finds from underwater Archeology projects around Bodrum bay. The collection is impressive and the spaces now accommodates supposedly some of the world's most important underwater finds. The collection is cleverly displayed, with specialist lighting, props, maps and information boards. Even if you opt for a villa a little way out of town, it is most definitely worth a visit.
Festivals
There are three main festivals in Bodrum, The bicycle festival organised by Bodrum sports club, with live acrobatics performances and dance shows is held in May. the Turkbuku Culture festival which showcases a range of local artists is held the first weekend of September and the Turgutreis Commemoration Festival is held towards the end of June. There are also plenty of open Bazaars around Bodrum held locally where you can pick up trinkets, clothes and fresh produce; perfect if you're staying self-catering.
Beaches, boating and cruises
As a port town situated right on the Mediterranean Sea, Bodrum has some excellent beaches and boat activities on offer. Tourists and locals alike flock to the coast in the summer months to enjoy a range of activities. From here you can set off on a day excursion around the nearby islands, rent a motor boat or just enjoy a Turkish tea on the harbour's edge if you want a little space away from your villa.
Bodrum Cuisine
The Turkish are renowned in particular for their seafood, but in Bodrum several different cuisines can be found, including Spanish, International and local. La Pasion is a particularly popular Spanish restaurant, with a refined dining atmosphere and a weekly lunch menu that includes excellent desserts. If you don't want fancy dining though, the Bodrum Fish Market is a great place to pick up not only fish but also fruits and salads too, for stowing away back to your apartment for a hearty homecooked meal.