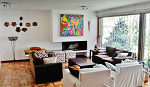 Explore
If you are looking for a good place to spend your next holiday, perhaps Paris, Berlin and Venice have crossed your mind. These are the most common tourist destinations nowadays. But wouldn't you prefer to spend your next break in a place that is not yet known to a lot of travelers? If you're searching for solemnity and relaxation, then Bogota, Colombia is a unique destination that you really ought to consider. It was once thought to be a place to avoid due to high levels of crime, but is now fast becoming the 'must visit' city within latin America. The city has an impressive range of colonial architecture, over 24 museums, hundreds of parks, newly renovated restaurants and festivals, and a nightlife that will blow your socks off.
About
Bogota is the capital and the largest city in Colombia, south America. Until 2000, the city was known as Santa Fe de Bogota, and existed as part of the department of Cundinamarca. It is one of the 30 largest cities in the world - and one of the third highest in South America, situated 2,640 metres above sea level. Bogota is a metropolitan city with a large selection of universities, libraries, cafes and restaurants.
Where to Stay
The city is divided into 20 districts, including: La Candelaria, Chapinero, El Salitre, La Macarena, Parque de la 93, San Victorino and Usaquen. Most visitors and tourists stay on the east side of the city, where the majority of museums, galleries and monuments are clustered. La Candelaria, Chapinero and El Salitre are the best districts for sightseeing, La Macarena the art district and culture lover favourite and Parque de la 93 is home to a selection of trendy nightclubs. Due to developments within the city and tourism infrastructure, there has been a recent influx of commercial accommodation in the area, but there are still authentic and unique gems to be found, and self-catering apartments offered by the locals. Apartments in Bogota are mostly modern and minimalist, with laminate flooring and colourful statement art pieces, bringing the Latin American culture to your stay, both out on the streets and indoors.
Sightseeing
There are several museums and historic monuments to be seen in Bogota. The most famous is the Museo del Oro, considered to be one of the most fascinating in all of South America. The museum is home to over 55,000 pieces of gold from the pre-Hispanic cultures in Colombia, and has been recently renovated itself, adding to the experience. The Museo Nacional is Bogotas National Museum, showcasing the history of Colombia. The Teatro Mayor Julio Mario Santo Domingo is also well worth a visit: This is Bogota's largest theatre, showcasing various different kinds of productions from operas to musicals, ballet to contemporary dance and some excellent theatre plays. In addition to the museums and theatres you will also find several historic monuments in Bogota, such as the Catedral Primada, a fascinating neoclassical building on the site where the 'first mass' was supposedly celebrated.
Culture
As a South America's largest and most populous city, there is much in the way of Latin American culture, with fairs and festivals held regularly and a real feeling that something is being celebrated all year round. The summer is the best time of year for festivals, with carnivals, dances, and parades happening all over the place, showcasing elaborate multi colored costumes and upbeat music. The Bambuco National Folk Festival and Beauty Pageant is one of the main festivals of the summer, as a remembrance of the traditions of the Colombian region. This happens annually, from June 13th-17th.
Shopping
San Andresito is one of Bogota's largest shopping districts, with high street stores spread over several city blocks. The streets are also lined with thousands of market stalls, selling all kinds of things from homeware to jewellery. Incidentally this is one of the best places to buy good value electricals such as computer, TV and hi-fi equipment. There is also a big market for arts and crafts in Bogota, with several craft markets dotted around the city centre and high-end home accessory stores that stock everything from canvasses to ribbon. There aren't many major fashion brands around this area but if you're looking for designer, Brincabrina stocks a great range of Colombian style designer T-shirts.
Food
Eating out in Colombia is an experience of flavours very much parallel to the experience of colours at a Latin American festival. A mix of American, Mexican, Fusion and seafood can be found in Bogota. There are a few restaurants in particular you absolutely must try though. Peruvian restaurant, Rafel is a unique experience in terms of decor and cuisine, with homegrown food and an intimate garden setting to eat it in. Mexican restaurant, Agave Azul is an intimate and authentic experience, with influences from New York, Chicago and Oaxaca. La Condesa Irina Lazzar is a typical American eatery when it comes to portion size. The food is comfort-style, but organic where possible, taking 'home-cooked' to a whole new level. If you're looking for a great place to grab a bite for lunch, Abasto is a creative breakfast and brunch joint with a rustic atmosphere and trendy, innovative dishes.
Getting In and Around
El Dorado is Bogota's main international airport, with daily flights to and from of the major American states as well as Paris, Madrid and Frankfurt. El Dorado is actually the third busiest airport in Latin America. Due to a rather imperfect city grid and poor urban planning, the city can be difficult to navigate if you're using public transport but the taxis around this area are incredibly expensive, and still not a very safe mode of transport. You are best of travelling by bus with a guide who knows the area, or by bike. Bogota is actually very well catered for bicycle users, with one of the largest networks of bicycle routes.