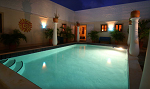 Bonaire is a picturesque Dutch Island in the Caribbean, with a rich and varied history. The island is renowned for its spectacular beaches with warm, white sand and clear blue diving spots, and tourists flock to villas across the island every year to take advantage of this paradise on earth. Bonaire is also a popular conservation destination, due to its 200 species of unique birds and its ring of coral reef. Washington Slagbaai National Park covers one fifth of the island, and is classified as an ecological reserve. Whatever you want from your paradise beach holiday, Bonaire will deliver it in the most chilled out manner possible!
Fun Facts
The island still features a number of abandoned beachside slave shelters, built in the 1800s for slaves working in salt mines. The colour of the huts depended on the level of freedom of the slaves living within them, and stand preserved as a chilling reminder of the cruelty of transatlantic slavery
Founded in 1527, Rincon is the island's oldest city and has a rich cultural history that is upheld by it's many traditions and exotic festivals
Though originally settled by the Spanish, the Dutch Empire soon established themselves and by the 1640s the Bonaire was fully under Dutch control
The island has a surface of 112 square miles, and has no traffic lights
The sun shines throughout the year, and the average yearly temperature is 28°C
Where to Stay in Bonaire
The clear crystal-blue waters and the lush greenery attract holidaymakers looking for peace and tranquility away from their day-to-day lives, and the accommodation available reflects this. Bonaire boasts a large number of holiday villas, apartments and guesthouses and you can search for exactly what you want with Wimdu - whether that is a swimming pool, en-suite bathrooms, or children's facilities for a family holiday. Rent one of Bonaire's traditionally-styled painted houses, to really get the feeling of "living like a local" on your travels. For a really relaxed holiday, book into a bed and breakfast apartment and you don't even need to worry about meals!
Things to See and Do on Bonaire
Watersports! From scuba diving and snorkeling, to kiteboarding and sea kayaking, Bonaire truly has it all. Dive around the coral reef, and explore the hidden ecosystems. So far, fish watchers working on behalf of the Reef Environmental Education Foundation (REEF) have recorded a total of 469 different fish species within the island's coral reefs. Go scuba diving in the coral reef, and you will enjoy an experience that you will never forget. If you're lucky, you'll be swimming with dolphins and sea turtles, and taking a look at the lives of whale sharks. Vibrant pink flamingos flock to the shores of the island, and can be seen frequently sifting through the silt for shrimp, plankton and blue-green algae.
Eating Out
For such a small island, Bonaire boasts a varied and unique cuisine. Iguana is a traditional local delicacy, though is not generally found in the tourist restaurants. Visitors should be warned that the majority of the island's eateries are only open for limited hours during the day. Be careful not to head out for a late lunch - restaurants close for a siesta from 2-3pm.
In the warmth of the Caribbean sun, why not take a break from sightseeing and cool down with a delicious ice-cream from Gio's Gelateria? This popular ice-cream parlour features a fantastic range of refreshing flavours, and the comfortable interior is air conditioned - offering a moment of respite from the heat. While relaxing on the beach and soaking up some rays or taking a break from diving in the coral reef, you should stop by the Cactus Blue hamburger stall for a mouth-watering treat. The juicy burgers are made fresh to specifications, and include varieties such as lionfish.
For a sophisticated dining experience with gourmet food, you should head over one evening to Chez Madeleine - the classical French cuisine and pristine presentation will not leave you disappointed.
Another option of course, if you are staying in self-catering accommodation, is to do some food shopping in one of the colourful local markets, and take some fresh fish back to your villa and fire up the barbecue!
Getting Around
Driving around is a great way to get to know the island - and see it from a different perspective. You can do a full circuit within just a couple of hours! Rental cars can be transported to Bonaire for your arrival, and car rental is also frequently available at the airport. It is advisable to book well in advance, as during peak times you will otherwise be unlucky.
The island features a DIY bus service, that uses vans to transport passengers around, so we advise that if you don't have access to a car that you check out the bus route and make sure your bed and breakfast spot isn't too far off the beaten track!