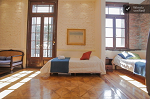 Buenos Aires is the capital of Argentina, and home to over 15 million people (40% of the country's entire population). Due to strong European influences on culture, cuisine, and architecture, it has been nicknamed the "Paris of South America" The people living in Buenos Aires, known as Porteños, are passionate about many things, including their mate (tea), soccer, steaks, and wine. Wimdu have a great range of apartments, guest houses and bed and breakfast accommodation throughout the city, so take a look!
Fun Facts
Buenos Aires is considered the birthplace of tango, a genre of music and dance that developed in the poor immigrant communities during the late 19th century
Argentinians treat soccer like a religion, and Buenos Aires is home to two of the country's best teams, Boca Juniors and River Plate
The standard greeting is one kiss on the cheek, between men and women, as well as members of the same sex
Named after Argentina's Independence day, Avenida 9 de Julio is the world's widest avenue spanning 16 lanes
The city of Colonia del Sacramento in Uruguay can easily be visited on a day trip from Buenos Aires via a short ferry ride
Where to stay - Bed and Breakfast, Apartments and Guest Houses
Your budget will be the biggest factor in determining where your apartment or guest house will be located in Buenos Aires. Palermo is the largest single neighborhood in the city, and a popular place for tourists and expats to stay during their visit. Palermo can be subdivided a handful of distinct areas, each with their own charms and personality.
Palermo Soho is the newly fashionable area, filled with restaurants, bars, and little boutique shops. Nearby, Palermo Hollywood features cafes and restaurants too, but is better known for its clubs and active nightlife. So if you're staying here, maybe you should opt for bed and breakfast to help you recover in the mornings! Recoleta is one of the wealthiest neighborhoods in town, so costs will be higher there. It's of greater historical and cultural significance due in part to the presence of the Recoleta Cemetery. Belgrano is another upper middle class neighborhood, and home to the Rio Plate Stadium, which is also the home base of the Argentine national soccer team. Capital Federal, as the city center is called, is a less trendy area to stay, but costs are generally less.
Things to do
Catching a tango dinner show is the perfect excuse to dress up and enjoy a night of sexy Latin music and dance. Housed in the ornate old Metro Goldwyn Meyer theater, Tango Porteño is one of the largest and most popular shows. Large theatrical productions aside, there remains a thriving tango scene in the neighborhood milongas where a mix of Argentines and tourists go to take group lessons, and dance socially. La Viruta is one of the better known milongas catering to beginners.
Recoleta Cemetery is one of the most popular sightseeing destinations in the city, due in part to the tomb of former first lady Evita Perón. Surprisingly, her tomb is far from the most interesting, at least in terms of design, so be sure to spend extra time wandering amongst the tombs of the lesser known people buried there as well.
La Bombonera is the nickname for the 49,000-seat stadium which is home to the famed Boca Juniors soccer club. The wildest matches occur whenever they play their city rival, Rio Plate, in what's known as a Superclasico. Expect a constant chorus of songs, chanting, and banner-waving from the fans supporting their teams from opposing ends of the stadium.
The Jardin Zoologico is impressive in size and scope, featuring everything from polar bears, snow leopards, African lions, and rhinos, to orangutans, hippos and giraffes. A short walk from the Zoo is the Japanese Garden, an oasis of calm and quiet nestled within the bustling city. Go here to escape the noise and traffic, if only for a half hour, as you walk through the various Zen-inspired gardens, and over the red wooden bridges spanning a man-made pond.
In order to bring to light the methods and history of Buenos Aires' street artist community, several companies offer graffiti tours in and around the Palermo neighborhood. The guided tours allow visitors to learn about the history of street art in the city, while guiding you past many stunning examples of this edgy artwork. For a more traditional art experience, check out one of the city's many museums, like the Museum of Latin American Art of Buenos Aires or the Museo Nacional de Bellas Artes, the latter of which houses European and Pre-Renaissance art.
Feel the urge to do a little shopping? Check out El Ateneo Grand Splendid, a bookstore housed in a wonderful old theater. Grab a coffee in the cafe, and relax in one of the world's most unique and interesting book stores.
Eating and Drinking
When it comes to food, the Argentine capital offers something for everyone, from some of the world's best steaks to gelato on par with anything you'll find in France or Italy. Add to that a cheap and plentiful supply of fine Argentine wines, and it's not hard to see why Porteños are so passionate about food. Be forewarned, they prefer to eat late in Buenos Aires, often not arriving at a restaurant for dinner until 9PM or later.
Argentines are also fond of mate, a type of tea, and you'll see them carrying their mate cups, with metal straws, and thermoses of hot water all around town. They love their dulce de leche, and will spread it on just about anything. Be sure to try fresh alfajores, a popular snack made of two cookies sandwiched together, with sweet dulce de leche in the middle.
Due to their preference for eating late, nightlife in Buenos Aires doesn't often get started until midnight or 1AM, especially in the clubs. Electronic music is popular, as is Latin rock. Stick to the milongas if you prefer tango. Palermo Soho and Palermo Hollywood are two popular areas for bar hopping and club going on the weekends and you can also find a wide range of apartments, guest houses and bed and breakfast accommodation in these areas.
Getting There and Getting Around
Buenos Aires is easy to access by air. Ezeiza International Airport is located 35km south of the city, and handles most of the international flights from countries outside of Argentina's immediate borders. The smaller, more convenient Aeroparque Jorge Newbery handles domestic flights, as well as some regional flights from countries like Brazil, Uruguay, and Chile Aerolíneas Argentinas (Argentinian Airlines) is the name of the national airline, which offers extensive service to and from Buenos Aires. It's also possible to arrive in Buenos Aires via ferry from cities in Uruguay, such as Colonia del Sacramento and Montevideo, the capital.
Argentina boasts an extensive system of bus routes and companies, which service the entire country, as well as nearby international destinations like Santiago, Chile.
Getting around
Despite its grand size, it's relatively easy to get around Buenos Aires. The underground metro system is fairly cheap, and works well for longer distances. Metered taxis are everywhere, though taking them during rush hour through the busier parts of the city may not be any faster than other methods. Buses are the cheapest option, but can be confusing if you're new to the city. A prepaid card named SUBE works with all the city buses and metro, and can help you save a little money if you plan to use either or both often. Walking is also an option within neighborhoods like Palermo, Puerto Madero, and Recoleta, which is great if your apartment is local to one of these areas