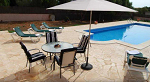 Cala d'Or is a purpose-built holiday resort on the east coast of the Mediterranean island of Mallorca, off the Spanish coast. Originally it was a rural fishing village, but now covers an area of about four square kilometres, including some beautiful sandy beaches and picturesque rocky coves. Unlike other towns on the island, Cala d'Or is pretty low rise, and to a certain extent has managed to keep the "villagey" feel that other places have lost as a result of the increased popularity of the island with tourists from across Europe.
Where to Stay in Cala d'Or
The resort itself is not large, so you'll be able to get everywhere you need by foot, so let your choice of accommodation be dictated by what you need, rather than where it is situated! Booking your holiday home through Wimdu means that you can search for exactly what you want, whether that is a family villa with a swimming pool and a sea view, a cosy bed and breakfast, or a modern apartment rental with double bedrooms and en-suite bathrooms.
Fun Facts about Cala d'Or and Majorca
Public nudity is totally legal under Spanish law! So although Majorca has nudist and non-nudist beaches, clothed and non-clothed people can go to either!
Magaluf's largest club, BCM, boasts the world's largest foam machine!
Mallorca has 2,500 restaurants and 41 marinas!
Things to Do and See in Cala d'Or and Around
By the standards of Mallorca's tourist destinations, Cala d'Or is a fairly quiet and relaxed place, and that is reflected in the entertainment on offer. It doesn't have the late night clubbing of Magaluf, nor the restaurants and bars of Palma de Mallorca, but it instead offers the feel of a Spanish village, with the benefits of a modern resort. The area of Cala Gran is pedestrianised, and this is where you'll find the shops and bars of Cala d'Or - but don't expect too much in the way of traditional tourist beachside diversions - there's no water chutes or minigolf! If you are a music lover, make sure to book your apartment to coincide with the Cala d'Or Jazz Festival, an annual event which takes place each summer.
If you are feeling a little more adventurous, take a few day trips to neighbouring attractions. Head inland to Felanitx on a Sunday to have a wander through its market - one of the best on Mallorca - and pick up some fresh fish and vegetables - if you are in a self-catering holiday home then you could even take them back to your holiday accommodation for an impromptu Spanish style barbecue lunch! It's also a great place to pick up some of the local pottery to take back home with you. Felanitx is also famous throughout Spain for its brandy - there are a number of distilleries in the area, so make sure you see if there is a distillery tour going on when you visit.
And of course no description of Mallorca is complete without mention of the beaches! Cala d'Or has five beaches within easy reach of the resort - Cala d'Or, Cala Esmeralda, Cala Ferrera, Cala Serena and Cala Gran. The beaches are all charming, with the white sand and blue sea you would expect - but they are not large, and they do get pretty busy in the high season. If you want a bit more room, you can take the bus to Es Trenc, which offers 5 km of wild beach, with a backdrop of pine trees and sand dunes. Interestingly, it's estimated that Es Trenc loses 25 million tonnes of sand annually by being taken away in visitors' hair and towels! For a really fun day out, book a place on the Starfish Glass Bottomed Boat - this is a water taxi that runs up and down the coast, stopping at bays and coves along the way. See somewhere you like the look of and jump out!
Eating and Drinking
Compared to other resorts on Mallorca, Cala d'Or is relatively sedate and laid back. A lot of the evening entertainment is based in the resort's hotels, although there are a number of bars in the pedestrian area - enough for a short bar crawl anyway! Like everywhere else in Mallorca, you can choose to eat food you are used to, but there is also fresh and tasty Spanish cuisine available. Make sure you try some freshly caught seafood - and of course the ubiquitous paella and tapas! Try ensaimadas - a pastry that you won't eat anywhere else but Mallorca!
Getting Around
You can fly directly to Palma de Mallorca Airport from most large European cities. From there we recommend that you splash out on a taxi (around €60-€70), as public transport between the airport and Cala d'Or is quite difficult and requires several changes. Once you have arrived at the resort, you can get buses up and down the coast if you want to get away from your apartment for the day. For a day trip to Palma, you can take a bus to Manacor and from there take the train to Placa d'Espanya station which is the station in the centre of the town. Most visitors to Cala d'Or are pretty happy to just enjoy the quiet and chilled out atmosphere of the resort, but if you do want to explore the area then you will be able to get around by public transport with a little patience.