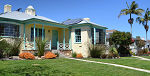 California, 'sunshine' state of the west coast of America, is a hugely popular tourist destination for holidaymakers, hippies and thrill seekers all over the world. The state comprises some of the nation's most well known cities, including LA, San Francisco, San Diego, San Jose, Long Beach, Sacramento and Oakland. If you're looking for a little piece of paradise for a few days, California is the perfect place. It is, after all, the place where 'dreams come true'.
Apartments and Guest Rooms in California
We've all seen that captivating TV commercial from visit California, which depicts Californians as long haired, tanned, bikini babes and surfer dudes, enjoying a carefree lifestyle in the sun. Is California really like that? You bet it is. If you're planning on staying in California, be prepared to spend your days playing guitar on the beach, lazing around in your private villa pool, building up your tan on the beach and your stamina in the outdoor playground that seems to make up most of the state. So where to stay?
Fun Facts
California is the the most densely populated of the US states, with over 38 million residents.
Following Alaska and Texas, California is the third biggest state in America.
The capital of California is Sacramento.
Over half of the fresh fruit produce of the United States comes from California!
LA (Los Angeles)
LA is California's most popular city, home to many a celebrity. It is the city of renovation: swanky modern apartments, luxury shopping malls, man-made reservoirs, and streets lined with strategically planted palm trees. The city comprises some of the most well known Californian areas in the world, including the high-class Beverly Hills, star-studded Hollywood, and beach-babe paradise, Long Beach.
Hollywood
Ever pictured yourself on the big screen? Or watched your favourite movie scene thinking 'wow, I'd love to see how that was made'? Well here's your chance to grab a piece of the action and live life like you're on a film set in the glitzy, face-paced, sensational centre of LA that is Hollywood. If you choose to rent an apartment in Hollywood, taying somewhere owned by a true Hollywooder, you'll be right in the centre of the action.
Orange County
You'll probably have heard of the O.C. from the popular teenage American TV drama series of the same name. A mecca of outdoor shopping complexes, American diners, bustling theme parks and excellent surf make the Orange County a great place to stay on your California vacation. So why not check out the apartments Wimdu has to offer in this part of town.
San Francisco
San Francisco Bay takes on a whole different feel from most of the rest of California. If you're staying in this part there is much to explore. In particular the Golden Gate Bridge is a must see: this huge rust-coloured suspension bridge that crosses the three-mile channel between San Francisco Bay and the Pacific Ocean has seen in countless hollywood blockbusters.
Villas and Apartments
There is a wide variety of accommodation to choose from in California, being such a vast state. You have your beachfront guest houses with spectacular views of the ocean, your modern-day apartments with that all important Californian king bed, your typical larger-than-life Beverly Hills homes and of course your city-centre studio's a stone's throw from the action. So, whether you're planning a beach holiday or honeymoon, a spring break blow-out or snowboarding bonanza, you'll be sure to find the perfect place to stay to compliment your trip. For beachside accommodation, Long beach is your best bet.
What to See and Do
There is plenty to do in California. The state pretty much caters for every hobby under the sun. Literally. The beaches will take your breath away and stargazing at the Griffith Observatory will make you feel like you've been transported to another galaxy. There is so much to see and do in California it would not be possible to go into it all here, so we have highlighted just a few of the most popular activities in the state.
Shopping
If you like your shopping, California is the place to pick up some real high-end buys. Universal City Walk shopping centre, right opposite Universal Studios is a flashy complex with huge video screens on the walls and a shopping experience akin to navigating your way around a theme park. The Grove shopping mall is also popular, providing more of a sophisticated shopping experience with over 40 up-market stores, an array of different restaurants and a huge water fountain in the middle.
Beaches
The gorgeous Californian beaches are one of main reasons so many tourists flock to the state each year. California is lucky enough to enjoy a moderately consistent Mediterranean climate and the beaches are the perfect place for soaking in the rays. California is also well known for its excellent surf, so if you're an experienced boarder, or just looking to learn why not don the customary pair of flowered shorts and take to the waves. If you plan on going surfing on the daily, why not rent out a beachside apartment of your own, 5 minutes walk from the waves.
Skiing and Snowboarding
As an alternative to surfing, there is plenty of opportunity to practice your board skills on the ice too, with some superb snow resorts in northern California. Wimdu has a range of accommodation in this region too, with guest rooms right in the heart of some of the best resorts.
Golf
Golf is a popular sport in California with it's all-year-round warm climate, and the state is often referred to as the 'Golfer's Paradise'. If you consider yourself a proper golfer and, San Diego is the place to stay, with many of apartments situated right on the specially-designed courses.
So why not start planning your trip to California today, check out Wimdu's range of accommodation in the area, and get ready to for a taste of sunshine!