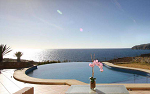 Calvia, situated on the island of Mallorca (or Majorca, depending on which way you want to spell it), is located in the middle of the Mediterranean sea and is the largest of the Ballearic islands, located of the east coast of Spain. Calvia is without a doubt the most popular area of the island and it's where the busy resorts of Magaluf and Santa Ponca are located. Calvia has become such a hotspot due to the fantastic beaches in the area and the modern infrastructure with plenty of holiday accommodation, that has enabled the area to cater for all the needs and preferences of the many tourists who flock to Mallorca every year.
Where to stay
Being so popular, particularly in the summer months, Calvia is packed with holiday accommodation: including an abundance of villas and apartments available, from family friendly homes to newly renovated rentals. You'll find a large amount of holiday accommodation to suit many who come to the island expecting a typical package holiday experience, but if you're thinking about visiting Mallorca and looking for something a little different to the norm, thatäs where Wimdu come in! Wimdu give you the opportunity to stay in an authentic Mediterranean style apartment, typical Mallorcan villa or a guest room near the beach – we're sure you'll find something that tickles your fancy.
Fun Facts
Mallorca means 'Ursula Major' in Latin and 'larger island' in English!
Half of Mallorca's population lives in the capital of Palma.
Over 100 nationalities live in and around Calvia!
Things to see and do in Calvia
There are many aspects of Calvia that make it such an attractive place to spend a holiday. Calvia has services for all needs and interests and is well suited for everyone including families, young people and older holiday makers. It might have a developed tourism infrastructure but there are parts of Calvia that have retained its old world Spanish charm and traditions and these places can provide a welcome respite from the often relentless touristy atmosphere in Calvia. Many of the villas themselves have retained this charm, which is why avoiding the typical package accommodation can really pay off in a place like this. The climate in Mallorca has also had its influence on defining the island – the average temperature is 16 degrees and it rains only 10 litres per square meter on the island all year – impressive! Cala El Toro beach is perhaps the best beach in the area – it's an artificial beach designed to prevent the often harsh seas from destroying the nearby road. Mallorca's flora and fauna is highly regarded and many people – look out for orange mushrooms, strawberry trees and much more! You may even find some fruit trees on the premises of your villa if you're lucky!
Attractions
There are lots of things to see in Calvia. For a day away from the villa pool Santa Ponsa Junglepark is a great adventure theme park with lots of adrenaline rushing jungle adventure games including rope courses and slides. Instructors ensure everything is safe and there are plenty of activities for the whole family to join in. For those looking for the excuse to do some exercise then the Calvia Cycle and Jogging path is the place to go! The path takes you along the beautiful coast out of Calvia and there are stunning views of the sparkling Mediterranean ocean. Almond and carob trees line the path and the exotic smell of the vegetation is amazing! Golfers will surely find Mallorca Royal Bendinat the perfect place to relax and enjoy a few rounds of golf in the beautiful surroundings of Mallorca. It's located by the sea and is very good value for money – an amazing restaurant is also located on the premises.
Nightlife
Nightlife is considered to be excellent in Calvia and there are bars and restaurants to suit all tastes and preferences. Calvia has everything from English style pubs to Spanish tapas bars and roaring nightclubs. So open a bottle at your apartment while you're getting ready, dress to the nines and get geared up for a crazy night on the town. There are also many theatres showcasing a range of entertainment including shows such as 'Come Fly With Me' and 'Pirates Adventure Show' – fun for all the family! Golf Fantasia at Palmanova is great fun too if you like spending a few hours playing crazy golf!
Getting Around
Calvia is located in the west of Mallorca and is just 20 minutes from Palma de Mallorca Airport, which has flight connections with all major European cities including London, Barcelona, Berlin and Amsterdam Schiphol Airport. Airport buses are on hand to take tourists all over the island and many head in the direction of Calvia. Getting to Mallorca by ferry is possible and ferries to Barcelona, Valencia and Denia operate every day during the summer months. Depending on where your villa is situated you may wish to hire and car to get around Mallorca, and many car hire businesses conveniently operate at the airport. Scooters are also popular modes of transport. Getting around Calvia itself is straightforward and you'll find most attractions and sites of interest are within walking distance or connected to the resorts by bus. Cycling is also popular on the island and many cycle paths link various sights on the island.