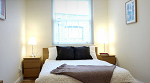 Camden Town, or Camden as it is more commonly known, is a very different part of central London. Situated north east of Westminster, between Hampstead Heath, Regents Park and Holloway, Camden is only 10 minutes from some of the most expensive, high-end London postcodes. But the difference in feel is really quite considerable. Where Hyde Park boasts stately homes and lavish apartments, accommodation in Camden has much more of a down-to-earth, quirky feel. Once in Camden, you are no longer in 'cassy London', you've joined the punks and goths in the rough and ready part, with street sellers on every corner and bass music thumping from the market stalls. If its grit and character you're after, Camden will make for a memorable visit to London.
Apartments in Camden Town
Camden apartments, like the town itself, can range quite dramatically in style. From simple studio rooms to modernist flats and character packed, fire-place-in-tact gems. It really just depends what kind of thing you're looking for. You won't get any jaw-dropping views in Camden, but when you're rolling into your apartment in the early hours of the morning after a game of pool that turned into a full on clubbing session, who needs views? The reason to rent an apartment in Camden is very much more for location, convenience and a great experience, over grandeur and magnificence. Of course that is not to say you can't find some really amazing studio apartments in Camden on Wimdu!
Where to Stay in Camden
We're back to the old post-code dilemma, so familiar to Londoner's. So you're looking for an apartment in Camden, but which bit is best? Which street is where it's at? Well, it depends on what you're after, cat. Head south of Regent's Canal and you'll be right on the cusp of Regent's Park, nearby to the famous crossroads where many of the bars and clubs seem to cluster. Head north of Regent's Canal and you'll be edging away from the market and bars more towards Kentish Town, host to The Forum music venue, and some excellent restaurants.
Fun Facts
Camden Town is not a town at all, but actually more officially an inner city district of london.
According to the Greater London Authority and the Mayor of London, Camden is included as one of the thirty-five major centres of London.
Camden was named after the 1st Earl Camden, Charles Pratt, 18th Century Lawyer and Politician, who owned the estate Camden Place near Chislehurst in Kent.
The Regent's Canal which runs through Camden Town was built in 1816.
It was only as recently as the 20th Century that Camden Town actually started to be considered as fashionable.
Things to see and do
If you're here to have fun, chill out and soak in the vibe, there is no need to venture beyond the walls of Camden Town at all. The area is bulging with bars, cafes, music stores and bustling markets where you can pick up everything from door knobs to shisha pipes.
Camden Town Markets
The markets of Camden are one of the main attractions of the area, drawing tourists and Londoners from all parts. You can pick up anything from these markets from brick-a-brack to fantastic fashion finds. There are stalls for antiques, homeware, music, fashion accessories, celeb memorabilia, and various other collectibles. The markets are open most days, but Saturday is by far the busiest, and probably the best day to visit if you want the best atmosphere, with goths, punks, hipsters and tourists swarming through the streets. It's a great place to oogle at the different fashion styles, or to pick up some fancy dress of your own.
Where to grab a bite
Camden is not known for its high-class restaurants or michelin dining experiences, but you can definitely indulge in some great food around this neck of the woods. Whether you're on your way back to your apartment at 4am in need of a hearty burger or you've just rolled out of bed and are ravenous for a bacon sandwich, Camden's got you covered. The markets are a bit of an attack on the senses in terms of food too. Street vendors serve a range of food, from falafel to waffles, steak burgers to sushi, making for a great energy boost for travelling the stalls, or greasy treat to take back to your apartment.
Camden Nightlife
The nightlife in Camden is the other main reason so many come to the area. From pubs to music venues, bars to clubs, Camden's after dark scene has it all. If you want a hearty pub lunch, washed down with an equally hearty ale, The Hawley Arms is a great Victorian boozer, just next to the market and railway tracks. If you'd prefer to have a little music to accompany your boozin', The Enterprise has a late licence on a Friday, with DJs at the weekend and local bands performing in the small gigs arena upstairs. In terms of bars, you have the famous Barfly, which has seen the likes of artists such as Coldplay and Franz Fedinand, and several excellent jazz and blues bars.
There are four main clubs in Camden: Koko, one of the more mainstream venues, Proud, a colourful fun-loving kind of club, playing radio 1 music, Jazz Cafe, playing more R&B than jazz and the Electric Ballroom for the rockers out there. There are also several great music venues in Camden, designed to keep you from heading back to your apartment before dawn. If you want to head somewhere that screams Camden, then check out The Underworld, a maze of bars below the streets, where the floor takes hold of your shoes and the metal fans go wild.