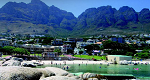 Camps Bay is the premier tourist destination on the Western Cape province of Cape Town, one of South Africa's most well known cities. It is a thriving tourist destination and holiday spot for local South Africans looking for some sand and surf. The city is both naturally beautiful and bursting with things to see and do. It is very much an outdoors city, where locals spend most of their time surfing, hiking or mountain biking. The accommodation here is amazing too; spacious and luxurious with spectacular views over the bay. Whether you're looking for a holiday paradise or an outdoors adventure, Camps bay is the perfect place.
Apartments and Villas in the Camps Bay
A premier postcode with premier accommodation to match, Camps Bay prides itself on its exquisite apartments, renowned 'South African' hospitality and villas with truly stunning views. The accommodation here really is like something from a film set. As the area itself is only 1.68 Km2, it doesn't matter so much where you stay as you'll only be a short walk or bike ride from the bay.
Fun Facts about Camps Bay
In 1884, Thomas Bain was commissioned to build a road from Sea Point to Camps Bay using convict labour.
Cape Town was originally developed as a supply station for Dutch shipping company, Dutch East India.
Established as a European settlement in 1652, Cape Town quickly became a thriving economic and cultural hub. Camps Bay itself was established in 1713.
For most of the 19th Century, Camps Bay was undeveloped and served as a hunting ground for the Governor of the Cape, Charles Somerset.
Things to do in Camps Bay
The Visit South Africa tourist board TV advert depicts Cape Town as a place of elegance, beauty and adventure. It is perfectly tailored premium resort meets rough and rugged landscape. You're not here to slum it, you're here to experience the great outdoors from the luxurious comfort of your mountain view apartment. So, we've heard about all the beauty and elegance in Camps Bay, what is there to do around the area?
Hit the beach
Though Camps Bay itself is one large stretch of white sand, there are a number of smaller beaches along the bay if you don't fancy sunbathing. Lui Bay is is a great place to try your hand at scuba diving, Koeel Bay is Camps Bay's own beach come African open-air market, selling a range of traditional African crafts, and Bakoven is full of sheltered coves, great for exploring. Camps Bay Beach Looking for the best place to surf? Head to Glen Beach, hidden behind boulders to the right of Camps Bay. This is more of a beach for the locals.
Guided bike tours
Cape Town is truly an outdoors city and bike is a great way to get around in Camps Bay. You can rent bikes very easily from the town operator Bike & Saddle and take a guided bike tour around the area. This way you will be able to see the city heritage at its best, with a breeze in your hair
Safari Parks
South Africa is well known for its safari parks. I've you've only ever seen wild cats in a zoo, then you're in for a real experience.
Table Mountain
Table Mountain, the flat topped mountain located in the protected National Park of Cape Town, is a must-visit when staying in Camps Bay. You can even take a cable car up the mountain itself, which provides spectacular views over the Bay, converting the whole of the town's accommodation into a miniature city of tiny apartments. If you're a bit more adventurous you can even hike up the mountain and abseil off the top.
Cape of Good Hope
The Cape of Good Hope is a great way to explore the reserve of Cape Town, offering some fantastic views. The trail lasts two days and your accommodation for the night will be the the Restio huts used by the locals for an authentic experience.
Kirstenbosch Botanical Gardens
The Kirstenbosch Botanical Gardens contains unique flora and fauna, with around 9000 of South Africa's plant species grown on site. Among the attractions with the gardens are an elevated fragrance garden, several sculptures, a Braille Trail, a section of wild almond hedge.
Signal Hill and Noon Gun
Signal Hill is essentially a great viewing point from which views over the whole of Cape Town. The viewing point itself is over 350m-high and was originally known as the Lion's Rump as it is thought to be attached to the Lion's head by a line of hills.
Drumbeat Charters
If you want a break from dizzying heights, then why not get to know authentic Camps Bay a little better by checking out Hout's Bay, a fully functioning fishing harbour and processing centre. You can ever take a boat from here to the unofficial Seal Island, with it's colony of Cape fur seals.
Getting Around
Getting around Cape Town is best done by car, which can be rented from the airport or city centre very easily. By car it takes less than 15 minutes to get into the centre of Cape Town from Camps Bay. If you want to take things off the beaten track however, you'll need to the leave the car at the apartment and maybe grab a couple of hiking poles, or a mountain bike for that matter. Camps Bay is well served by bike routes, walking trails and easy to follow roads, so you shouldn't find it a problem to get around.