Top-Rated Lettings and Properties in Canterbury
Book Holiday Letting Offers with the Highest User Rating
Pet-friendly rentals in Canterbury
Explore best dog-friendly accommodation offers and enjoy holidays with your pet
Accommodation with Internet in Canterbury
Choose your ideal cottage with Internet and WiFi in Canterbury
Holiday cottages with pool in Canterbury
Discover best holiday homes and cottages with pool in Canterbury
Best holiday rental offers in Canterbury
Price and Availability Index for Canterbury
Click on any bar to see price and availability information
Holiday Letting Price Information in Canterbury
By constantly analysing our data, we created a graph to show you the fluctuation of prices in Canterbury. Holiday rental prices in Canterbury are at their highest in August and reach on average £228 per night. In contrast, january and the period of 13/01 – 20/01 are the most affordable in the year, with vacation rental prices at £161 per night.
Rental availability information in Canterbury
The above graph shows you how many holiday rentals are available in Canterbury in different months. If you want to visit Canterbury in December, make sure to book soon, as 47% of the holiday lettings have already been booked. The quietest time of year in Canterbury is January (06/01 – 13/01), when 83 of the holiday lettings are available.
Accommodation and Apartments in Canterbury
Vacation in Canterbury - vacation full of history
Canterbury represents an important part of the history of England since the settlement of the Romans, which is still witnessed by the many historic buildings, which are also part of the UNESCO World Heritage Site. Discover the history and culture of this ancient city during your vacation in a vacation apartment in Canterbury.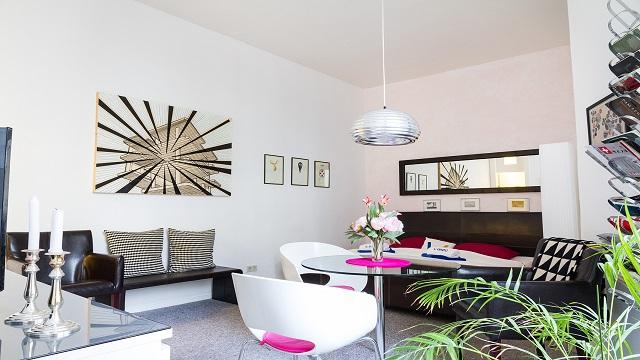 Canterbury Shopping Paradise

Your free time during your stay in a holiday home in Canterbury you can arrange with an extensive shopping tour. In the historic street King's Mile you will find many stores. On the other hand, if you want to visit big-name stores, you will have to go to the High Street. The shopping center "Whitefriars Canterbury" also offers you over 100 different stores and restaurants.
And we love our apartments
Other popular holiday destinations
Destinations worth visiting near Canterbury
Interesting destinations to consider for your next trip