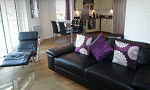 Cardiff is a city steeped in history, culture and language, it is a place of myths and legends, where the dragon sleeps and life is beautiful! Apart from the amazing scenery that can be seen almost anywhere you go in Cardiff, there are also many things to do in the Welsh capital and plenty of places to stay too. The city has a plethora of hotels, hostels and bed and breakfast accommodation to offer travellers. The Cardiff Bay area is a particularly nice place to stay and it's an amazing experience waking up to a view over the docks. There is something for everyone to love in Cardiff, from unique attractions, high-end shopping to visiting the Millennium Stadium you can be sure that you will not be bored in this great city! Keep reading to find out our favourite things to do and see while in Cardiff.
Apartments and Accommodation
Cardiff has seen an increase in tourism in recent years, in turn the city offers a great selection of accommodation to visitors such as hotels and hostels. Wimdu offers a great range of apartments and bed and breakfast accommodation to suit all types of travellers and budgets. Choose from a local bay-front bed and breakfast or an inner-city apartment whatever your needs Wimdu has you covered!
Fun Facts!
The world's oldest record shop is located in Cardiff. Spillers Records opened in 1894.
Cardiff is one of Britain's flattest cities and enjoys more hours of sunlight than Milan!
Famous Cardiffians include Charlotte Church, Roald Dahl and Shakin' Stevens.
Cardiff Bay is Europe's largest waterfront development.
Cardiff's Millennium Stadium has the largest retractable roof in the world.
The History of Cardiff
The Welsh capital of Cardiff might be a relatively small for a capital city, but it boasts a strong cultural scene, excellent culinary standards and plenty of interesting attractions. For many years, Cardiff has been a centre for sport and its profile has grown following the opening of the Millennium Stadium, the national stadium of Wales, in 1999. Cardiff Castle has been at the heart of the city since 1081. The city became an important port in the middle ages but it wasn't until the 19th century when John Crichton-Stuart lived in Cardiff that the city grew to any size. Crichton-Stuart, known as 'the creator of modern Cardiff', spent his life building the docks, creating transport links and establishing Cardiff as the main export dock for coal. Cardiff was granted city status in 1905 and became capital city of Wales in 1955. Cardiff has survived intact after the decline of the coal industry and has undergone significant regeneration around its docks area. Cardiff today is a vibrant and modern city with plenty of things to see and do.
Things to do in Cardiff
There are plenty of great attractions in Cardiff that are worth investigating. The Millennium Centre, National Museum and Art Gallery and Cardiff Castle all come highly recommended, but there are plenty of less well-known Cardiff sights that deserve a mention. We love visiting the Lightship 2000, a restored Light-vessel moored at Cardiff bay. There is a café and chapel on board the boat and the views over Cardiff bay from the ships Light Tower are impressive. Waffle Café serves delicious waffles and is features memorabilia from legendary Welsh band Datblygu. Cardiff's intimate Clwb Ifor Bach is at the centre of the music scene and regularly hosts local and international acts They always strive to promote and support Welsh music and in recent years have played an important part in supporting the careers of successful Welsh bands Racehorses and Future of the Left. Llandaff Cathedral, located just outside the city centre on the river Taff, is worth a visit by those who appreciate architecture. It has a good deal of history and is regarded by those who know it to be one of Cardiff's hidden gems. Cardiff's various parks deserve a mention, particularly Bute Park and Roath Park, both of which are great picnic spots in good weather.
Welsh Food and Drink
Welsh food and drink is gaining more and more recognition in recent years and there are many tasty Welsh specialty dishes and drinks. Welsh food is often rooted in tradition and many dishes involve lamb or leek, a nod to Wales' farming history. Seafood also plays a big part in Welsh cuisine due to Wales' large coastline. Beer is the national drink of Wales and the popularity of Welsh beer is rising in England and Ireland. There are many small independent Welsh breweries creating excellent products, many of which can be found in the pubs in Cardiff. Beer is often used in cooking, for example in stews or beer battered calamari. Here are a few of our favourite Welsh dishes and drinks: Faggots – traditional Welsh meatballs made from lamb or pigs liver, onions and breadcrumbs. Best served with chips and mushy peas. Laverbread – a seaweed delicacy. The seaweed is mixed with oatmeal, made into small patties and fried. Bara Brith – a sweet bread made with raisons and currants which have been soaked overnight in tea. Welsh Cakes – small flat cakes cooked on a bakestone or griddle. Cawl – a Welsh stew made of lamb and leeks. Welsh rarebit – Typically made with cheddar cheese, rarebit is essentially baked cheese on toasted bread.
There are plenty of Welsh breweries and cider houses. We recommend Rhymney beer, brewed close to Cardiff in the Welsh valleys, and Gwynt Y Ddraig cider which has won many awards. Special mention should be made to Wales' rapidly growing Penderyn whiskey distillery which is gaining worldwide recognition. If you don't feel like eating out you always have the option of cooking in your self-catering apartment. If you choose to stay in a bed and breakfast make sure to ask the owner for an evening meal rate, it is often cheaper when you book before you arrive.
Getting Around
Cardiff Airport is located 12 miles to the west of the city centre. This busy airport has connections with many cities in the UK and Europe. The best option to get to the city centre is to take the Airport Bus which connects the airport with the city centre. Buses run every 20 minutes from early in the morning until late at night and a single ticket costs £5. Cardiff city centre is relatively compact and most of the main streets are pedestrianised. Travelling on foot is recommended although buses do connect the train station with Cardiff Castle. Cardiff's surrounding towns are worth a mention and there is plenty of opportunity see some of Wales' stunning scenery just half an hour from Cardiff on the train. Abergavenny is surrounded by stunning mountain scenery and is famous for its food. Swansea's nightlife is legendary and the nearby Gower peninsula has some impressive beaches.