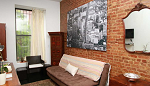 New York City, the bustling commerce centre of the USA is one of the most powerful and influential cities in the world. Ask anyone to name one place they'd most like to visit for a short-stay break, and they'll probably have New York on their list! And where better to stay in New York than Central Park, the well-known setting for popular American soap 'Friends' and the central hub of Manhattan. Central Park is a location favoured by tourists and locals alike, and finding accommodation here can be notoriously difficult. The borough is laden with apartments and studio rooms, but they get snapped up so quickly you barely have time to ask where the nearest subway is. That's where Wimdu comes in. If you're looking for a piece of the New York City lifestyle but can't stay a lifetime, Wimdu can help you find a great apartment, in the perfect location.
Apartments in Central Park
Manhattan is the largest of the five boroughs in New York, with an estimated population of around 1,626,159, and that means there needs to be nearly as much accommodation to cater for them. Hotels in the area are not at all cheap and you will find that you really don't get much space for your money. A bed and breakfast can be a good short-term option, but if you're looking for a more memorable stay, Wimdu has you covered. With over 500 apartments and studio rooms in the Central Park area alone, you will be sure to find something to cater for your city break experience. Whether you are looking for a convenient bachelor pad apartmentment in the centre or an open plan studio flat overlooking the park, you will find the perfect digs in Manhattan.
Fun Facts
Manhattan is the most densely populated of the five New York City boroughs
Central Park covers a huge 843-acre area of the city.
The park itself was opened in 1857 and was originally envisioned to be a great 'Class-Leveler', separating Manhattan's rich and poor.
Central Park was designated a National Historic Landmark in 1962, managed by the Central Park Conservatory.
Central Park receives over 35 million visitors to its grounds every year
Things to see and do
Not only a tourist hotspot, but also a popular hang-out for New Yorkers, Central Park has plenty to keep you busy. From your apartment you will be able to travel to many of the city's top attractions, sail up town for a spot of shopping or simply relax in the park itself with a picnic.
The Museum of Modern Art
If you're into your contemporary art, The Museum of Modern Art is one of the best places to indulge your passion, with over one-hundred-thousand pieces of modern artwork from the world's most well known artistic geniuses, including Picasso, Van Gogh, Matisse, Rothko, Pollock and Warhol.
Wall Street
If you're more drawn to New York for the money, then the famous Wall Street - the financial capital in lower Manhattan - is definitely worth a visit - though you probably won't actually get to see much stock exchange action, as it all takes place way up on the top floors of the multi storey skyscrapers that dominate the area.
Times Square
If you just want to be in the heart of it all and experience the hustle and bustle of one of New York's busiest locations, head to Times Square; the commercial intersection known as the 'Crossroads of the World', where you will find hundreds of bars, shops, restaurants, cinemas, theatres, skyscrapers and more. This is the entertainment centre of Manhattan and is only a cool 4 minute walk from Central Park.
Central Park
Central Park itself is a hive of activity, with loads going on from boating to rock climbing, ice skating to open-air theatres. You could potentially spend the whole of your short stay break not venturing out of this 843 acre radius - especially if you're lucky enough to have an apartment just off the grounds. To give you an idea of the scale of the possibility in the park, here's a (by no means exhaustive) list of all the things you can see and do there:
Art: The park boasts a range of sculptures in its grounds (29 to be exact), a giant Obelisk (Greek Pillar), an iconic mosaic dedicated to John Lennon and a controversial Gate installation by Christo and Jeanne-Claude.
Bird Watching:There is a wooded section of the park where several rare and unusual species of birds can be spotted.
Outdoor Theatre:Central Park holds regular open-air theatre productions, showcasing some well known stage and screen actors and a range of productions from Shakespeare to Streetcar.
Music:Concerts can often be heard in the park, especially in the summer months, showcasing a range of music, from brass bands to Bob Marley, Opera to pop.
Ice Skating:If you're visiting Central Park in the winter be sure to make use of the iconic ice rink that springs up for the season (converted into an outdoor pool in the summer).
Exotic Animals:Central Park is host to one of New York's four zoos.
Ride around in a Horse and Cart:What could be more romantic than taking your loved one on a horse and carriage ride around Central Park.
Boating:Rowing boats can be rented on an hourly basis for indulging in a bit of leisure time floating alongside the ducks.
Getting Around
Central Park, being as central as it is, has excellent connections to every aspect of the city. New York's best attractions and buzzing nightlife are only right around the corner from your apartment. Of course, with an amazing apartment in Central Park, you may not feel like leaving the studio flat at all during your stay!