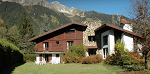 Chamonix is one of the oldest and most popular ski resorts in France. Visitors are drawn to Chamonix each year by its supreme beauty, impressive slopes and authentic French chalets. In fact, Chamonix was even the site of the 1924 Winter Olympics. In Chamonix, skiing and mountain enthusiasts are able to take the cable car lift to Aiguille du Midi where they can access the world famous off-piste ski run of the Vallée Blanche. Another popular ski resort in the South of France is the beautiful Morzine. Wimdu have a fantastic variety of affordable chalets in Morzine. Morzine is particularly popular with beginners which means it attracts many families each year. Keep reading to find out about one of the French Alps best and most exciting skiing and snowboarding destinations!
Accommodation in Chamonix
Chamonix is predominantly a tourist spot and has, as a result, plenty of accommodation to on offer for the many skiing enthusiasts that visit the region each year. If a crowded bed and breakfast isn't really your cup of tea, Wimdu has a great selection of self-catering accommodation, from homely chalets to traditional Chamonix apartments. Having never tried your hand at skiing before, Chamonix can be a daunting place to be, but by staying in a privately owned rental, you'll feel right at home from the outset and ready to get out there on the slopes in no time. If you want a more memorable holiday, this is certainly the way forward. Nothing beats staying in an apartment that is already kitted out with all the necessary amenities and loving touches you only get with a private rental. You wouldn't be able to knock up a tasty chalet-style midnight feast staying in a bed and breakfast would you!
Fun Facts
The first Winter Olympics was held in Chamonix in 1924!
The French Alps consist of 180 mountains!
Mont Blanc is the highest mountain in the Alps and is also Europe's highest points!
Things to see and do
Chamonix is famous for its skiing, offering breathtaking mountain views and a wide range of trails for all abilities. People from all around the world unite here for a shared love of the snow season. Charmonix's 5 main ski regions are Vallee blanche, which offers great glacier skiing, la Flegere which is easy to get to from town, Les Houches which is an excellent family resort, Le Tour located at the far end of the valley and great for beginners and The Grand Montets which is the most extreme and highest of all the skiing regions in Chamonix.
But Chamonix is not all about the skiing. You will find a whole range of activities to do besides, including mountain biking, climbing, hiking, ice skating, tennis, paragliding, white water sports and the list goes on! So no matter what time of year, no matter what your level of expertise and no matter what age, no matter if you've been dragged along with the family and just want to spend the whole holiday in your apartment hottub, Chamonix will having something to suit your tastes. The tourist board also offer excellent siteseeing tours of Chamonix and Chalet Academy run interesting cookery courses.
Getting Around
Getting to Chamonix is fairly straightforward as there is a highway and railway line that connects the resort with the valley. A tunnel under Mont-Blanc also connects the resort with Courmayeur in Italy and road and rail connections link Chamonix with Martigny in Switzerland. During the busy winter season TGV trains operate directly between St Gervais-Les-Bains and the rest of France and from this resort you can get a local train up to Chamonix. Chamonix is very accessible from Lyon too. The bus company Eurolines offer connections from Italy, Amsterdam, Antwerp, Brussels, Lille, Geneva and France's capital Paris. The surrounding communities around Chamonix are accessible too – they include places such as Servoz, Les Houches, Les Praz and Argentiere. Flying to Chamonix is possible and Geneva is relatively close. From here you can hire a car and drive to Chamonix – it's just 88km away. It is also possible during the winter to take an express bus from Geneva airport to Chamonix. The journey takes approximately 45 minutes. If you can afford to then a particularly classy way of getting to Chamonix is to take a luxury helicopter! You can charter a helicopter to take you to any resort in the French Alps, with a great view of the beautiful mountainous forests and French chalets that appear as small specs against the snow!