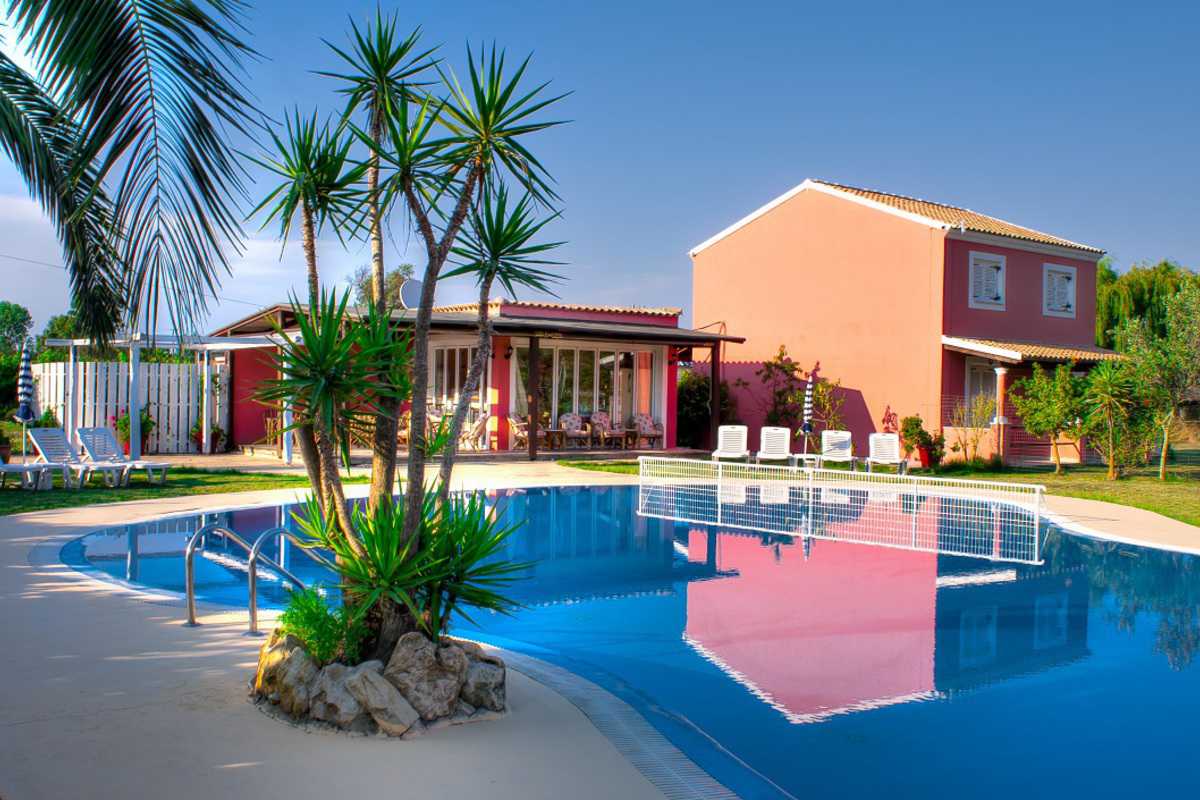 The gorgeous Greek island of Corfu is one of Europe's most special places for a beach holiday. It is the largest island in the Ionian sea and is located close to the Albanian border. It's small streets, pretty cafes and restaurants and beautiful views out to sea make this a fantastic place to relax and get away from it all. The island is famous for having lots of rich vegetation and lush greenery and it is a pleasure to explore nature on Corfu. The pristine water and coastline make this an ideal destination for those seeking sun and surf in Europe. The water is perfect for watersports such as sailing and water skiing and the island is known as a top watersports destination. There is plenty of accommodation on Corfu available for visitors and tourists. Wimdu has a great selection of self-catering apartments and villas if you are looking for an alternative to a hotel or hostel. We offer apartments with sea views, beach villas with swimming pools and private rentals all over the island of Corfu.
Fun Facts!
Famous writer Henry Miller set much of his book 'The Colossus of Maroussi' on Corfu.
The second largest waterpark in Europe – Aqualand – is located on Corfu!
Corfu has been awarded 34 Blue Flags for clean beaches in 2011.
Corfu's name comes from Koryra, whom Poseidon kidnapped and married on the island.
Things to Do and See
There's lots to see and do on Corfu – it's not only a popular beach destination but is also popular with water sports enthusiasts. If you are looking to enjoy the islands water sports check out Wimdu's holiday villas by Corfu's glorious beaches. There's plenty of things to see that date back to ancient times too such as the Kerkyra's Old Town. Kerkyra is the main town on the island and it's Old Town is particularly worth visiting if you'd like a glimpse of what life was like in Corfu in times gone by. You'll see beautiful arcades facing the Spianada, peaceful squares and Venetian style shutters adoring the houses. These streets are so beautiful it is a UNESCO World Heritage site! You can find classic and beautiful accommodation such as holiday apartments in this area of town and is a great place to stay if you are looking to live like a real Corfu local. We recommend you visit the Archeological Museum which is open until 3pm Tuesday-Sunday. The most famous exhibit in the museum is the hideous 'Gorgon' pediment from the Artemis Temple. There are many other gems in the museum from various archeological sites on Corfu. The Asian Art Museum, open until 7.30pm Tuesday-Sunday also contains interesting exhibits. You'll see artifacts from kingdoms originating in China, Tibet and Japan.
Beach Life
Corfu is famous for its beaches and there many on the island. We recommend Kassiopi beach, situated by a small village which dates back to Roman times. It is the perfect place to escape and there are few nice places to eat and drink along the harbour front as well as some of Corfu's nicest villas. Wimdu list many of these villas online and these can be found by hovering the map over your perfect location. We also recommend Paleokastritsa Beach, a breathtaking bay on the western side of the island. There are two beaches to choose from and snorkeling is highly recommend! The bay the beaches are situated in are framed by dramatic cliffs – take the winding road to the top of the cliffs where you'll find an excellent restaurant with stunning views! Corfu also has the second largest water park in Europe – Aqualand. This is a fantastic and really fun place to spend some time at. There are some amazing slides, wave pools and rides. The park is clean and staffed by friendly life guards. Be prepared to queue during peak season!
Getting Around
Corfu International Airport is located 2km south of Corfu Town. The airport handles flights for most major European cities. The best way to get to Corfu town from the airport is to use the local blue buses numbered 5 and 6. The journey takes 10 minutes. There are various ways to travel around the island – you can choose between the bus service, renting a car or scooter or taking a taxi. Buses are inexpensive and reliable but you might find it difficult to get to grips with the timetable schedule, so it is worth bearing this in mind when booking your accommodation. We recommend those who take villas or apartments in more rural areas pick up a rental car from the airport on arrival. Our favourite way to travel around Corfu is by speedboat. It is a fabulous feeling to have the sea breeze in your hair and the fantastic views around you as you speed around the island.