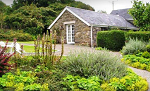 Beautiful Cornwall, in the south-west corner of England, is one of the most popular holiday destinations in the UK, and rightly so. With its excellent beaches and good (for Britain!) weather, Cornwall has naturally become the surf capital of England, and also contains the party town of Newquay, which is the surf capital of Cornwall! Cornwall is also home to the huge Eden project, which is the largest greenhouse in the world, attracting millions of visitors per year who are interested in seeing the project's incredible range of plants and wildlife. Keep reading to learn more about this stunning and fascinating corner of England!
Fun Facts about Cornwall
Cornwall's coastline is the longest in Britain – it's 433 miles long!
The name Cornwall originates from the word 'Cornovii' meaning hill dwellers!
Cornwall's beautiful beaches and cute towns attract over 5 million visitors every year!
Half of the world's tin came from Cornwall during the 1900s!
There are 75,000 cows living in Cornwall!
Where to Stay in Cornwall
Cornwall is heavily reliant on tourism for its income, and this is reflected in the holiday accommodation available. Whether you are looking for a gorgeous country cottage to live the rural dream for a week, or a self-catering holiday home in one of the towns or villages, you will find exactly what you are looking for! Renting holiday accommodation through Wimdu means that you can narrow your search down, specifying exactly what you need, whether that is en-suite bathrooms, a swimming pool, or children's facilities if you are travelling as a family.
Things to see and do in Cornwall West Cornwall and the Isles of Scilly
West Cornwall is home to England's most westerly point and is the final destination of anyone doing the legendary John O'Groats to Land's End journey. St Michael's Mount, which looms out of St Michael's Bay, is one of West Cornwall's main attractions and an iconic landmark - St Michael's monastery having been in working operation since the 5th century. The island is connected to the mainland by a cobbled causeway and it is a great place to wander and explore.
St Ives is one of Cornwall's loveliest towns. This quaint, arty seaside town has attracted tourists and artists for decades with its remote and romantic location, amazing sea views and easy going lifestyle. The Tate Gallery St Ives is a reflection of the formidable reputation the town enjoys in the art-world, and the gallery hosts works by both local and international artists.
The Isles of Scilly are just a trip by boat away from Penzance. and well worth a daytrip. The main islands in the archipelago are named Tresco, St Mary's and St Martin's and are excellent places to visit. You can even rent a self-catering cottage or bed and breakfast guest house on one of the islands for the night, to have a real "holiday-within-a-holiday!" It's an excellent honeymoon destination too!
North Cornwall
North Cornwall offers many delights too – Padstow is a quaint little harbour town and is home to several famous restaurants, including Rick Stein's seafood restaurant!Tintagel Castle is the reputed birthplace of King Arthur and the views out to sea from this coastal castle are amazing. Tintagel has been a settlement since Roman times and the ruins of the castle are well worth exploring. Enjoy a traditional cream tea or locally caught fish and chips in the nearby village! Newquay is Britain's surfing capital and is located on Cornwall's north coast. People come from all over the UK to ride the waves on the many beaches in and around Newquay.
Bodmin Moor is a favourite with walkers, cyclists, horse ridings and fell runners. Bodmin Moor is granite moorland and is located in the centre of Cornwall. The landscape is dominated by large granite tors that rise out of the sweeping moorland. There's lots of amazing flora and fauna to see and clearly marked paths and tracks make a day out on the moors safe and fun. There are several lakes on the Moor as well as the River Fowey and the River Tiddy.
Getting Around
Getting around Cornwall is straightforward and there are various transport options available to get you around quickly. Using the bus system is the best way to get to Cornwall's coastal towns and First are the main bus operator, running a busy schedule of buses connecting towns such as St Ives, Falmouth, Newquay and Cambourne with Cornwall's main town, Truro. Getting around Cornwall by train is also possible and there are direct connections from London with Penzance. This train route also passes through Reading, Bristol and Exeter and the journey is just over three hours. However, if you want more freedom to explore, then we recommend that you rent a car if possible - you will be able to get to places that are not accessible by public transport, including some of the county's most beautiful coastline, and you don't need to plan your accommodation with regards to train stations or bus stops.
Cycling is a good way to get around as well, and the main roads are safe enough for cyclists to get around quickly and easily, though you should exercise caution on the windy country lanes. Cornwall is also a very popular destination for walkers and a coastal path runs around the whole 433 mile stretch of coastline – it's a beautiful walk!