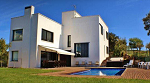 The Costa Brava comprises the northeastern coastal region of Spain, stretching all the way from Barcelona to Blanes. Due to its hot climate, beautiful beaches and luscious greenery, the Costa Brava is an understandably popular tourist destination - particularly for package holiday seekers from other parts of Europe. Due to the recent explosion in infrastructure though, it can be just as inexpensive to stay in one of the many private villas and apartments in the region that have sprung up as a result.
Villas and Apartments
Costa Brava covers a large portion of Northern Spain and there are many towns to choose from if you're considering where to stay, each offering a different vibe and lifestyle. There is Alt Emporda, Baix Emporda and Selva, in the province of Girona. If package holidays aren't really your thing and you prefer self-catered living, with the privacy of your own space and the ability to cook when you choose, you might want to rent a villa or apartment in Costa Brava. These is an extensive selection to choose from, catering for all styles and tastes, and much of the apartments and villas here are recently renovated, following substantial developments in infrastructure in the 1950s. However in keeping with the coastal region's charm, many of the villas have been built in authentic Spanish style; large and open plan, often with their own private pools.
Fun Facts
The name Costa Brava, translated directly into Spanish, literally means 'Coast of the Rugged'.
The Costa Brava coastline extends 256 kilometers.
The climate in the Costa Brava ranges from 7, all the way up to 28 degrees!
Artist Salvador Dali lived and worked in the Costa Brava for a significant portion of his life and was inspired by the region to produce some of his most famous work.
There are four main rivers that pour their waters into Costa Brava.
What to See and Do
Whether you're heading to Spain for adventure a or break, the culture or the climate, you will find plenty to keep you busy in Costa Brava:
Festivals
Spain is well known for its festivals and Costa Brava is no exception, with many of the towns regularly hosting their own festivals and events throughout the course of the year. The summer is the best time of year for festivals and events can be found in gardens, local squares and private villas all over town.
Museums
If you get bored of the beach or villa side pool and start pining after something more cultural to do, the Teatre-Museu Dali Gallery is a must-see; a huge magnificent red building surrounded by towering statues and giant eggs. Alternatively you can explore the ancient pre-Roman ruins of Cap de Sant Sebastia, an old chapel set on a cliff high above the hills, or the remains of some of the Iberian settlements that really highlights the luxury of modern day living and will make you appreciate your apartment.
Architecture
It is interesting to see how the architecture in the Costa Brava has evolved over time. The devastation from the Spanish Civil War, artistic influences and the regions renovation in the 1950s have all contributed to a diverse array of architecture. You only need to compare the authentic Spanish villas and modern apartments available on Wimdu to get a real sense of the difference.
Natural Areas and National Parks
Despite the introduction of so much new accommodation and recent boom in tourism, the Costa Brava has maintained much of its original natural beauty. This is due to the fact that all of the coastal towns jointly signed a charter to protect the natural habitats and microclimates along the coast. There are also three National Parks in Costa Brava: Natural Park of Cap de Creus, Aiguamolls de l'Empordà, and Montseny Natural Park, boasting a unique range of wildlife and native species of flora and fauna; and no less than four botanical gardens in the region: Cap Roig Gardens, Santa Clotilde Gardens, Pinya de Rosa Tropical Botanical Garden, Marimurtra Botanical Garden, home to some truly amazing tropical plants - definitely worth a visit if you're interested in botany!
There are also several other natural areas in Costa Brava, such as the beautiful Lake of Banyoles: a huge expanse of glittering blue water surrounded by pine and oak trees, which has some beautiful villas along its shores; perfect if you're looking for something a bit tucked away from the tourist hot spots.
Beaches
The beaches along the Costa Brava coastline are considered to be some of the finest in Spain. There are the golden oldies: vast expanses of smooth white sand, such as Tamariu Beach, as well as the smaller bays and coves, surrounded by lush vegetation, which are great if you prefer to head off the beaten track to enjoy the sand and surf in a bit more of a secluded location.
Getting Around
Stretching from Barcelona to Blanes, the Costa Brava coast covers a large part of northern Spain. It wouldn't be possible to see all there is to see in the Costa Brava in one short holiday stay. If you're only looking at short-term rentals, it is recommend that you decide what it is you'd most like to see while you're there, then look to areas nearby for your accommodation. You can also hire a car from the airport, which makes traveling around the Costa Brava that much easier. However some say that traveling around by car can detract from the area's natural beauty.