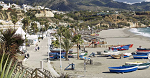 The Costa del Sol - also known as 'Coast of the Sun' as the Spanish name translates - comprises the cluster of coastal towns along the Province of Malaga: the southern coastline of Spain. As one of the hottest tourist destinations in Europe, it is easy to see why the Costa del Sol is so popular. Golden sands, glistening waters, traditional Spanish terrace apartments and some of the most lavish holiday villas in Spain draw thousands of sun-seekers to the holiday destination every year. Famous for its wild parties, indulgent food and family friendly holiday atmosphere, the Costa del Sol is the perfect destination for a party weekend or relaxing break to soak in some Spanish sun. If it's a beach holiday you're after, the Costa del Sol has it all.
Apartments and Villas
Stretching for over 100 miles and comprising no less than 14 coastal towns, you'd be hard pressed not to find your ideal holiday eclove in the Costa del Sol. When it comes to accommodation, there are many different types to choose from, from traditional Spanish terraces to luxury 5 star villas. Whether you prefer to travel like a local or party it up like a celebrity, the Costa del Sol has it covered. With Wimdu you can find some real Costa del Sol rental gems, whether it's a seafront spectacular, family holiday villa or chiq Costa del Sol apartment you're after.
Fun Facts
The Costa del Sol has over 300 days of sunshine per year
Europe's southernmost ski resort is only one hour's drive from the scorching hot sands of Marbella
It is thought that the paintings found in the Caves of Nerja date as far back as Neanderthal times
Things to see and do
As the UK's #1 holiday destination in continental Europe, the Costa del Sol is not a region known for its high-end culture. But that is certainly not to say there is little going on. From watersports to day cruises, theme parks to Flamenco dance shows, the Costa del Sol's eclectic range of activities caters for both young and old (and in-between). You will never be short of things to do. That said, if it's just a break from the UK whether you're after and a chance to relax and soak in the Spanish sun, you've come to the right place.
Nightlife
Famous not only for it's stretching golden sands and inviting Mediterranean sea, the Costa del Sol is also a hugely popular party destination. The nightlife is buzzing all year round with party zones like Marbella and Malaga considered some of the best clubbing scenes in the world. Many celebrities are known to frequent the Costa del Sol clubbing scene - and who can blame them with internationally renowned DJs, pungent tropical cocktails and reasonably priced accommodation making clubbing in southern Spain both unforgettable and affordable!
Aqua Parks
Getting tired of lounging around in the sun? Kids tiring you out with their unending energy? Why not leave the villa behind for the day and head a little inland for a family holiday must - a visit to one of Spain's famous aqua parks. Who doesn't enjoy hurtling themselves down a 30ft high water flume or spinning round and round in a rubber ring as you await the inevitable bright light at the end of a water tunnel?
Caves of Nerja
If you opt for a Costa del Sol apartment near the municipality or surrounding area of Nerja, one of Spain's most spectacular historic sites, the Caves of Nerja, is almost certainly worth a visit. The caves are comprised of a series of underground caverns stretching for almost 5 kilometers, with impressive stalagmites and stalactites closing in menacingly from both floor and ceiling. The caves are thought to be over 5 million years old, an accommodation base for early inhabitants such as the Neanderthals. Unfortunately though you won't find the caves within the Wimdu Costa del Sol rentals page.
Food
Spain is well known for its national cuisine and the Costa del Sol is certainly no exception. Originally established as a eclove of tiny fishing villages, the region has an abundance of fresh fish and seafood. If you opt for a self-catering apartment or holiday villa, you can easily pick up freshly prepared fish locally from the village shop or town fishmonger and treat yourself to a traditional home-cooked meal. Or if you prefer a bit of rustic charm when wining and dining, there are plenty of traditional tapas restaurants serving paella, lobster, prepared meat dishes, fried vegetables, parma ham and risotto.
Getting around
Most areas within the Costa del Sol are accessible in less than an hour's drive (by car or transfer) from Malaga Airport, which makes getting there from the UK guaranteed to be relatively inexpensive. Depending on where your Costa del Sol rental is situated, you may find it worthwhile to hire a car for your stay, especially if you're travelling as a family, but it is not a problem to get around using public transport. Wherever you are staying you will find you will able to get to all the main attractions from your holiday accommodation.