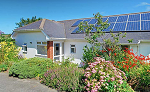 Explore
Croyde,
North Devon
is a typical coastal English village: quaint little cottages, flower-lined streets, wind-swept beaches, great pubs and of course the best fish and chips money can buy. It is particularly popular with surfers, swimmers and families looking for some quality beach time. Croyde is a great place to visit if you're looking for a relaxing, not-too-taxing outdoors holiday, where you can soak in some sunshine, fresh sea air, and spectacular views. Whether you're looking for romantic getaway, family break or solitary escape, Devon offers the ideal holiday setting.
About
North Devon covers the area north of Great Torrington, facing the Atlantic Ocean and near to the Bristol Channel. It is a part of England well known for it's rugged landscapes, exquisite natural beauty and excellent surfing beaches. Croyde is most popular in the summer months where tourists flock to the sprawling sandy beaches, mainly to brave the cold waters of the sea and take part in some of the many watersports on offer. As most of Devon has a generally mild climate, the winter months can be rather cold, but no less beautiful.
Where to Stay
There are plenty of accommodation options in Croyde. You can opt to stay in a traditional self-catering cottage or, as the village has many campsites and caravan parks, if you want to be closer to the great outdoors, you can always go for the tent option. If you're visiting with the family, Wimdu also has several larger villas and houses rented out by locals in the area.
Sightseeing
When it comes to sights to see in and around Croyde, the options are fairly limited. There are not many famous landmarks or monuments - the village is best known for its landscape and beach. If you're interested in walking, there is also the Braunton Burrows; the UK's largest sand dunes, where you can find a variety of wild flowers, and discover the very land where the American troops trained before D-Day. Whether you're a surfer or not, the 'Museum of British Surfing' is also worth a visit. It houses a collection of vintage to modern surf boards and wetsuits, accompanied by placards with sepia images, and stories about the dangerous waves the famous surfers rode; successfully or otherwise. Of course, you can also try your hand at the sport itself.
Beaches
It's no surprise that Devon is one of the country's favourite holiday destinations. It is easy to see why. The beaches around Croyde and North Devon are truly stunning: white powdery sands, powerful waves, grassy dunes, spectacular cliff-top views and wild flowers galore. This is the main reason to come to Croyde. As its neighbour county Cornwall, Devon is world-renowned for it's fantastic surfing opportunities, particularly in the north, and there are plenty of surf schools to choose from around the area if you're interested in learning how. Because the bays are sheltered but the waters choppy, you have a great variety of choice, from regular surfing to body boarding or wind surfing.
Culture
Festivals are a big part of the culture in Devon, with several festivals per week in the summer months. One of the more well known is the Sidmouth Fringe Festival; a series of 4 intimate musical performances spread over 5 nights, which is held from 2nd - 6th August. Devon is well known in particular for it's live music scene, which is said to be more prominent even than London.
Food
What food can you find in and around Croyde? Fish and chips, for one. But that is not all that's available around these parts. A typical English village in so many respects, Croyde continues to live up to expectation in the way of food. Some of the best of British grub can be found here; atmospheric pubs with heather framed gardens serve up hearty pork roasts with all the trimmings, accompanied by locally brewed beer. If you want to go one step further and really make the most of your self-catering accommodation through, you can always tuck into your own catch after a long day's fishing, or pop down to the local farmers market to stow away some organic produce back to your homely little cottage - now that is living life like a local! Perhaps not quite fitting the trend, there is also a good selection of Indian and Thai restaurants around the area.
Getting In and Around
Devon as a whole is very well serviced when it comes to transport. South West Trains run a regular service from most of the major cities in Southern England, and within Devon itself there is the Dartmouth Steam Railway and Riverboat Company, which runs from Paignton to Greenway and the Transmoor Link buses which run during the summer months only, from Plymouth to Exeter. If you fancy sticking to the water, there are several cruises and ferry ways that can be used to get from one part of the county to another.