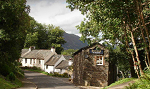 Cumbria is a county located in the North West of England and is perhaps best known for the Lake District National Park which is located in the county. Cumbria is predominantly a rural county and there is only one city – Carlisle – which is the administrative centre of the county. There are number of smaller, pretty market towns that are popular with tourists including Keswick, Cockermouth and Kendal. If you are looking for an escape to the country and a chance to stay in a traditional English cottage, Cumbria is the perfect place to come.
Where to Stay
Cumbria relies quite heavily on tourism and every year £1 billion is spent by tourists visiting Cumbria and the Lake District. You'll find plenty of accommodation options throughout the county, ranging from beautiful self-catering holiday homes to quirky bed and breakfasts, lake-side cabins to newly renovated oak apartments. If you're planning on heading to Cumbria for your holiday break, just take a look at the accommodation Wimdu has to offer in this picturesque county. Whether you want a comfortable guest house in the heart of the town or a family cottage with sprawling grounds, you will find something to suit your tastes here in Cumbria.
Fun Facts
Cumbria is home to the England's highest mountain – Scafell Pike.
The world's oldest manufacturing machinery is to be found in Kendal – it was used to make snuff!
Her Majesty's Theatre in Carlisle was the first theatre to have electricity in 1880!
The M6 motorway which runs through Cumbria is the longest motorway in the UK – it's 226 miles long!
Things to see and do
Great towns
Cumbria is home to some excellent towns. Carlisle is a former fortress town and is located just 10 miles from the Scottish border. Carlisle Cathedral was founded in 1112 and is impressive to walk around – it's quite amazing for a city the size of Carlisle! Carlisle is home to some excellent theatres too. Cockermouth is a typical market town with a lively and youthful vibe. Nightlife is good here and it tends to be ignored to some extent by tourists – it's a great place to experience typical Cumbrian life. There is a large ruined Norman Castle to explore and Jennings Brewery offer informative tours of their beer making premises – you even get the chance to sample some of their products. Keswick is the tourist hub of the Lake District and is where many walkers, climbers and runners stay when they are exploring the surrounding hills and mountains. It sits on the banks of one of the biggest lakes. Wimdu have many beautiful cottages and self-catering townhouses available for rent in heart of Keswick, perfect for a romantic getaway or fun family holiday.
Historic Sights
There are plenty of interesting sights of historical importance in Cumbria. The Romans settled in the area and several remains of Roman forts still exist. If you're staying in Keswick, check out the forts at places such as Birdoswald and Ambleside. There are over 50 stone circles in Cumbria including some that are considered to be among the oldest in Britain. Castlerigg and Swinside are both good examples of this. Cumbria's mining heritage can be seen at Honister Slate Mine and Threlkeld Museum – mining has been happening in Cumbria since the 12th century and the physical evidence can be seen throughout the county. Hadrian's Wall, located to the north of Carlisle, is an 80 mile wall built by Roman governor Hadrian designed to keep the Scottish tribes out. Today you can still visit parts of the wall and it is aUNESCXO World Heritage Site. After a day's walking around historic castles, there is nothing like heading back to a cosy cottage to put your feet up in front of the fire!
The Lake District
The Lake District is a hugely popular tourist destination, especially amongst outdoors enthusiasts. Walking is the order of the day in this part of Cumbria. So get up while the day is still fresh and leave your cottage early to head for the hills. Don't forget to take your Kendal mint cake with you for a high-energy walkers snack. The towns in Lake District are walker friendly and you will find several bed and breakfast options along the routes to cater for the weary and the hungry walker, perfect if you just need a cup of tea or mid-morning fry up to keep you going.
Getting Around
The mountainous terrain and winding roads of Cumbria mean it is not exactly the easiest county in Britain to get around by car. But depending on where your accommodation is located in Cumbria, you will find plenty is accessible by foot. The closest airport to Cumbria is Blackpool Airport which has connections with London Stansted, Manchester Airport and Leeds Bradford Airport. Manchester and Leeds airports are both a 2 hour drive from Cumbria. To get to the Lake District by public transport take the train to Windermere Station – it's the closest to the Lakes. Trains from Leeds to Carlisle stop in the Lake District town of Settle. The best way to explored Cumbria and the Lake District is with a car – you'll find the added mobility useful for finding the best places to explore. The M6 motorway is the quickest route to Cumbria from the south of England. So if you're heading to Cumbria without a car, it's probably best to check out the public transport available before you book your accommodation.