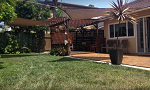 Del Mar is one of San Diego County's most well-loved beach resorts. Located to the north of the California county, Del Mar is famous for its beautiful beaches, unbroken sunshine and relaxed pace of life. As well as relaxing on the beach, there's plenty of things to see and do in the town of Del Mar, not least the famous Del Mar Racetrack, famous across the USA. Del Mar is also perfectly located for exploring the wider area, and getting to nearby San Diego, Tijuana and Los Angeles are all fun day trips from your Del Mar holiday rental.
Fun Facts about Del Mar
Burt Bacharach, one of the world's greatest songwriters, used to own a house in Del Mar
World famous skateboard Tony Hawk was born and raised in Del Mar
Del Mar is referenced in the Beach Boy's worldwide hit 'Surfin' USA'
Time Magazine featured Del Mar in their '100 Greatest Beaches in the World' feature
Where to Stay in Del Mar
With a population of less than five thousand, you don't need to worry too much about where to stay in Del Mar - everything in the town is within walking distance! We recommend that you rent an apartment on the beach and open the windows to fresh sea air every morning - could anything be better? There are a range of self-catering studios and holiday rentals available throughout the town, and if you book through Wimdu you can search for exactly what you need to make your holiday perfect, from en-suite bathrooms and extra bedrooms if you are travelling as a group, or a villa with a swimming pool and children's facilities if you are enjoying a family holiday.
Things to See and Do in Del Mar
Del Mar is packed with plenty of things to see and do to keep new visitors occupied for their whole holiday! Del Mar has a reputation for having one of California's best beaches which is dotted with cypresses and with stunning views out towards the Pacific Ocean and also to Orange County. Del Mar City Beach is perhaps Del Mar's biggest asset and people come from all around to enjoy the soft sand and pleasant atmosphere - and it's even better if you're not a day-tripper and can wander back to your beachside holiday rental for a glass of wine in the evening! Del Mar means 'by the sea' in Spanish so it's no wonder the place is beautiful!
As mentioned earlier, Del Mar's Race Track is one of the town's biggest attractions and its thoroughbred horse racing season runs through July and August. There are also events off season held at the race track including parties and other sports events. There's much more at the race track including face painting and bouncy castles for children as well as bars and restaurants. People love coming to Del Mar Race Track due to the beautiful setting, fun atmosphere and high standard of racing – try it out too!
For a quieter Del Mar experience we'd recommend a visit to Seagrove Park. It's a great place to get away from the built up surroundings of Del Mar and it is located above the beach so you can get some great views over the ocean – fantastic! In the summer the park hosts community concerts and adjacent to the park is a nice restaurant which is suitable for children.
The Del Mar Plaza is another of Del Mar's big attractions away from the golden sand dunes. Spread over three levels which open onto balconies with ocean views, this lifestyle centre sits on the beautiful Pacific Ocean and utilises the tranquil setting to its full potential. The Plaza offers a mix of luxury shopping, dining and relaxing. There are 22 amazing stores and boutiques where you can find designer clothing, high-quality jewelry, artwork and furniture. There are also nine restaurants at the Plaza serving up some of Del Mar's tastiest dishes! Enjoy a drink and a bite to eat with some panoramic views of the beautiful Pacific Ocean!
Outside of Del Mar
San Diego County Fair which runs through June and July is well worth the journey north to attend. If you are a golfer, don't let your holiday pass without a visit to the Torrey Pines Golf Course. It is one's of the world's most exclusive and challenging golf courses and is built on a former World War II US army installation overlooking the ocean. The golf course is named after the rare Torrey Pine tree that grows along the coastline.
Getting Around
San Diego Airport is the closest major airport to Del Mar and is located 33 km to the north of the town. In good traffic the journey takes a little over half an hour by car or bus. The San Diego Airport Shuttle is the best way to get from the airport to Del Mar, if you chose not to hire a car when visiting California. We would be highly recommend hiring a car as public transport is not all that convenient or frequent – California is simply designed with the car driver in mind. If however you mostly want to stay in Del Mar during your stay then you'll find everything of interest in Del Mar is within walking distance of your holiday apartment.
If you are planning on combining your stay with visits to Los Angeles, San Francisco and beyond then renting a car is a cost effective way to get around the state of California. It'll also give you the freedom to explore and discover things for yourself. We recommend the towns of Huntington Beach and San Pedro which are further north up the coast, and famous for their great nightlife and laid-back Californian vibe. Why not break your holiday in Del Mar by renting a studio apartment in one of these towns for a night or two? Whatever you decide, your Californian holiday is bound to be one you remember forever!