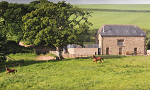 The beautiful county of Devon, tucked away in the south west of England, is the perfect UK holiday destination. It's a place that really does offer something for everyone, from relaxed family time in the countryside, to catching the breaks on some of Europe's best surfing beaches, all accompanied by great local food and drink.- don't forget to fill up on a cream tea or three! Even the weather is on your side, as Devon temperatures are much warmer than the UK average! Eight million tourists a year certainly agree, so get booking your Devon holiday home and you can join them!
Where to Stay in Devon
Coast or country… city centre apartment in Exeter or cosy holiday cottage on Exmoor... the choice is yours! Whether you're looking for a bed and breakfast with an ocean view, or a self-catering holiday home, booking via Wimdu's easy to use website is the perfect way to pin down your ideal holiday accommodation. You can search for exactly what you need - from extra bedrooms and en-suite bathrooms for group or family holidays, through to a holiday home with a private garden and hot tub for a romantic getaway!
Fun Facts about Devon
Devon is the only English county to have two coastlines - one to the north and one to the south!
Back in 1620, the Pilgrim Fathers left for the New World from the Devon port of Plymouth! They established the Plymouth Colony, the second English settlement in what became the USA.
Exeter St Davids station - which was designed by Isambard Kingdom Brunel - is one of the few UK stations that have London-bound trains departing in opposite directions from its platforms! This is because there are two routes: one operated by First Great Western which goes via Taunton to Paddington, and the other operated by South West Trains which goes via Salisbury to Waterloo.
Country Living
Devon is a very rural county, and contains two national parks - Exmoor and Dartmoor - both of which offer a mix of stunning countryside (perfect for hiking), gorgeous coastline, and pretty West Country villages offering local ales and Devon cream teas! If you are looking for a suitable centre for a walking holiday, check out cottages available around Tavistock on Dartmoor or accommodation in the beautiful coastal villages of Lynton and Lynmouth on Exmoor. Keep an eye open for the wild ponies of both Exmoor and Dartmoor - the sight of a big herd sweeping into sight over the moorland is quite something to behold!
Heading to the Coast
Devon's coastline is some of the most beautiful in Britain. If the weather is good, the combination of craggy cliffs, white sands and turquoise sea could almost make you believe that you that you were in Italy or Greece! But actually it's even better, because Devon gorgeous beaches are normally only a short walk away from clotted cream ice cream, Cornish pasties and a pint of local ale!
If your cottage is on the rugged north coast, then make sure you spend a day exploring Croyde Bay, Putsborough Sands or Saunton Sands, three beautiful beaches which lie on the same stretch of coastline and all very popular with families, sun seekers and surfers alike! You can rent water sports equipment from companies on the beaches, or have a word with your Wimdu host - some holiday homes come complete with a surfboard or two! The south coast of Devon has a softer landscape, and is popular with sailing enthusiasts. Head to Salcombe or Dartmouth for a day out - both offer excellent restaurants, and beautiful coastal walks.
Take a Day Trip to Exeter
Devon's biggest city, Exeter has enough going on to divert you for a day, if you are in the area, and the city centre is easy to navigate on foot. Although it was heavily bombed in WW2, destroying much of its architecture, Exeter is an old city, and enough of its ancient structure remains for a good day of wandering and exploring! Head to what is left of the city walls for some stunning views over the surrounding countryside, and then take a walk around the cathedral, which is a gorgeous gothic building, left mercilessly unscathed by the battering the rest of the city took during the Exeter Blitz! Just outside the cathedral itself is the peaceful cathedral green, which is the perfect place to enjoy a picnic lunch on a warm afternoon! Free guided tours of the city leave the Cathedral Green regularly, so join one if you want even more insight into local history.
Getting Around
Getting into Devon is easy - regular trains and buses run from London and other major cities to Exeter or you can fly into Exeter International Airport which is the only airport in Devon. Once you are there there is public transport available, but like many rural areas, this can be sporadic and time consuming. If you are going to be reliant on local buses, make sure your cottage is somewhere along a bus route! If you are able to rent a car, you will have much more freedom to head out from your bed and breakfast and explore the area.