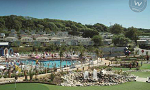 Miles of unspoilt coastline, beautiful countryside, pretty villages sprinkled with thatched cottages and historic towns make Dorset a perfect choice for a laid back British holiday. It even has some of the best weather in the UK, with warm, dry summers (most of the time!). Whether your interests lie in sailing and surfing, theme parks or fossiling expeditions, history and ruined castles... or just good local food and drink in gorgeous surroundings, rent a pretty Dorset holiday home for a relaxing week in this beautifully green corner of England.
Where to Stay in Dorset
Dorset offers a wealth of options when it comes to holiday accommodation. Whether you're looking at cute self-catering cottages in the countryside, holiday homes by the coast or an apartment in one of Dorset's beautiful towns, such as Dorchester, Shaftesbury or Blandford Forum, you'll definitely find what you need! Wimdu can help by making it quick and easy to find good quality self-catering or bed and breakfast accommodation - you can search for exactly what you need, including the number of bedrooms, en-suite facilities, family friendly accommodation - or even a swimming pool!
Fun Facts about Dorset
Poole harbour is the largest natural harbour in the world, after Sydney in Australia!
Novelist Thomas Hardy was born and lived in Dorset, setting his novels in fictionalised versions of Dorset places - Casterbridge in The Mayor of Casterbridge was based on Dorchester
Sandbanks in Dorset is the most expensive place to live in Britain! Maybe avoid booking a cottage there for a budget weekend!
Things to See and Do in Dorset
Dorset is full of events and attractions to entertain the whole family, but here are some of our favourite day trips! Spend a day at Monkey World, a 65-acre ape and monkey sanctuary which was originally opened to house abused chimpanzees which the owners had rescued from Spain. Now it is home to a huge range of primates, including 88 capuchin monkeys who were rescued from a laboratory in Chile, in the biggest rescue mission ever of that type.
Corfe Castle is another "must see". It was built in the 11th century and the ruins are now owned by the National Trust. From Corfe Castle you can take a steam train to the nearby town of Swanage for some fish and chips on the beach! If you would like to learn more about the glorious age of steam, make sure you visit Dorset in August when Blandford Forum hosts The Great Dorset Steam Fair!
Another famous landmark is the Cerne Abbas Giant - a huge naked man carved out of the hillside and filled with chalk. No one knows exactly the the age or origin of the carving, but keep an eye out for it if you are driving near the village of Cerne Abbas! You get a great view from the "Giant's View" car park, just off the A532.
Heading to the Coast
The 96 miles of the Jurassic Coast, which stretches from Devon to Old Harry Rocks, near Swanage in Dorset, is one of the UK's most beautiful and interesting coastlines. Because of its geological and geographical importance, and the huge number of fossils that have been found there, it has been designated a UNESCO World Heritage Site. We recommend that you start exploring the coast at the charming old seaside town of Lyme Regis, which is the perfect place to learn about fossils (and also a great place to base yourself - it has some charming holiday cottages to rent), as the town is home to the oldest fossil shop in Britain! You can book a tour with a local fossil expert, and stop off at the Dinosaurland Fossil Museum - by the end of the day you'll be an expert yourself!
If you are more interested in watersports than fossil collecting, head to Bournemouth or Weymouth. The coast is south-facing, with protected waters, so it doesn't pick up the best surf in the UK, but still manages to be home to the biggest population of surfers in the country! It is also a popular kayaking and sailing area. You'll be able to rent whatever equipment you need easily, but check with your Wimdu host as holiday apartment rentals often come with some equipment included.
Getting Around
You can fly into Bournemouth International Airport from most major European cities, or Bristol and Southampton airports are both within striking distance. On the train, you can go directly from London to Weymouth, Bournemouth, Poole or Dorchester. When you arrive, the best way to get around on public transport is by bus, but be careful as some routes only run on market days. As it is such a rural county, if you want to explore, we recommend that if you are able to, you rent a car. If that's not a possibility then make sure your bed and breakfast is near enough to a bus station or train station that you can still get around. Whatever you choose to do and however you get there, we know that you will have a lovely holiday in this beautiful destination!