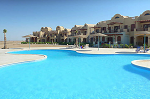 Egypt is well known as the home of the ancient Egyptian civilization. Throughout this fine land there are amazing temples, ancient hieroglyphs, real-life mummies and the truly impressive pyramids to admire and explore. It stimulates the imagination unlike few other countries and is one of the most popular tourist destinations in the world. It's not all about ancient Egypt though and the other side of Egypt - the bustling, all-inclusive, tourist clad, holiday resorts - are certainly almost as well known. If you really want to kick back and chill in Egypt, why not look instead at booking yourself a private villa or apartment and see what life in Egypt is really like as local.
Where to Stay
Wimdu is redefining travel in Egypt. Taking care of the personal touch, Wimdu have a whole range of villas and apartments on offer, rented out by holiday homeowners and Egyptian locals themselves. So if it's a bit of real Egyptian culture you're after, why not scrap your plans to stay in a bed and bed and breakfast that just caters for the English crowd and opt instead for a great little apartment in the city centre. Discover what Egypt is really all about and enjoy the freedom of self-catered accommodation, the luxury having a whole villa pool to yourself or the convenience of a city centre apartment, with one of Wimdu's affordable private rentals. For a truly unforgettable experience, why not take a look at accommodation in the west of Egypt, where the ocean of sand stretches infinitely to the Sahara.
Fun Facts
Some ancient Egyptians slept on pillows made of stone!
Egypt's formal name is the 'Arab Republic of Egypt'.
In ancient Egypt fly swatters made from giraffe tails were popular!
There are more Facebook users in Egypt (5 million) than in any other country in the Middle East!
Egypt has the largest Arab population in the world.
Things to see and do
There is so much to see and do in Egypt that even even you've been before, you will find there plenty of new things to discover and try out. If you stayed in a seafront villa last time you came, why not try something a bit different this time and opt for an apartment in the city centre of Cairo. Here, the chaos whirls around a medieval core that has remained unchanged since the founding days of Islam. Check out the amazing Pyramids of Giza and the Sphinx, the Egyptian museum and the Mosque of Mohammed Ali. Follow the river up north to Luxor, for an afternoon at the site of ancient Thebes. Alexandria is worth visiting and it is full of historical sites such as the amazing Bibliotheca Alexandrina, it's the country's main summer attraction! Many Egyptians head here to escape the summer heat! Roman and Greek monuments and Qa'edbay's Castle are all worth checking out too! Social travelers to the deserts of Sinai's interior can climb the mount where God spoke with Moses, and spend their remaining days in halcyon bliss at coastal Dahab's backpacker Shangri-La. If you prefer to stay closer to the ground why not explore the deep, crystal waters and amazing aquatic life of the dead sea.
Port Said is one of the country's main summer resorts with excellent beaches and some interesting historical landmarks worth checking out. You will find some great options on holiday apartments here. This must see sight is lined with warrens of burial chambers, sand-covered tombs and ancient hieroglyphs boasts some of the most formidable monuments in all antiquity.
Cuisine
Eating out in Egypt can be a truly exquisite experience, with an array of high-end restaurants, featuring some of the finest food in the Middle East. You will be able to sample platters of different start-sized dishes featuring Lebanese classics such as pita and hummus, falafel, chickpea salad, steaming lentil soup, multicoloured salads and succulent lamb kebabs. If you prefer to shop like a local and brave the chaos of the market, you can find some amazing deals on some truly excellent food, all ready-prepared and perfect for smuggling straight back to your apartment to chow down on the rooftop.
Getting Around
Like many countries that depend on tourism, Egypt is relatively straightforward to get to and visas are simple to obtain. There are several major airports in Egypt including Cairo International Airport which is the main hub for passengers coming from outside of the country. Getting to Egypt by bus is possible from Jerusalem and Tel Aviv in Israel, be aware that if you wish to travel on to neighbouring countries such as Syria then evidence that you have travelled in Israel might be held against you. Getting around Egypt is relatively easy and there are several options open to travelers.
Hiring a car is possible and petrol is relatively cheap so it won't add much extra cost to your holiday. Be careful – driving in Egypt is much different to driving in Europe! The state owned train system operates trains throughout Egypt are well maintained and generally efficient. The Cairo-Alexandria train route is very popular, as are trains to Luxor and Aswan. Overnight trains are available too. Egypt has an extensive bus network that is operated by government owned companies. The best way to get around an Egyptian city is to take a taxi. They are ubiquitous and good value. They are generally safe despite the often erratic driving manner – these drivers know the roads however so you should be fine! Parking may be a problem though, not so much if you have a large luxury villa out of the city, but if you're going for an apartment right in the centre, you can kiss that parking space goodbye.