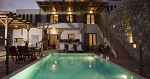 Elounda is a beautiful little town on the northern coast of the island of Crete. Elounda is an incredibly picturesque and relaxing town with views and blue waters that will take your breath away. It is also part of an area which is incredibly rich in history. The town is actually a small fishing town, but has grown as a tourist destination over the recent years. Sound interesting? Check out apartments and villas at Wimdu today!
Apartments and Bed and Villas
Wimdu can help you find a comfortable room in apartments and villas privately owned by locals at an inexpensive price. As our apartment and villa providers are locals, they will be able to provide all the info you need about what to do in Elounda and the necessary amenities around. You can even compare the prices of the different apartments and villas listed on the website to the nearest hotels. Wimdu is basically a cheap hotel alternative as we have accommodations to suit all budgets and styles. Enjoy your stay!
Fun Facts
The popular British television series Who Pays the Ferryman was filmed in Elounda in the late 1970s.
The town of Elounda is formed of seven towns and an un-inhabited island area.
Elounda belonged to the prefecture of Lasithi until 2010 when it became part of the municipality of Agios Nikolaos.
Because of its luxury resorts, Elounda is a popular tourist destination for important people, including Prime Minister Andreas Papandreou and the Royal family of Saudi Arabia.
Elounda was originally settled by the ancient Greek, in the city of Olous.
Things to See and Do
Elounda is a luxury resort and as such is mostly renowned for its exquisite accommodation and beautiful surroundings. Elounda is the place to come for a relaxing break among magnificent mountainous sea views, but that is not to say there isn't still lots to keep you occupied around these parts.
Kalydon Island
Kalydon Island is an ancient fortress built to protect ancient Olous, once one of the most important towns on Crete, particularly between 3000 – 900 BC. This fortress, previously called Spinalonga was once one of the most powerful, least penetrable fortresses on Crete and its remains are a must see when you visit.
Happy Train tour
If you don't feel like discovering Elounda by foot, why not take a trip on the local Happy Train! This hop on hop off train is the perfect way to see Elounda and a great novelty for children. You can take a quick 45 minute ride if you like or even stay on for a longer 3 hour tour.
Have a spa day in Elounda
If you feel like pampering yourself, you really should visit Six Senses Spa which was recognized in 2007 by the Sunday Times TRAVEL magazine as one of the "World's Best" spas. The professional staff will look after you, the impressive interior will delight you and then of course, the huge variety of treatments will relax you.
Relax by your apartment pool
Sometimes the clear blue waters of the Mediterranean sea is just too far a walk from the villa. If you want to enjoy Elounda like it was meant to be enjoyed, then spend a day at your villa pool, soaking in the sun and popping indoors for a snack - or a cool glass of Greek wine.
Spinalonga Island
Spinalonga Island'The Island' by Victoria Hislop. The island can be accessed by boat from the village of Plaka. The island itself is full of romance, steeped in history, with an ancient fortress and dramatic rocky landscape. Though despite all the beauty and romance, it'll be a relief to return to Elounda and your beachside villa after a spell on the bleak Spinalonga.
Elounda Cuisine
Traditional Greek food is the staple cuisine in Elounda, with an excellent wine selection to match. If you don't know Greek cuisine, you're in for a treat. Traditional Cretan food is characterised by succulent barbecued meats, fresh fish, fresh olive bread, grilled vegetables, fried potatoes, and mixed salads. If you like to eat out, there are some truly superb restaurants in Elounda. Alternatively, you can head down to the local market, pick up some fresh produce and enjoy a more low key meal back at your villa.
Getting Around
Crete is well served when it comes to transportation. The island itself is served by a daily boat from Piraeus to Hania and ferry rides around the island can be booked with Skoutelis Travel. You can travel around Elounda itself by bus or rented car and getting to your villa from the nearest airport, Thessaloniki only takes one or two hours.