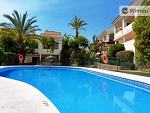 Estepona, the popular holiday resort in Málaga, Spain is the perfect place for a beach holiday. Not only does it offer 21km of beautiful sandy beaches, it also has over 325 days of sunshine per year: there's a reason that stretch of coastline is called the Costa del Sol! The pretty and historic town is dominated by the majestic Sierra Bermeja mountain range but the main reason that holidaymakers flock there in their thousands are the many beautiful and child-friendly beaches and the chilled out beach bars - there really is something for everyone.
Fun Facts about Estepona
Estepona is only a short trip away from Gibraltar. Surprisingly, at 11,007 people per square mile, Gibraltar has the highest population density in the world, exceeded only by Macau, Monaco, Singapore and Hong Kong.
Dolphins are abundant in the waters off the coast - you can take a sightseeing trip, or if you are lucky you just need to walk down to the end of a pier to see some!
There are over fifty golf courses on the Costa del Sol, offering spectacular views over the mountains and down to the sea.
Where to Stay - Apartments, Rentals and Villas in Estepona
If you would like to stay in Estepona itself then you are spoiled for choice. Whether you are looking for an apartment rental with a balcony in the old town, or a family villa with a swimming pool and extra bedrooms, check out the selection available at Wimdu.
If you are considering a car rental, then you can expand your search to larger villas down the coast, with extra bedrooms and en-suite bathrooms for larger groups. You can specify on your Wimdu search if you are looking for particular facilities such as swimming pools.
Things to do in Estepona
There's a reason that so many holidaymakers flock to Estepona every summer: Beaches, beaches, beaches! Here's a list of some of the popular ones, but it is really only a snapshot - you will find your own perfect spot in the sun!
Go and chill out on Playa del Cristo beach, five minutes down the coast, which is a small cove with sparkling turquoise water, a couple of beach front bars and restaurants - and lifeguards on station as well, so really safe for kids.
Costa Natura beach is a popular public nudist beach, open to everyone. There is a beach bar, and you can hire sunbeds and parasols (quite important if you don't want to burn all over!)
If you want to spend the entire day on the beach, check out La Rada. It offers two and a half km of golden sand, and a pretty promenade with gardens and a children's play area. You can hire a kayak or windsurfer for the day, or of course just kick back at one of the numerous Chiringuitos (beach bars) with some local seafood, traditional Spanish paella, or just a burger and a beer.
If you're looking for somewhere a little quieter, head out east of Estepona to Playa el Saladillo beach which is a wide, long beach that doesn't get overcrowded even at the height of summer. There are two great restaurants and plenty of space to relax.
For a more energetic time, head up the coast, east of Marbella to Funny Beach, where you can fall of a banana boat or jet skis, hire canoes and windsurfers, try go-karting or head down to the arcades for video games, pinball machines and even a mechanical bull!
If you can bear to drag yourself away from the beaches, you can take a look at the Nuestra Señora de los Remedios church which was built in the 18th century of local sandstone. Another interesting local sight is the ruins of the Castillo de San Luis - a great castle which once stood at the heart of the town. There isn't much left to see, but you can trace the ruins to some extent, and there are still some of the old walls visible.
Estepona also has some interesting museums, including a Bullfighting Museum, that are worth spending a few hours wandering through.
Eating and Drinking
For a town of its size, Estepona has a great selection of restaurants offering a wide variety of food. Grab a steak at Casa de mi Abuela or My Grandmother's House, or have a really nice night out at Le Petit Paris, a superb French restaurant with an ever-changing menu with amazing desserts.
However, it would be sacrilegious to be this close to the coast and not indulge in some fresh seafood. La Escollera is a local restaurant a little off the tourist route, located right by the port, and getting its daily specials right off the fishing boats you can see from your table. The majority of Chiringuitos also offer fresh fish and seafood dishes, so enjoy your meal while looking out at the sea.
Another option of course is to grab some fresh fish, caught that day, from the local markets and take it back to your apartment balcony or villa and grill it over a barbecue with a little salt, pepper, lemon juice and olive oil - nothing that you can buy in a restaurant will taste as good as that!
Getting Around
You can fly to Gibraltar Airport, which is 45km away from Estepona, from Manchester, Gatwick or Luton. Alternatively, Málaga Airport is an easy 80km drive. It will cost you approximately 10 euros in tolls for a standard family car. Estepona itself offers the usual bus service you would expect from a mid-sized town, and you can take a bus or coach down the coast to visit different towns and beaches. However, if you are able to, a car rental will make life a lot easier.