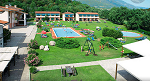 Garda is a town located in Northern Italy on the banks of Lake Garda, Italy's largest lake. Lake Garda's tranquil surroundings and calm waters make it the perfect holiday destination, and these amazing surroundings have inspired many famous artists and authors over the years and we're sure you'll fall in love with this special corner of Europe as well! Lake Garda was formed by an impressive glacier during the ice age and covers an area of over 2,350km. There are three Italian provinces that share the shoreline of Lake Garda – Verona, Brescia and Trentino and the Dolomite Mountains are a hop, skip and a jump away if you are interested in mountain sports and climbing. Lake Garda is also famous for its excellent hang gliding, wind surfing and mountain biking opportunities – the area in general is excellent for outdoor activities!
Fun Facts about Garda
Citrus trees are common around Lake Garda despite the lake being located in Northern Italy!
Lake Garda was formed when a huge glacier melted during the ice age revealing several huge basins
Lake Garda is one of Italy's most popular tourist attractions
The first settlers arrived at Lake Garda in 4000 BC. The Romans also occupied the area
Where to Stay
Lake Garda is a hugely popular tourist destination with no shortage of excellent holiday accommodation in Garda itself. Look into renting a lakeside villa with a swimming pool for a really luxury holiday, however there are also family apartments available, and bed and breakfast pensions for those on more of a budget. By renting your holiday apartment through Wimdu, you can search for exactly what you need, whether that be a self-catering place with en-suite bathrooms or a larger family villa with children's facilities. Whatever you choose, you will have an amazing holiday in the peaceful atmosphere and beautiful surroundings of Lake Garda.
Things to Do and See in Garda
There's lots to see and do in Garda and around the lake. Garda itself is a typical town of the area, with old, winding narrow streets, that are lovely for a wander, and several pretty Italian churches. The town boasts excellent views across the lake, so sit back on your pension balcony and soak the scene in!

Check out Sirmione, a popular tourist destination, and have a relaxing day at the Virgilio & Catullo Spa complex. There are also excellent bars and restaurants in the area too. At the heart of the town lies a medieval castle and the town is often frequented by artists. Riva del Garda is a popular summer resort and is popular with windsurfers who enjoy practicing their sport on the water. One of Lake Garda's most special places is the Botanic Garden Andre Heller. It's well worth a visit and is situated on the western side of Lake Garda. It contains over 500 plant species that have origins all over the world. The gardens cover more than 10,000 square metres and feature stone sculptures made from local stone from the Dolomite mountains. Make sure you check out the impressive Japanese and Alpine Gardens.

Also worth a visit is the former home of Gabriele d'Annunzio, a famous poet and novelist. The Vittoriale degli Italiani is a huge complex of buildings and is considered to be a classic example of fascist architecture. A huge grave for d'Annunzio is located on site as well as several other interesting features including a boat that is imbedded into the hillside overlooking the vast lake.

If you are travelling to Lake Garda with a family then a visit to Gardaland Amusement Park should definitely be on your itinerary! It is Italy's number one theme park and one of Europe's biggest and there is plenty to do for children and adults alike. Rides are divided into different themes and there are many different activities to suit all the family!
Lake Garda Sports
Lake Garda is a popular spot with walkers, cyclists, climbers, winder surfers and runners and many people visiting Lake Garda are there specifically to participate in the various water and mountain sports on offer in the area. Ask the host of your apartment where you can hire sports equipment for your visit - or maybe there is some available in the pension. Windsurfing is particularly popular, as is sailing and yachting. Up in the hills, hiking and mountain biking are popular, and horseback riders are also often seen enjoying the amazing views of the lake too!
Getting Around
Lake Garda's closest airport is Aeroporto Valerio Catullo di Verona which is located just outside Verona, and receives international flights from all over the world. From the airport you can take an Airport Shuttle Bus into Verona's centre and then from there take a train or bus to Lake Garda. The journey takes an hour and there are train stations at Desenzano and Peschiera del Garda. Towards the north of the lake the nearest train station is at Rovereto. Many hydrofoils, catamarans and car ferries cross Lake Garda's water, especially in the summer, which is a great way to avoid long journeys around the edge of the lake.