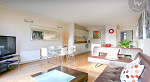 Despite being in London's zone 2, and only a hop skip and jump down the Thames from central London, Greenwich feels more like a relaxed seaside town than the big city! Bring the kids for a family holiday - they will love hearing about the days of maritime adventure (Greenwich's unique maritime history means that the area even has UNESCO World Heritage status), and seeing the famous Cutty Sark ship - as well as the great array of child friendly exhibitions in the area. There is a great range of accommodation available as well, from modern flats with every convenience, through to beautiful Georgian houses for a taste of Greenwich's history.
Fun Facts about Greenwich
Greenwich's Millenium Dome is the largest dome in the world and also the largest single-roofed structure in the world!
The first ever weather forecast came from Greenwich Royal Observatory in 1848.
It was in Greenwich that Sir Walter Raleigh famously laid his cloak over a puddle so that Queen Elizabeth I could walk over it without getting her feet wet!
Where to Stay in Greenwich
Booking your holiday apartment or bed and breakfast accommodation through Wimdu means you have real flexibility to plan your perfect vacation. You can search for exactly what you need - whether that is a flat with extra bedrooms and en-suite bathrooms for a group holiday, self-catering for those on a budget, or children's facilities if you're travelling as a family. Wimdu hosts will be able to give you real "insiders" tips for where to eat and drink, so you really will feel that you are "living like a local"!
Things to See and Do in Greenwich
Greenwich's proud maritime history is everywhere, and it really is fascinating to take a trip back in time and get caught up in the spirit of adventure and discovery that made Greenwich so important. Start your day with a trip to The Cutty Sark, one of the last (and the fastest) tea clippers to be built, before the Age of Steam took over. She was built in 1869 and was moved to the dry dock at Greenwich in 1954. In 2007 an act of arson very nearly destroyed the ship, but now she is back to her former glory and well worth a visit!
Next on your list should be a wander through beautiful Greenwich Park, one of the largest open green spaces in south-east London. Make your way up the park's steep hill for amazing views over London, and a visit to the fascinating Royal Observatory, the location of the prime meridian, the line of latitude that has been designated to be at 0°.
The Royal Observatory is actually part of the National Maritime Museum, which is probably the largest maritime museum in the world! Greenwich is the perfect place for it, because of it's strong ties with seafaring and the history of navigation. The National Maritime Museum looks at this history through a combination of art, science and history, making it a really unique collection. Leave at least a few hours to wander round - and there are plenty of interesting things for children to look at as well.
One must-do activity while you're in Greenwich is to walk under the Thames! Yes, the Greenwich Foot Tunnel connects the south bank of the Thames to the north, coming out at the Isle of Dogs. The tunnel was opened in 1902 and remains open (and free to walk through) to this day. Truly a one-off London experience!
Eating and Drinking
Greenwich has the usual array of restaurants that you would expect from any busy London borough, but for something a bit more interesting, we recommend a visit to Greenwich Market which has some fantastic food stalls - everything from Japanese tempura to traditional pork pies. Take some money, an empty belly and graze away to your hearts content! If you've gone for self-catering accommodation, it's also a great place to pick up the ingredients for a decent home-cooked meal.
Like the rest of London, Greenwich has some great pubs - we recommend The Cutty Sark which has a lovely outside area with river views - perfect for a sunny evening. The Gipsy Moth has a gorgeous beer garden, and also does decent fish and chips.
Getting Around
There are no London underground stations in central Greenwich, but it is well served by the Docklands Light Railway (DLR), the London Overground… and of course you can arrive or depart Greenwich by river boat at Greenwich Pier! Ideally look for holiday accommodation that is within a manageable walk of one of the stations, and make sure you grab an Oyster Card rather than paying for individual journeys - you will save a lot of money. However you travel, have a lovely holiday in one of London's most interesting neighbourhoods.