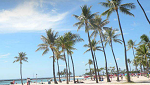 Don your flip flops, slip on your grass skirt, get ready to dig your toes into the sand and sway to the sweet ukulele music, we're heading for Hawaii. A cluster of islands in the middle of the North Pacific Ocean, far off the coast of America, Hawaii is unlike any other place on earth. Unique in terms of its geographic composition, all-year-round tropical climate and local regional cuisine with influences from all over the world, it is a popular destination for honeymooners, thrillseekers, surfers, biologists and volcanologists alike. If you like the outdoors lifestyle, you've come to the right place. With white sands, turquoise-blue waters and impressive accommodation catering for some of the most A-list celebs, the pull of Hawaii is unsurprising. Whether you want to go diving in the coral reefs, surfing in some of the world's best waves, hiking in against a mountainous backdrop or just sip a mai tai with the sea lapping at your toes, this paradise on earth won't disappoint.
Where to Stay
Hawaii is made up of 8 main islands: Niʻihau,Kauaʻi, Oʻahu, Molokaʻi, Lānaʻi, Kahoʻolawe, Maui and the island of Hawaiʻi (the big island), all interconnected and accessible from one another by ferry. One of the most popular destinations is Waikini; the neighbourhood of of the famous Honolulu beach, known for its white sands, high-rise apartments and seafront villas. When it comes to accommodation there is plenty to choose from in Waikiki, whether you're heading for the waves on a traveller budget or looking for your own piece of Hawaiian paradise. But remember, if you're staying with the locals, it is custom to bring a small gift (for example, a dessert) for your host and to take your shoes off before you enter the apartment!
Fun Facts
Hawaii is the most recent of the 50 united states, having only joined in 1959
Hawaii is the only state of the USA that grows coffee
Despite its small size, Hawaii has over 1 million permanent residents
Things to see and do
Let's face it, the main reason many millions flock to Hawaii every year is for the spectacular scenery, jaw-dropping views and laid back atmosphere of one of the most culturally diverse and geographically interesting places in the world. Hawaii is a destination for outdoor adventure and nothings says outdoors like towering cliffs, roaring waterfalls, tropical forest or multicoloured marine life. Staying in Hawaii, you'll be spoilt for choice when it comes to things to do. With the world's best surf right on your doorstep, you won't be spending much time cooped up in your apartment, that's for sure.
Take to the water
What better place to learn to surf than the birthplace of surfing itself? Stake out your spot on the white sands, pick up some equipment from the local shop and dive right in. If you're already a pro why not rent an apartment right on the famous Ho'okipa beach, and catch some waves with the best of them. If surfing is a bit out of your comfort zone, there are plenty of other water sports you can try: banana boating on Waikiki beach, snorkeling in the spectacular marine preserves, canoe boating in the freshwater streams or simply floating in the turquoise-blue waters alongside the sea turtles. The great thing about Hawaii is there is no schedule. If you prefer to keep your feet dry and while away the afternoon reading a book among palms on the deck of your beach condo, you can do just that.
Volcanos and National Parks
If you consider yourself the adventurous type, Hawaii is the perfect place to explore. Originally formed and continuously being shaped by volcanic activity, Hawaii is home to some truly impressive geological features. Book a guided tour and venture out of your apartment before sunrise into one of the two main National Parks. Here you can hike across the ancient lava flows, climb the craggy mountain peaks and crawl through lava-tubes formed thousands of years ago. There are two main National Parks in Hawaii: Haleakala National Parknear Kula, on Maui and Hawaii Volcanoes National Park in the southern region of the island. the second of the two hosts the two still active volcanos.
Food
Hawaiin cuisine is an eclectic mix of flavours inspired by the early Polyneseans, Americans, Filipinos, Chinese, Korean and even Portuguese, but it is still very much all about the local. Head down to the beach for a spicy expresso, quiche and a croissant to start your day, or take a break from the water activity with a famous Hawaiian teriyaki burger and side of red potato frittata. If you're more of the do it yourself mentality, why not head to your local Hawaiian deli and cook up a proper pacific dining experience for your hosts or family in the comfort of your own villa, or head back to your seaside apartment after a spot of fishing.
Getting around
The ocean coastline of Hawaii is approximately 750 miles long: the only state surrounded entirely by water. This means that a great way to travel is by ferry, allowing you to island hop with ease and sightsee at the same time; a good opportunity for dolphin spotting. Many of the vehicles in Hawaii have been converted to bio-diesel (recycled vegetable oil) but all-terrain vehicles such as harper car, trucks and beach cruisers can be rented for off-road exploration, and mopeds if you fancy a nippier ride. There is also the 3x daily bus service that runs between Pahala and Ocean View, or for the green-conscious traveller, the bicycle exchange programme. With great island connections, wherever you are staying you will find you will able to get to all the main attractions from your holiday accommodation.