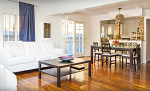 Walking around Hollywood is a dizzying experience - from the stars embedded in the street on the Hollywood Boulevard, to the iconic Hollywood sign, everything will seem so familiar from countless sightings on television and in the movies and staying in a holiday rental here can feel like you're inside a film set! But there is far more to this famous Los Angeles neighbourhood than that. From its dark days in the 1980s when it was considered one of the worst districts in LA, Hollywood's star has truly risen and it is now considered one of the most vibrant and interesting areas of the city - leave your preconceptions at the door and prepare to be surprised!
Fun Facts about Hollywood
Despite its glamorous show business connotations, the famous Hollywood sign was actually created to advertise real estate! The original sign actually said "Hollywoodland" - the last four letters were dropped in 1949.
Hollywood ice cream parlour, C.C.Brown's Ice Cream, invented the Hot Fudge Sundae!
Four soap salesmen brothers decided to set up a studio in 1918. They called it Warner Brothers, and the rest, as they say, is history!
About 600 films are released in Hollywood every year… Bollywood in India releases twice as many!
Where to Stay in Hollywood
Both Hollywood and West Hollywood are great areas to rent a holiday apartment - you are in the centre of the action and don't need a car to get around, as the neighbourhoods are well served by public transport. Organising your holiday accommodation with Wimdu means that you really will have a "home from home". Your Wimdu host will be able to point you towards the spots that only tourists know, for a real locals experience. You can also search the Wimdu website for exactly what you need - whether that is a rental with en-suite bathrooms, or a self-catering villa with a swimming pool, or an apartment with baby-proofing if you are having a family holiday.
Things to Do and See in Hollywood
The best way to get a comprehensive view of the neighbourhood is to book onto one of the many open-top bus tours that will take you around Hollywood and point out the iconic film locations and fill you with Hollywood lore as you go around. There are some great specialist tours as well, such as the Dearly Departed Tour which points out scenes of famous Hollywood murders and other gruesome happenings, and the TMZ Tour which ridicules Hollywood celebrity in a hilarious fashion.

Your next stop has to be the iconic Hollywood Sign. Originally spelling out "Hollywoodland", the sign was supposed to be up for only 18 months to advertise real estate, yet it's still here, symbolising everything that is glamorous about the film industry. Time Out LA suggests the following route to get as close as possible: "Start at Franklin Ave and N Beachwood Dr. Take N Beachwood Dr up the mountain and make a left on Ledgewood Dr and continue until Deronda Dr. At the end of Deronda Dr you will reach a dead-end surrounded by a few homes. Park your car where it's safe and walk through the small opening on the right to get to a perfect vantage point of the iconic sign."

For even more insight into the business that made Hollywood great, check out the Universal Studios park. You'll get to see old sets, and learn more about one of the greatest studios Hollywood ever produced, while there are rides and other things to keep the kids entertained. If you're in the mood for shopping, wander down CityWalk while you are there and pick up some souvenirs to take back to your guest house.

Last but definitely not least, no trip to Hollywood is complete without a visit to Grauman's Chinese Theatre, which has the hand and footprints of over 200 Hollywood stars outside it. See how big your hands are compared to those of the stars!
Eating and Drinking in Hollywood
Go out, Hollywood style, with a trip to Sunset Strip, as the iconic road of Sunset Boulevard is called at the point where it cuts through Hollywood. Fun seekers have been heading to "The Strip" since the 1950s to experience Hollywood's nightlife! Check out The Cactus Lounge, House of Blues and Pearl's Liquor Bar for a good Hollywood night out!
For food, what could be more perfect than heading for steak and cocktails to Hollywood's oldest grill restaurant? Musso and Frank Grill has been serving up its enormous menu since 1919! After stuffing yourself on steak, head to Mashti Malone's ice cream parlour for fun flavours such as "herbal snow" and then stagger back to your villa for a well-deserved night's sleep!
Getting Around
Hollywood's nearest airport is the Bob Hope Airport but Los Angeles International Airport is still not far. The shuttle from the airport costs $15. You could also approach Los Angeles by Greyhound, getting off at the North Hollywood station, or of course you could do what most Californians would do, which is drive! Although Los Angeles as a whole is a city that is built for driving, Hollywood is one of the districts that you really don't need a car to get around, which takes the stress out of making sure you can get back to your holiday apartment easily. The main areas are totally walkable, and there are several subway stops.