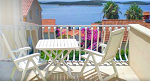 The Croatian island of Hvar is one of the Adriatic Sea's most popular tourist destinations, especially with neighbouring Italians, and it is easy to see why! From secret coves perfect for picnics, to beautiful vineyards straggling their way up picturesque mountains, the island is stunningly attractive. Throw this together with great food, buzzing nightlife and lovely holiday accommodation nestled in magical looking medieval towns and villages and it begins to sound like the perfect holiday destination! Book your apartment now and start planning your holiday on one of Europe's prettiest islands!
Where to Stay on Hvar
The island's eponymous capital, Hvar Town is the perfect place to base yourself. It is however also the busiest place on the island, attracting up to 20,000 people a day in high season! For that reason, if you are visiting in July or August you might also want to look at accommodation in Stari Grad which is the oldest town on the island and also very pretty. Away from these two main centres, any of the towns and villages on Hvar offer the chance to stay in beautiful holiday rentals, and using the Wimdu site to book your holiday home means that you can search for exactly what you need, whether that is a villa in the countryside with a swimming pool - perfect for family holidays and group vacations - or a cute self-catering apartment in the old town district, with a private balcony and views across the rooftops and out to the ocean.
Fun Facts about Hvar and Croatia
If you're pregnant, go on holiday to Hvar! Children born on the ferry service from Hvar will receive free ferry travel for life!
There are eight words for chisel in Hvar's regional dialect, due to its history of stone working!
The necktie was invented in Croatia! Blame them next time you are struggling to tie it on your way to the office!
Apparently - according to the people of Hvar - Hvar is the sunniest place in the whole of Europe! We don't know if this the meteorological office agrees, but you're still pretty unlikely to get rain - there are over 2,700 sunny hours in an average year!
Things to See and Do
The main town of Hvar is a great place to spend a few days wandering around. The main square is one of the largest and most attractive in the whole of Croatia, and the rest of the town spirals out from here. Take a walk up the hill from the square to the old Španjola Fortress for incredible views across the harbour and the neighbouring islands. The imposing Cathedral of St Stephen is also on the town square, and has an elaborately decorated bell-tower. The square is chock full of charming bars and places to eat, so get settled in with a cold beer and start people watching!
For another view of the island, rent a small boat - you don't need a licence and they are available from the harbour! The sea is generally very calm, and the boats are pretty slow so it's all quite safe! Take a picnic and fulfil all your adventuring fantasies, stopping off at secluded harbours and diving into the crystal clear waters!
Eating and Drinking
Look away now if you are squeamish, but one very ancient culinary tradition on Hvar is eating dormice - they were a popular appetiser for Roman emperors, and while the tradition has nearly died out completely in mainland Europe, it is still alive and well on Hvar! If you want to try out this unusual dish - the mice are grilled over hot coals - you need to head to Dol - the dormouse capital of Hvar! If you have a less adventurous palate but would still like to sample local food (especially if you have booked a self-catering condo), head to one of the many local markets. Enjoy the sights, sounds and smells while filling up a basket with local breads, seafood and ham, along with juicy figs and the local Paski cheese, and head back to your villa to enjoy a gorgeous late lunch in the shade!
There are lovely neighbourhood bars in all the main towns on the island, but If you are up for an evening clubbing, you absolutely must check out Carpe Diem on the nearby island of Stipanska - in fact the club IS the island! It has an outdoor dancefloor, nestled in an olive grove, and you can paddle in the sea with your cocktail!
Getting Around
It's a two hour ferry journey from Split on Croatia's mainland to Stari Grad on Hvar, or you can take a catamaran between Split and Hvar Town for a speedy and exciting entrance! However, you need to buy tickets early on the day of travel because it is a very popular way to get to the island! Once you are safely on Hvar, we recommend that you rent a car or a moped to get around, otherwise you will miss out on lots that the island has to offer. Ask your accommodation host if they have any recommendations for a local rental place. Bear in mind though - there are only two petrol stations, so don't get stranded! However you get around, your holiday on Hvar will definitely be one to remember!